Aviation
Get more with myNEWS
A personalised news feed of stories that matter to you
Learn more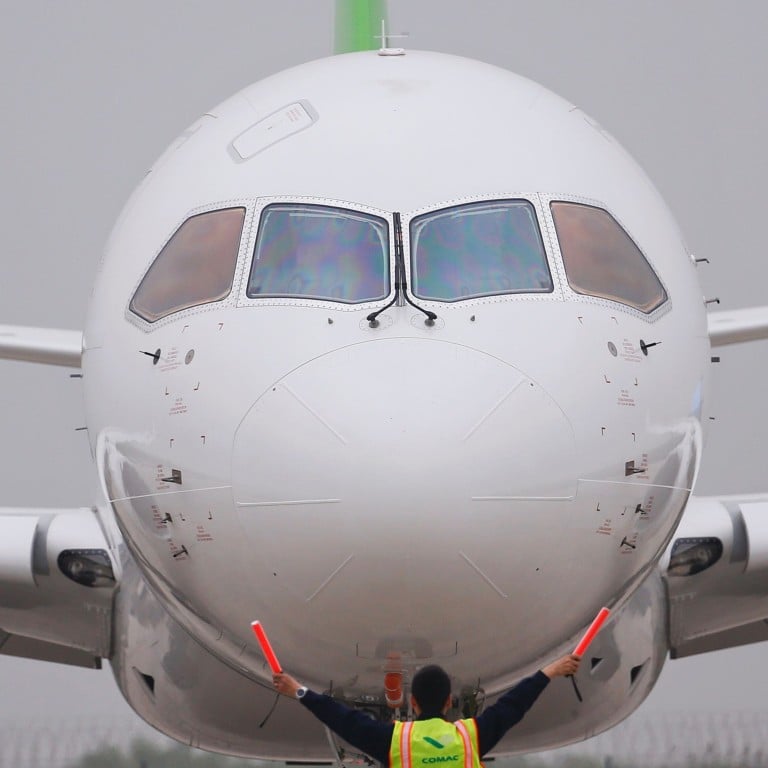 Airbus' edge over Boeing in China under threat as Comac's new C919 jet readies for take off
Both Airbus and Boeing assemble jets in China, largely political moves to help them capture a share of the huge domestic market
But with China's C919 passenger jet set for certification later this year, they will have to get used to sharing the narrow-body plane market
Despite investing heavily in aircraft assembly facilities in China, Airbus may soon see its edge over rival Boeing eaten away as the state-owned Commercial Aircraft Corporation of China (Comac) is expected to enter the narrow-body plane market with its C919 jet next year.
Both Airbus and Boeing assemble jets in China for the domestic market, savvy political moves to help them each carve out a portion of the nation's vast and rapidly growing aviation market. But they will soon have to share the spotlight with Comac, a company that has a built-in advantage in dealing with Chinese airlines.
China has spent tens of billions of dollars to bring its aviation industry up to international standards in recent years, and has high hopes in particular for its C919, a narrow body medium-haul passenger jet designed to compete with the Boeing 737 and Airbus A320. It is expected to be
certified to fly in China
by the end of this year.
In November 2020, Boeing estimated Chinese airlines would acquire 8,600 new aeroplanes valued at US$1.4 trillion and commercial aviation services valued at $1.7 trillion over the next 20 years. Both Boeing and Airbus have stepped up their presence in China to try to secure a piece of the pie.
Airbus has provided China Eastern Airlines with single aisle A320 family jets from its Tianjin assembly line for years, and last month delivered its first A350 widebody passenger jet.
The Tianjin assembly line, which was established in 2008, is a joint venture between Airbus, the Tianjin Free Trade Zone and the state-owned aerospace and defence company
China Aviation Industry Corporation
.
"Given the expected future strength of the Chinese market and the rise of Comac, it is strategically highly important for Airbus to maintain its strong local presence," said John Strickland, director of the aviation consultancy JLS Consulting.
While assembly plants are only a small part of the manufacturing process, analysts say having in-country facilities is important to win business in the critical Chinese aviation market.
Airbus has a first mover advantage over Boeing, which only set up its first assembly plant in Zhoushan, Zhejiang province, in 2018 in a joint venture with Comac.
Despite the global pandemic, Airbus delivered 99 planes to China last year and 64 more in the first half this year.
"Assembly plants in China are very important to both Airbus and Boeing," said Andrew Charlton, managing director of Aviation Advocacy.
"China is already about 25 per cent of the global market. They both need to be there."
But he added the C919 will "eat into their narrow-body jet market" and the international aviation giants are likely to place more focus on their widebody planes, for which Comac does not yet have an answer.
While investing in an assembly facility is vital to growing business in China, there is no guarantee it will help navigate political tensions.
Boeing's sales in the world's second largest economy have taken a dive amid growing trade tensions between Beijing and Washington. The company's 737 MAX is also still grounded in China after two fatal crashes in Indonesia and Ethiopia in 2019.
Boeing's president and chief executive David Calhoun said in an earnings call on July 28 he anticipated the narrow body passenger jet would be recertified in China by the end of this year.
Before China grounded the 737 MAX in March 2019, after the second fatal crash, Boeing was selling a quarter of the planes it built annually to Chinese buyers.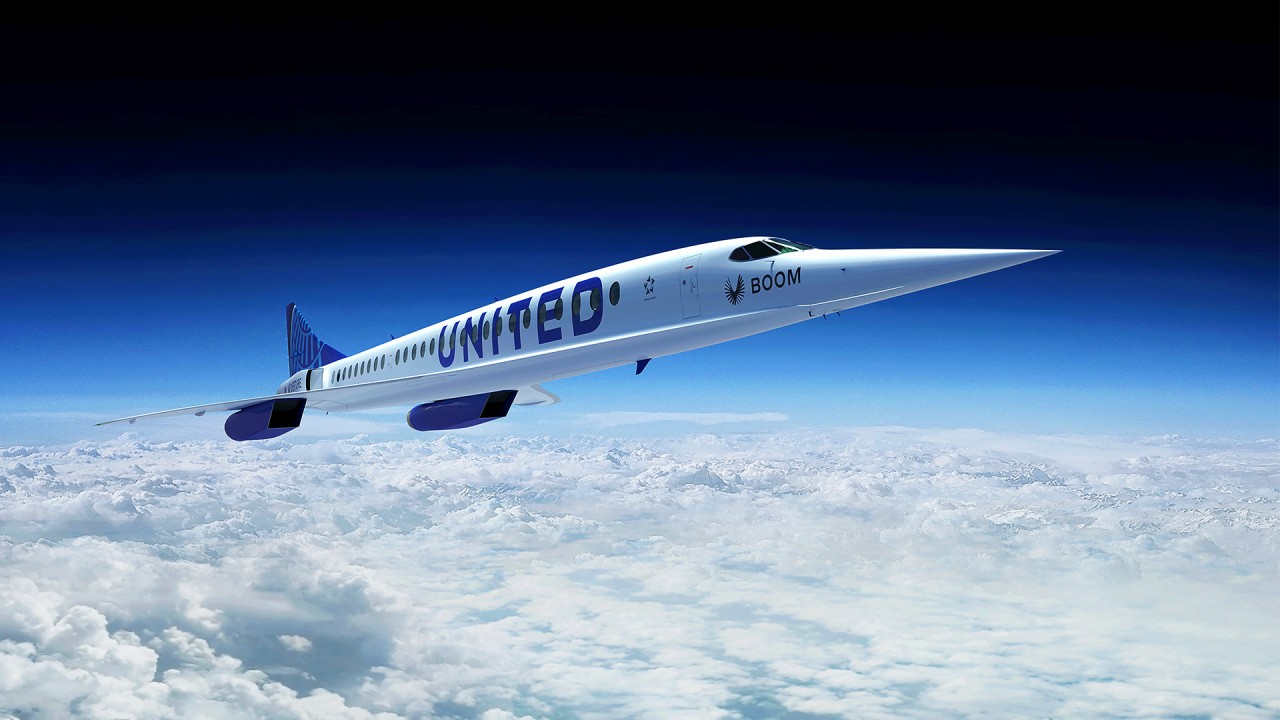 01:08
United Airlines plans to buy supersonic jets that can cut travel time in half
United Airlines plans to buy supersonic jets that can cut travel time in half
As evidence of progress, a Boeing 737 MAX jet
departed the United States for China
on Wednesday to conduct a flight test as part of efforts to gain approval from Chinese authorities, Reuters reported.
"I'm very encouraged about the constructive nature of [recertifying the 737 MAX in China] … hopefully bigger trade issues don't get in the way. I don't believe they will. Both sides are incentivised for this industry to move forward," Calhoun told analysts on the call.
"I don't want to imply that anything is risk-free on this front. It's not, it never will be. Especially as it relates to China relations, which are real. "
Beijing wants to reduce its reliance on imports and become a world leader in aviation manufacturing, something made clear in – among other policy documents – its "Made in China 2025" industrial modernisation plan.
As a result, Airbus and Boeing are also likely to be careful with their outsourcing strategy, said David Yu, professor of finance at New York University Shanghai and an aviation financing expert.
"The point is not to outsource everything, the point is to have some items completed in these facilities," he said. "From a manufacturing point of view, it's about intellectual property protection and the safeguarding of that.
"The point is to develop a long-term perspective on China, to grow relations with stakeholders, the airlines and regulators such as Civil Aviation Administration of China (CAAC) – it's helping them to get planes here."
In June, the US and the European Union (EU) agreed to a truce in their near
17-year conflict over subsidies
to Boeing and Airbus and to establish a working group to address "non-market practises" in other countries, most notably China.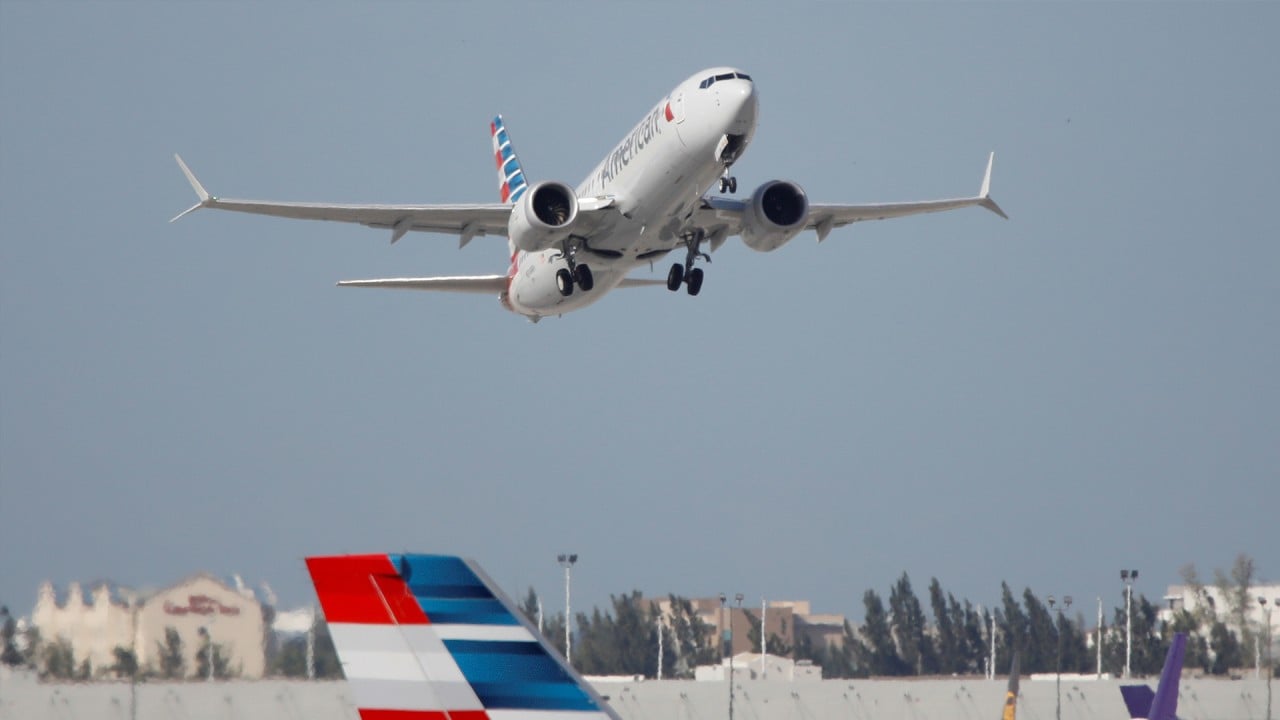 01:57
Boeing 737 MAX resumes passenger flights in the US after 2-year suspension
Boeing 737 MAX resumes passenger flights in the US after 2-year suspension
The truce is unlikely to see Boeing and Airbus cooperate, but could allow them to focus on dealing with new threats like Comac, said Yu.
Airbus and Boeing have so far favoured working with Comac rather than against it because of the huge size of China's aviation market, Charlton said.
Both companies have also accepted that competition with the state-owned firm is inevitable when the C919 comes into service.
"That Airbus is ahead of Boeing is in no small measure a political thing, not a technology thing," Charlton said. "For Airbus to start too with the A350, which is a widebody, means there is no direct competition and is politically astute."