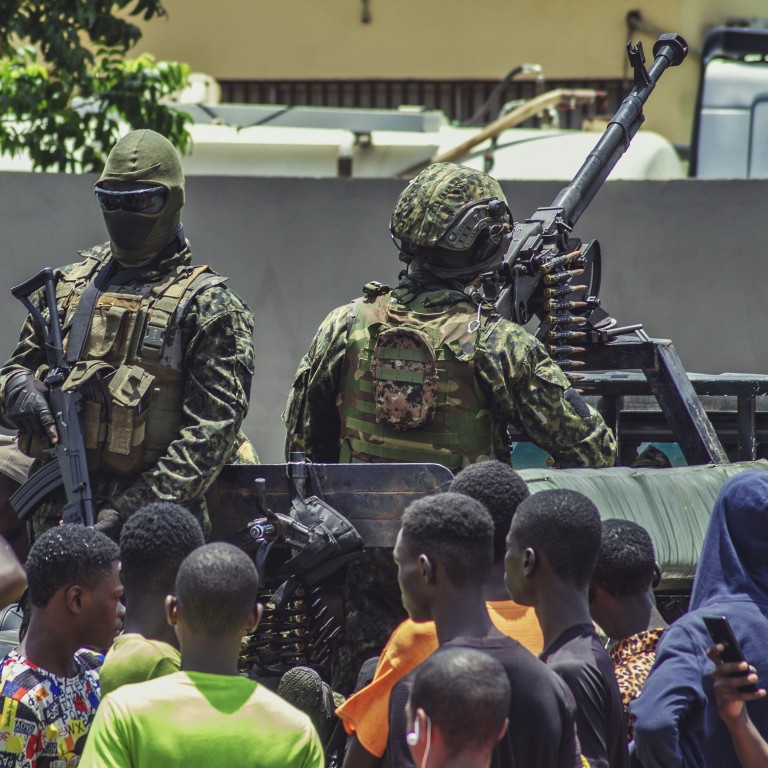 China may turn to Australia for bauxite after Guinea coup stokes fears of global supply disruptions, say analysts
The military takeover in the West African country could interrupt international supply of bauxite, a key ingredient in aluminium production
China imported more than 47 per cent of its bauxite from Guinea last year, but disruptions may force it to seek alternative sources in Australia
China, both a producer and major consumer of aluminium, could turn to Australia for more supplies of the key raw material bauxite after a coup in Guinea threatened to disrupt global supply, analysts said.
Guinea and Australia are two of the world's biggest bauxite producers, but the
military takeover
in the West African country has raised the risk of interruptions to production capacity and supply chains.
Prices of aluminium on London Metal Exchange surged to US$2,745 a tonne on Monday, hitting a 10 year high a day after Guinean special forces ousted the country's president, Alpha Conde, dissolved the constitution and closed land and air borders.
Soaring aluminium prices showed "the fragility of the global supply chain," said Gu Fengda, an analyst at Guosen Futures.
The coup has not yet caused disruptions to bauxite mining and transport in Guinea, according to a survey of local operators on Monday by Chinese online pricing and intelligence service Mysteel.
But risks to supply, as well as foreign investment in bauxite production, are rising, said Zhang Yu, an analyst from Mysteel.
As Australia is the world's leading bauxite producer, China may turn to the country to fill any supply shortages, according to analysts.
Zhang said the political situation in Guinea could boost China's willingness to import bauxite from Australia and Indonesia.
"Indonesia is now badly affected by the current wave of the Covid-19 outbreak and lacks transport capacity," she said. "Australia may become the major alternative [to Guinea]."
While bauxite accounts for less than five per cent of Australian mining value, the country is the world's top producer, accounting for an estimated 29.6 per cent of total global output as of 2020, according to Fitch Solutions.
Guinea, however, has the world's largest bauxite reserves at 7.4 billion tonnes, which is almost a quarter of total global reserves. In 2020, the country produced 82 million tonnes of bauxite, or 22 per cent the world's total production, behind Australia's 110 million tonnes, according to the estimates from the United States Geological Survey.
Guinean supply of bauxite has recently been hurt by inclement weather, according to Mysteel's survey of Chinese importers.
The West African country's economy is heavily dependent on exports of various mineral resources, which have attracted huge amounts of foreign investment.
About 14 Chinese enterprises were involved in bauxite mining in Guinea as of December last year, double the number of other foreign companies combined, according to China Nonferrous Metals News, a paper under the China Nonferrous Metals Industry Association.
China has increased bauxite imports in recent years, with about 60 per cent of consumption from overseas sources, Zhang said.
"The increase [of imports] mainly comes from Guinea," she said. "The changes in overseas supply capacity has had a great impact on China's aluminium industry."
In 2020, China imported 111.59 million tonnes of bauxite, with more than 47 per cent – or 52.73 million tonnes – coming from Guinea, according to China's customs agency.
Over the same period, China imported 37.03 million tonnes and 18.58 million tonnes from Australia and Indonesia, respectively.
Bauxite imports from Guinea increased by 18.8 per cent year on year in 2020, and 6.5 per cent in the first seven months of this year, according to calculations by the South China Morning Post based on the customs data.