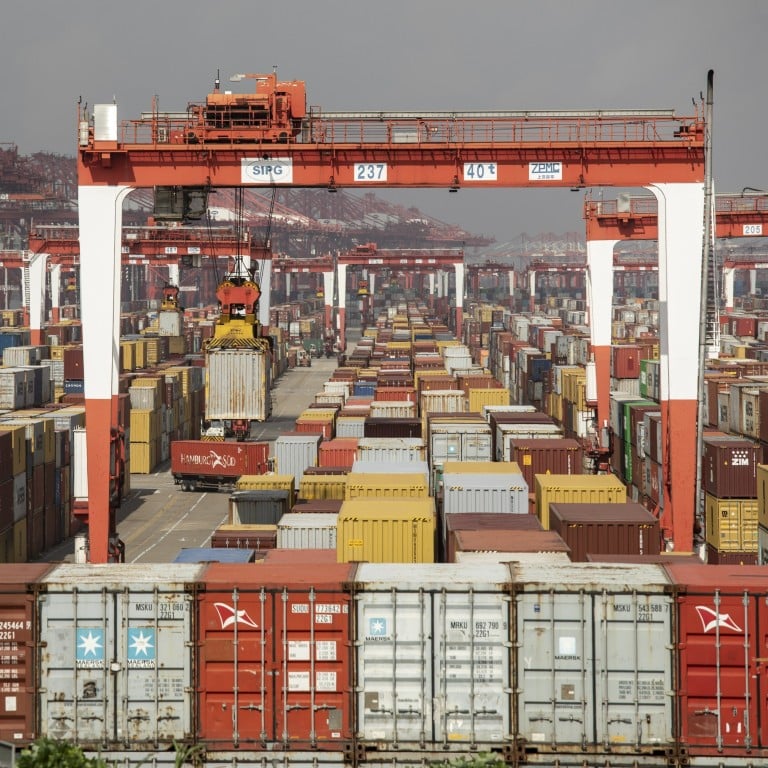 Explainer
China shipping: from its monopoly on containers, to its critical role in the global supply chain
Behind China's economic might is the world's biggest shipping industry, and 2021 has seen it tested like never before
China has seven of the world's top 10 container ports, plus about 400 smaller ones
How important is shipping to China's economy?
As the world's largest exporter and producer of industrial goods, China's exports contributed to 39.18 per cent of the country's GDP in 2020. Meanwhile, the country is also the world's second-largest importer, after the United States.
Foreign trade inevitably has to rely on transport. Among the various transportation methods, maritime transport, or shipping, is the most important for China. Shipping is also closely related to the global economy, as more than 85 per cent of goods are transported by sea in international trade, according to Clarksons Research.
China's official figures and World Trade Organization data show that merchandise worth US$2.5 trillion was imported to and exported from China via shipping in 2020 – that was 53 per cent of China's total trade value of that year, higher than transport by air, rail and road combined.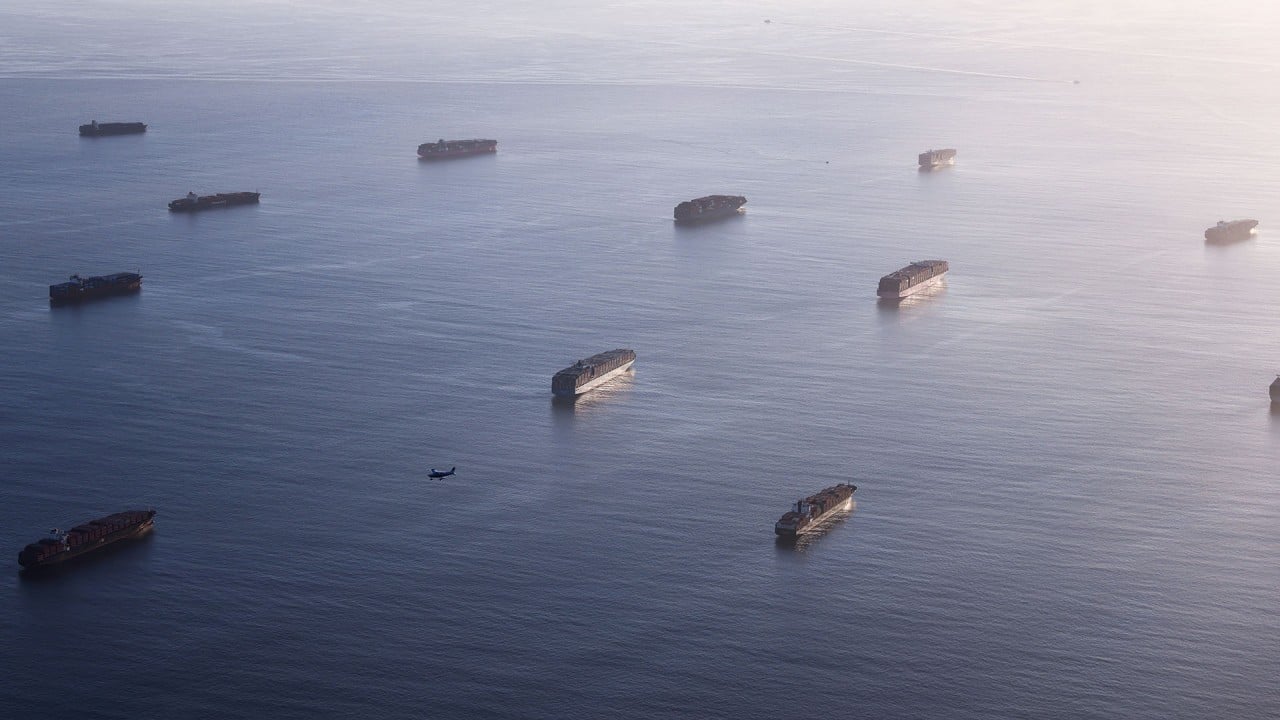 01:30
Global supply chain crisis bites in US cities as store shelves empty with rising demand
Global supply chain crisis bites in US cities as store shelves empty with rising demand
What is China's role in the global shipping network?
In terms of its cargo capacity for seaborne trade, China ranked third globally with 6,896 ships and a total deadweight tonnage (DWT) of 128,892,849 in 2020, trailing only Greece and Japan, according to United Nations Conference on Trade and Development.
China's major shipping companies include state-owned COSCO Shipping and China Merchants Group. COSCO Shipping, the world's biggest shipping company, said that it had a fleet of 1,371 vessels with a combined capacity of 113.7 million DWT as of August.
The company is also the world's biggest terminal operator, with the annual throughput of its container terminals amounting to 129.4 million twenty-foot equivalent units – a standard measure of volume in units of twenty-foot long shipping containers.
With more than 400 ports scattered along its inland rivers and coastline, China has four of the top five global container ports, and seven of the top 10. Shanghai Port is the world's largest port in terms of container throughput, and Ningbo-Zhoushan is the largest port in terms of cargo tonnage.
Does the shipping industry need China-made vessels and containers?
China is the world's leading shipbuilder. In the first three quarters of this year, China delivered 30.34 million DWT worth of new ships, accounting for 45.6 per cent of the world's total deliveries, according to the China Association of the National Shipbuilding Industry.
Despite China's dominant position in the industry, most of the ships it makes, including bulk carriers, are low value-added and low-tech compared with those produced by the other two top shipbuilders, South Korea and Japan.
In the "
Made in China 2025
" initiative that China launched in 2015, shipbuilding was identified as one of 10 priority sectors, with an aim of making advancements in high-end shipbuilding.
Meanwhile, China also has a monopoly on the world's container production, with almost every ocean shipping container in the world being built in the country, thanks to governmental support for the industry, low labour costs and huge local demand.
According to British maritime consulting company Drewry, China produces
more than 96 per cent
of the world's dry cargo containers and 100 per cent of temperature-controlled – or "reefer" – containers.
What are the impacts of the Covid-19 pandemic on China's shipping industry?
As China's manufacturing sector quickly has recovered from the impact of the pandemic while its major competitors in Southeast Asia are still facing surging caseloads, it has become almost the best option for importers and consumers from around the globe to get the products they want.
And the economic stimulus measures in the US and Europe have also helped release the pent-up demand caused by the pandemic.
Amid strong demand for exports, there has been a surge in cargo and container throughput at major Chinese ports this year. In the first nine months, China's ports handled 3.5 billion tonnes of cargo for foreign trade, some 5.2 per cent more than the same period last year, according to the Ministry of Transport.
Unbalanced global trade patterns have also disrupted container supplies in the country. With North America and Europe producing fewer products for export, empty containers are piling up at ports, delaying their return to Asia and leading to shortages in China.
To combat the problem, Chinese authorities have coordinated with domestic container manufacturers to increase output, but industry insiders have expressed concerns about an oversupply of containers once the pandemic is over.
More disruptions have been unveiled since the middle of the year due to sporadic outbreaks among port workers at major Chinese ports. In May, Yantian port in the southern province of Guangdong was shut down for weeks, followed by the
Meishan terminal at Ningbo Port
in August. Both shutdowns caused unprecedented congestion and further wreaked havoc on the global logistics network.
Even without port closures, Chinese authorities have imposed strict disease-prevention and quarantine measures for port workers and sea crew, but these actions have hurt operating efficiency and worsened port congestion.
Most importantly, all of the disruptions have led to runaway shipping costs. Freight prices have jumped more than 400 per cent from their lowest point last year, according to the Shanghai Containerised Freight Index.
The cost of shipping a 20-foot container to Europe from Shanghai has rocketed, to between £5,736 (US$6,640) and £9,112 (US$10,550), depending on the port, according to ManSys, a software company specialising in global trade management. By comparison, the average cost of exporting the same container from Shanghai in 2020 was £855, and in 2019 it was just £592.
For the China-US route, the container shipping costs are about four times higher than the same period last year, and more than 10 times higher than pre-pandemic levels, according to Freightos, a digital booking platform for international shipping.
The prices of buying or renting a container have also skyrocketed. Chinese exporters said that, for this year's Christmas shipping season, they need to pay eight to 10 times more to secure a container, compared with pre-pandemic costs.
The surging freight costs have already overshadowed the prospect of China's exports, especially on low-value and labour-intensive products that heavily rely on shipping.
The new-order and new-export-order sub-indices of China's official manufacturing purchasing managers' index fell to 49.3 and 46.2, respectively, in September. This indicates that overseas demand for Chinese products has weakened.
There are some signs that the spot rates for purchasing, leasing and shipping containers have been dropping since late September, but most experts anticipate that the global shipping disruptions will last until at least next year.