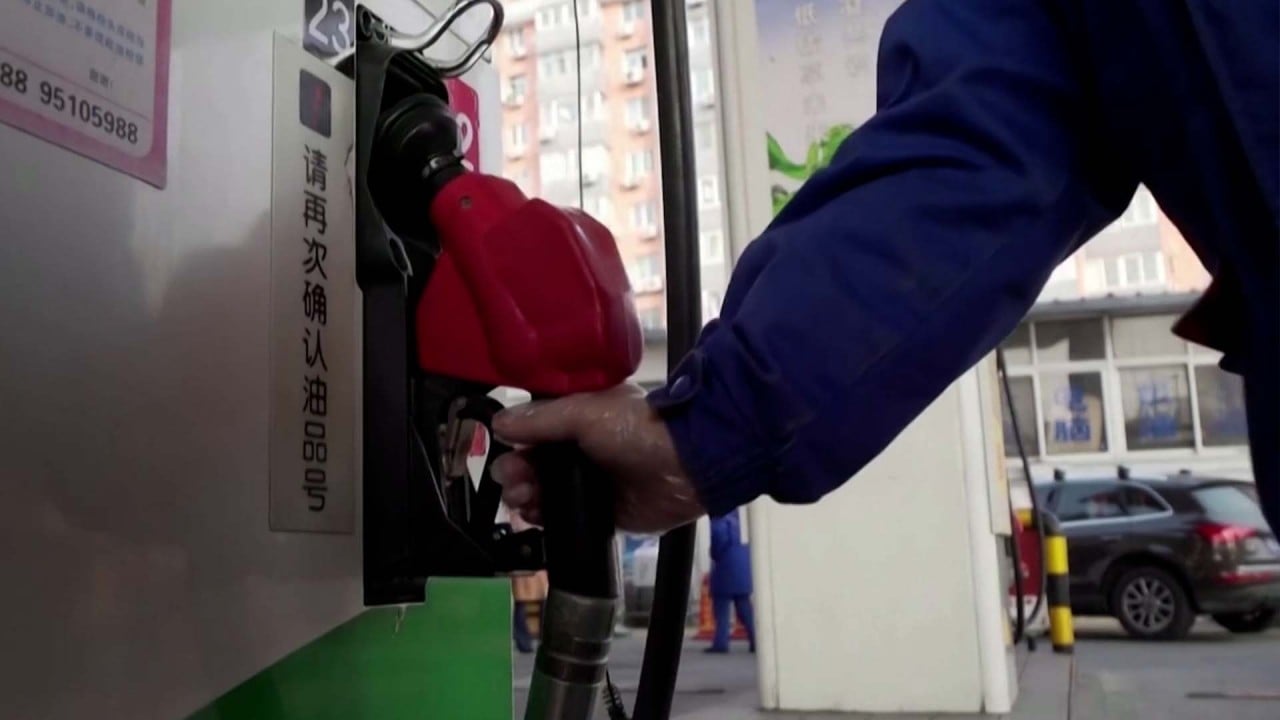 02:04
China joins coordinated move to release oil reserves and lower global oil prices
China joins coordinated move to release oil reserves and lower global oil prices
China to join oil reserve release 'based on its own needs' after US, UK, Japan, South Korea and India commit
China's second release from its state oil reserves in two months could amount to 7.38 million barrels following a 50 million barrel commitment from US President Joe Biden
Britain, Japan, South Korea and India have also already committed to releasing state reserves in an attempt to cool high energy prices
China will join coordinated global efforts to release oil reserves "based on its own needs" with Beijing in communication with other nations who have already laid out details of their plans to tame worldwide market turbulence, the foreign ministry said on Wednesday.
The United States, Britain, Japan, South Korea and India have already committed to releasing state reserves in an attempt to cool high energy prices after the
issue was brought up
during last week's summit between President Xi Jinping and his US counterpart
Joe Biden
.
"China will arrange the release of national crude reserve based on its own needs and take other necessary measures to stabilise the market, and will release the information in a timely manner," foreign ministry spokesman Zhao Lijian said at a press conference on Wednesday.
"China has noticed that major oil-consuming countries have moved to release crude reserves to counter market turbulence and changes. China is in close communication with related sides, including crude consuming and producing countries, and hopes to ensure long-term stable performance of the crude market over the long term via communication and coordination."
The US announced on Tuesday
plans to release 50 million barrels of oil
from its Strategic Petroleum Reserve in the coming months, with Biden prepared to use his "full authorities working in coordination with the rest of the world to maintain adequate supply as we exit the [coronavirus] pandemic".
China's state reserves bureau has previously said it was preparing to release oil reserves, which would be the second time in two months, although it declined to comment on the US request.
"Brent crude has broken above the US$80 resistance level, as markets deemed the overall release of the strategic oil reserves to be too small to ease the demand-supply imbalance – 50 million barrels from the US and much smaller contributions from other countries," said Yeap Jun Rong, a market strategist at IG, on Wednesday.
The
South China Morning Post
reported last week that the
US asked China to release oil reserves
to help stabilise soaring international crude oil prices during the virtual meeting between Xi and Biden.
China's National Energy Administration did not respond to emailed questions about its role in the coordinated effort to release oil reserves.
"The market has been speculating that China will soon release its second batch of oil reserves, but it can barely dampen the market prices," said Feng Xu, a crude oil analyst with Sublime China Information.
China's reserves of 7.38 million barrels may be released from its Zhoushan base in the eastern province of Zhejiang, Feng added, putting the figure on par with the amount released in September.
Kang Wu, head of global demand and Asia analytics at S&P Global Platts, said that the government-managed price regime in China means domestic prices follow the movements of the global oil market closely. However, the link will become slightly looser when global oil prices exceed US$80 per barrel.
As such, the Chinese government is likely to be less concerned when global oil prices ease back to below US$80 per barrel, Wu said.
India has already said it will release 5 million barrels, while Britain said it will allow the voluntary release of 1.5 million barrels of oil from privately held reserves. Both Japan and South Korea also confirmed on Wednesday that they will release their oil reserves.
Industry minister Koichi Hagiuda confirmed Japan will release a few hundred thousand kilolitres of oil from its national reserve, without providing a timeline.
Prime Minister Fumio Kishida had earlier confirmed the release after a US request in a way that does not breach a Japanese law. Earlier media reports suggested Japan would release around 4.2 million barrels of oil.
But despite the coordinated moves, analysts believe global oil prices are likely to remain elevated mainly because of a reluctance from the Organization of the Petroleum Exporting Countries (OPEC) and its allies, known as OPEC+, to speed up oil production. West Texas Intermediate (WTI) oil futures were trading up by over 0.3 per cent at over US$78 per barrel on Wednesday afternoon.
Ipek Ozkardeskaya, senior analyst at Swissquote, said that while Biden has been successful in convincing China and other countries to pile the pressure on OPEC to speed up oil production, the producer group is unlikely to cave in, and may even consider cutting supplies for a few weeks.
"Obviously, such news doesn't necessarily scare OPEC, but it probably frustrates them. The expectation is that they will hit back at their meeting next week, and their decision will have an impact longer than a couple of days or weeks," said Ozkardeskaya on Wednesday.
"On a side note, it is also said that the US could do much more than this in terms of oil output, but engaging in a bloody oil war is not the best strategy to bring and to keep oil prices at affordable levels."
The OPEC+ alliance is expected to meet next week to decide on January production levels, although the group has previously said it only plans for a gradual increase in output of around 400,000 barrels per day each month.
According to a survey by S&P Global Platts based on feedback from nine major Asian refiners, including Thailand's PTT, India's Bharat Petroleum Corporation Limited, Japan's Eneos, South Korea's SK Innovation, Malaysia's Petronas and PetroChina, OPEC+ should ideally raise supply by at least 800,000 barrels per day.
However, the current market fundamentals are far from what the Asian oil and refining industry would classify as a "state emergency" as OPEC+ is still looking to raise output and the group is not actually reducing supply, according to the S&P Global Platts survey released on Wednesday.
US Energy Secretary Jennifer Granholm on Tuesday also urged American energy companies to increase oil supply, especially given high profits, which she said the companies had used to engage in shareholder buy-backs rather than reinvestment in oil production.
Earlier this month, Biden criticised US oil and gas companies for reaping "significant profits off higher energy prices" and asked the Federal Trade Commission to investigate if there was any evidence of price manipulation in petrol markets.
Many provinces experienced electricity rationing as a result of coal production curbs and high prices, while tight supplies of diesel also prompted fuel rationing among petrol stations in the manufacturing hub Guangdong province.
Chinese authorities also suspended diesel exports in November to alleviate the domestic shortage.
Last week, China's top economic planning agency, the National Development and Reform Commission (NDRC), said that the three major oil companies, PetroChina, Sinopec and China National Offshore Oil Corporation, "must organise the production and dispatch of refined oil products to ensure stable market supply and strictly implement national price policies".
Relevant departments will step up to "increase market supervision and inspection" and investigate any violation of pricing rules, the NDRC said.
Additional reporting by Catherine Wong