Aviation
Get more with myNEWS
A personalised news feed of stories that matter to you
Learn more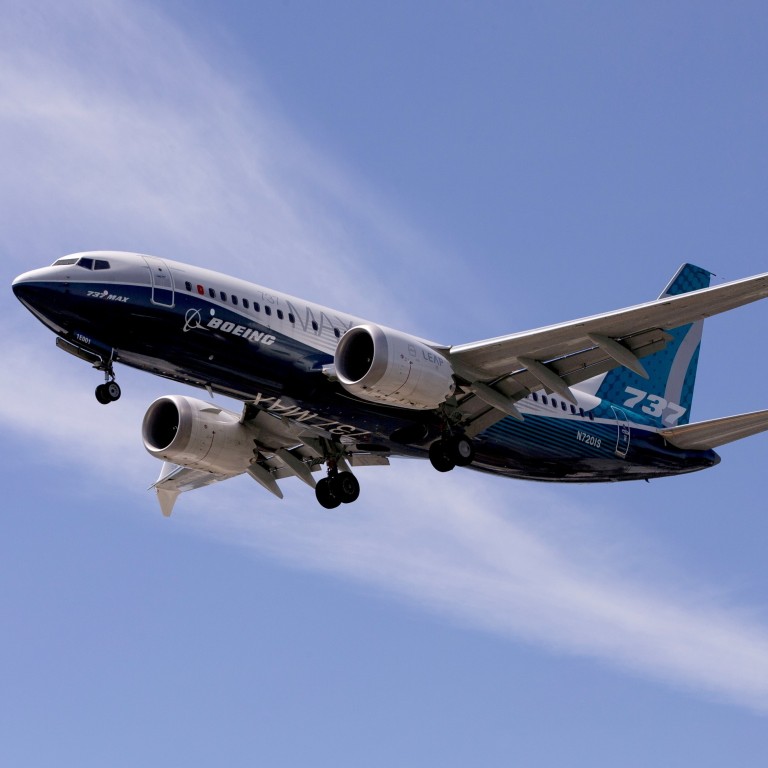 Boeing 737 MAX to return to China's skies by 'beginning of next year' but more changes still needed
The Civil Aviation Administration of China (CAAC) issued an airworthiness directive for the Boeing 737 MAX, which has been grounded in China since March 2019, on Thursday
Further changes are still needed before the grounding order on the aircraft, which is a key part of the phase-one deal, is lifted
China's aviation regulator expects airlines will resume commercial operations with the Boeing 737 MAX by the beginning of next year at the latest following a ban of almost three years, an official said on Friday
The Civil Aviation Administration of China (CAAC) issued an airworthiness directive for the 737 MAX, which has been
grounded in China since March 2019
after 346 people were killed in two deadly crashes in Indonesia and Ethiopia in the space of five months, on Thursday.
It stated that Boeing's correction to the 737 MAX's flight control system was adequate, although further changes are still needed before the grounding order can be lifted.
"After the supplementary operations are certified, [Boeing's 737 MAX] is expected to resume domestic commercial operations by the end of this year or the beginning of next year for existing fleet and also resume the introduction of new aircraft," Yang Zhenmei, director general of the Department of Airworthiness at the CAAC, said on Friday.
Domestic airlines in China will need to complete aircraft modification, explained Yang, while pilots will also need to receive updated training.
At the time of the suspension, China had the largest 737 MAX fleet after the US, with 97 aircraft operated by 13 carriers, according to state media.
"The CAAC's decision is an important milestone toward safely returning the 737 MAX to service in China," Boeing said in a statement.
"Boeing continues to work with regulators and our customers to return the airplane to service worldwide."
Boeing has said erroneous activation of the Manoeuvring Characteristics Augmentation System (MCAS), which repeatedly pushed the nose of the plane down, overwhelming the pilots' attempts to control the aircraft, was a common link in two wider chains of events leading to the crashes in Indonesia and Ethiopia.
The MCAS software has subsequently been modified by Boeing and the US aviation regulator, the Federal Aviation Administration (FAA), now requires pilots to be trained on the operation of MCAS and the management of its problems. The FAA is now also responsible for approving the training.
The previous "unsafe condition" led to the flight crew losing control of the planes, according to the CAAC airworthiness directive.
"After conducting sufficient assessment, CAAC considers the corrective actions are adequate to address this unsafe condition," said the CAAC.
While its biggest offering of planes to China has been grounded, Boeing has also been caught up in the trade war between the US and China.
Data from Ascend by Cirium, the consultancy arm of global aviation data company Cirium, showed that 113 aircraft in Boeing's inventory of 335, defined as aircraft which have flown but not yet been delivered, are scheduled for delivery to customers in China.