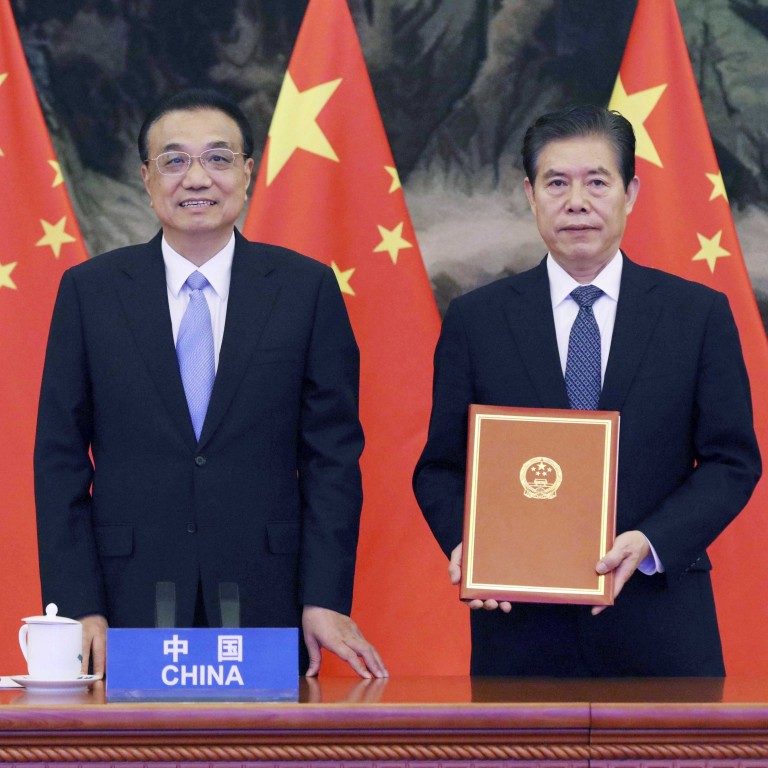 Explainer

|
What is RCEP, the world's largest free trade deal that is under way?
Regional Comprehensive Economic Partnership (RCEP) trade agreement took effect for most of the 15 member countries on January 1
It is the world's largest free trade agreement, as it covers nearly a third of the global population and about 30 per cent of its global gross domestic product
The Regional Comprehensive Economic Partnership (RCEP) is a free-trade agreement between the 10 Association of Southeast Asian Nations (Asean) members plus Australia, China, Japan, New Zealand and South Korea.
The deal took effect in Australia, Brunei, Cambodia, China, Japan, Laos, New Zealand, Thailand, Singapore and Vietnam on January 1.
According to a report in The Manila Bulletin at the end of December, the Philippines missed the deadline to ratify RCEP as its Senate went into recess faced with stiff opposition by several groups, mostly agriculture and non-governmental organisations, that have strongly urged senators to reject the trade deal.
Indonesia, though, is set to ratify the deal in the early part of 2022.
It has been seeking parliamentary approval to ratify the agreement for months and chief economic minister Airlangga Hartarto said a parliamentary commission overseeing trade rules had approved the ratification and its endorsement will be brought to a wider parliamentary vote in the first quarter of 2022.
President Joko Widodo will sign off on the ratification after parliamentary approval, he added.
The RCEP covers nearly a third of the global population and about 30 per cent of its global gross domestic product, but this is expected to rise to 50 per cent by 2030, according to HSBC.
What are the major benefits of the RCEP?
Tariffs on more than 65 per cent of trade in goods are expected to immediately reach zero under the regional agreement, and that figure is expected to rise to around 90 per cent over 20 years.
"The RCEP will promote trade and attract investments to all participants in Asean indeed. The entry into force of the agreement is of great significance for further promoting intra-region free trade," Bounleuth Luangpaseuth, vice-president of the Lao National Chamber of Commerce and Industry, told the Xinhua New Agency.
"RCEP will open a new chapter for regional economic and trade ties. It will also put Laos in the global spotlight."
A key benefit of the pact is its common "rules of origin" framework, as RCEP exporters will generally only need to source at least 40 per cent of inputs from within the bloc for their final goods to qualify for tariff preferences when exported to other members, explained Ajay Sharma, HSBC's regional head of global trade and receivables finance for Asia-Pacific.
"Trade is an important driver of growth for Asia, and RCEP's entry into force will put Asia back on its pre-Covid growth trajectory. Intra-Asian trade – already larger than Asia's trade with North America and Europe put together – will receive a further boost with RCEP's standardised rules of origin," Sharma said.
"RCEP will make it easier for firms to use Southeast Asia as a production base, and could accelerate the diversification of supply chains and the reallocation of [foreign direct investment] already under way in Asia."
The pact should also help to streamline existing free-trade agreements in Asia-Pacific and strengthen intraregional trade linkages, Sharma added.
Additionally, he said, foreign businesses may also benefit from building production facilities in lower-cost Asean markets to make use of RCEP trade rules and preferences when trading within the region.
How does the RCEP impact China?
China began gathering support for the pact in 2012, in what was seen as a bid to counter growing US influence in the Asia-Pacific region.
Backing for the RCEP gained momentum in 2017, after then US president Donald Trump withdrew the US from the rival Trans-Pacific Partnership (TPP) pact.
"[Its entry into force] will effectively hedge against the negative economic impacts of Covid-19," Ren Hongbin, vice-minister of commerce, said in late December.
Beijing also said the deal will serve as "powerful leverage" for keeping trade and foreign investment stable in 2022, as it will expand exports of Chinese products while helping speed up China's industrial transformation.
Ren added that China was ready to fulfil 701 binding obligations under the trade agreement, with its implementation marking a new milestone in China's opening-up.
The ministry said that the agreement will gradually lift tariffs for China's imports of coconut milk, pineapple products and paper products from Asean countries.
Yu Benlin, head of international economic and trade affairs at the commerce ministry, said at the end of December that the RCEP will boost investment opportunities between China and other member states, as it ushers in wider access for foreign investors and increases policy transparency.
Imports and exports between China and the other 14 RCEP members totalled 10.96 trillion yuan (US$1.72 trillion) in the first 11 months of 2021, accounting for 31 per cent of China's total foreign trade value, Chinese customs data shows.
Additional reporting by Reuters