Ukraine
Get more with myNEWS
A personalised news feed of stories that matter to you
Learn more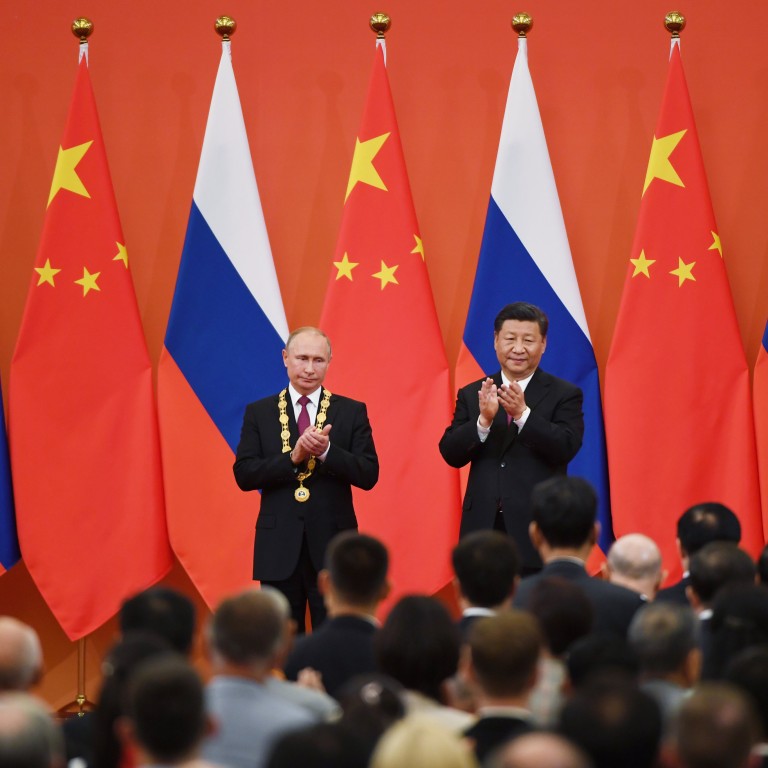 Ukraine crisis: China walks 'diplomatic tightrope', but impact of sanctions on Russia seen as 'limited' for bilateral trade
China has called for restraint from all sides and opposed unilateral sanctions, while saying it will continue trade with both Russia and Ukraine
Analysts say China is likely to support Russia financially and through trade, though if the situation escalates Beijing may 'rethink its position'
China will have to carefully balance economic support for Russia with its own interests given the likelihood of further sanctions on Moscow for its
invasion of Ukraine
, though experts say larger Chinese firms and the government are unlikely to risk rupturing relations completely with the West.
Washington has frozen Russian assets in the United States, sanctioned Russian banks and put hi-tech exports to the country on hold. The package of sanctions does not include cutting Russian access to the
swift financial messaging system.
China has so far called for restraint from all sides and opposed unilateral sanctions, while saying it will continue trading with both Russia and Ukraine.
Amid the unfolding crisis, Beijing's actions are being closely watched by the international community and global markets.
"China will support Russia financially and through trade as much as any Western sanctions allow," said Capital Economics' chief Asia economist Mark Williams.
"Small companies and banks may breach sanctions, but larger firms and the government won't risk a further rupture in relations with the West."
Michael Gasiorek, professor of economics at the University of Sussex, said some Russian trade will be redirected to China, which could be helped by Beijing potentially lowering tariffs.
"About 40 per cent of Russian exports go to the EU, and 44 per cent to Nato, and 36 per cent of Russian imports come from the EU. China accounts for about 22 per cent of Russian imports, and 13 per cent of exports," he said.
"A broader set of sanctions would no doubt have a substantial impact on the Russian economy. But of course this will hit the population at large as opposed to targeted companies or individuals."
Beijing and Moscow want to boost bilateral trade to US$250 billion by 2025, doubling it from 2021, and analysts say Russia is a much more important trade partner than Ukraine.
Patryk Szczotka, an associate at the Institute of New Europe and the Warsaw Institute, said China is caught between Russia and its other international interests.
"Although Chinese authorities state that sanctions are not an effective instrument of international politics, Beijing's stability focus would be the main limitation for Chinese help to Russia in case of further sanctions, forcing it to walk the diplomatic tightrope," he said.
While analysts outside China have highlighted the precarious position Beijing could find itself in if the crisis escalates, some voices inside the country were upbeat.
"[Small and medium-sized] exporters like us are not worried," said Steve Xie, a Zhejiang-based fabric manufacturer who exported millions of metres of dyeing cloth to Russia last year. "China and Russia are strategic partners and there is a currency swap agreement between the two countries."
He said his company has long settled business in yuan and Russia will have greater demand for imported goods from China, which could boost orders.
Chen Fengying, a senior fellow at the China Institutes of Contemporary International Relations, said Western sanctions would not affect China-Russian trade, as they have both increased the use of
local currencies in settlements
. China is also a major energy importer of Russian oil and gas.
"Both have many ways to implement trade deals," she said. "The impact of the Ukrainian war on China would be seen from the crude oil and commodities markets, but it would be limited as global producers are beefing up production to curb the fast rise of prices."
Lorraine Tan, director of equity research for Asia at Morningstar, said the geopolitical risk has already been factored into high oil and gas prices. Upstream producers like CNOOC could even benefit.
Bala Ramasamy, a professor of economics at the China-Europe International Business School, said Russian energy exports will increase in exchange for other Chinese goods amid sanctions.
"The relationship between the US and China has not improved in the last few years. So, how do you expect China to suddenly join all the sanctions that the Western countries are going to impose?
"I do not think China would abide by the sanctions, at least initially. But I do think that if the invasion goes on deeper, then that is the point where China would probably rethink its position."