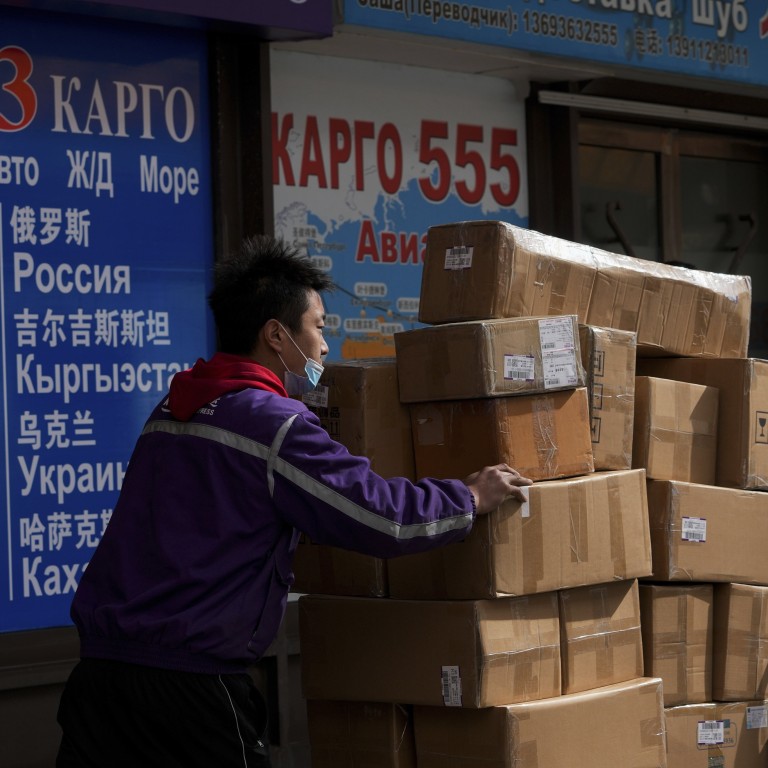 China, Russia trade continues despite Western sanctions, but Beijing 'will not ride to the rescue'
State-owned Shandong Expressway Minsheng Group bought 50 carriages of barley from Russia, which was transported by the China-Europe railway lines
A train carrying 747 tonnes (747,000kg) of goods left Liaoning province for Russia despite sanctions imposed by the United States, European Union and their allies
Barley and consumer goods have continued to flow between China and Russia along the China-Europe railway lines despite major shipping and air freight being severely restricted by Western sanctions.
The continued trade, which accounted for 18.6 per cent of Russia's total last year, could provide a lifeline to the Russian economy, which has been
shattered by the restrictions imposed
by the United States, European Union and their allies after its invasion of Ukraine last week.
It also signals a subtle message from China, which has called for constraint and dialogue between Moscow and Kyiv.
Fifty carriages of barley, bought by the state-owned Shandong Expressway Minsheng Group, were transported from Kleschiha station in the Siberian city of Novosibirsk, according to a statement posted by the Jinan municipal government in China's eastern Shandong province.
"This is the first time that Shandong province has imported Russian barley through the China-Europe trains," the local government said on China's Twitter-like Weibo on Wednesday
"It effectively connects the grain import policy under the Belt and Road Initiative, enriches domestic food supplies, and is significant to diversify grain imports."
The transport was organised by another provincial state-owned company, although no further details were provided, including volume, price and the arrival date.
"The transport demand of such products like grain and coal has kept rising because domestic supplies were affected by the epidemic," according to the government post, which hailed the international trains for their "strategic channel advantage".
But analysts have argued that China can only do so much to assist Russia in the face of the numerous sanctions as its commercial ties with the US, European Union and their allies in Asia are much more important than those with Russia.
"Not long before Russia invaded Ukraine, Xi Jinping and Vladimir Putin met in Beijing and declared the friendship between their countries had 'no limits'. Russia is likely finding out now that this 'future-oriented strategic partnership' is in fact limited," said Yanmei Xie and Dan Wang from Gavekal Dragonomics.
"While China shares Russia's disdain for the US-led international system, its material assistance to Russia under Western sanctions will be meager.
"In recent days, officials in Beijing have inched away from their earlier pro-Russia statements and taken on a more neutral tone. As sanctions threaten to reduce Russia to an economically isolated pariah, China will not ride to its rescue."
Shandong, China's third largest provincial economy, started to import Russian flour via China-Europe freight trains in 2019, and since last year began buying more goods, including sunflower oil, mineral water and coal.
The northeastern province of Liaoning accounted for 2,600 carriages via 52 China-Europe trains in the first two months of this year, up by 36.8 per cent year on year, the China News Service reported, citing data from the China State Railway Group.
On Wednesday, a train carrying 747 tonnes (747,000kg) of Chinese goods left Shenyang, the capital city of the northeastern Liaoning province, for Russia via Manzhouli, it added.
China-Russia trade jumped by 35.8 per cent from a year earlier to a record high of US$146.9 billion last year, more than one-third of which was related to energy.
Russian agricultural exports to China accounted for only US$3.5 billion last year.
The two countries have set a goal of boosting trade to US$250 billion per year by 2025.