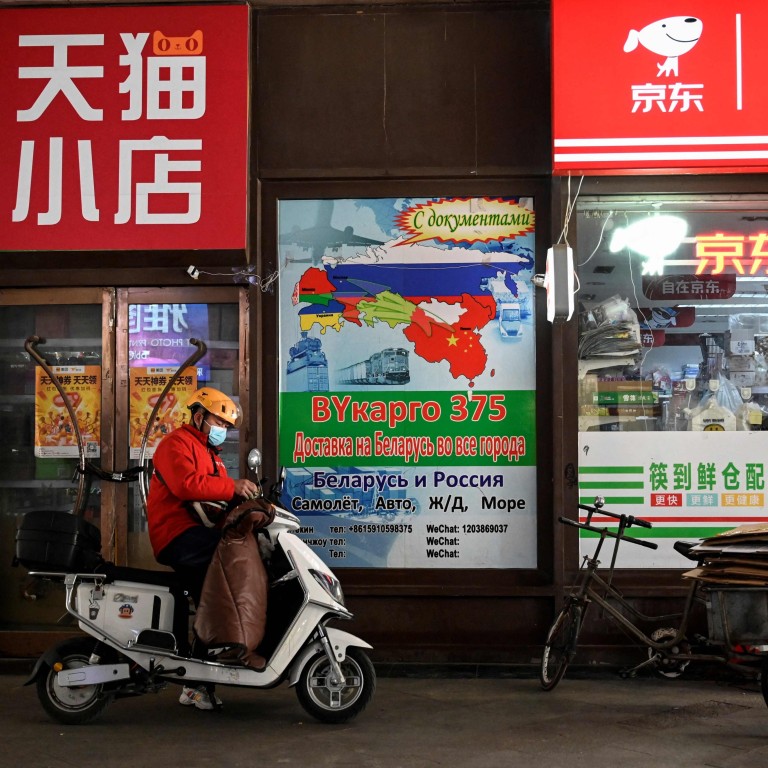 China vows 'necessary measures' to defend investors amid Western pressure to take sides in Russia-Ukraine war
China has called for diplomacy and negotiation over the conflict and has sought to maintain normal trade relations with both countries
China's imports from Russia rose by 26.39 per cent to US$7.84 billion despite Western sanctions imposed following the invasion of Ukraine at the end of February
China hit back at Western pressure to choose a side in the prolonged Russia-Ukraine war, with Beijing insisting it will take "necessary measures" to defend the legitimate interest of Chinese investors.
Western sanctions on Russia
following its invasion of Ukraine have already caused disruption to China's normal trade with its northern neighbour, according to the Ministry of Commerce.
Some foreign businesses have also violated market rules by forcing Chinese enterprises to choose a side in the conflict, it added.
"China has been firmly opposing long-arm jurisdictions and unilateral sanctions which are not authorised by the United Nations Security Council or supported by international laws," Ministry of Commerce spokeswoman Shu Jueting said on Thursday.
"We oppose any ban or restriction on China's normal trade activities with other countries."
But China's crude imports dropped by 14 per cent year on year to 42.7 million metric tonnes in March, as international prices spiked following Russia's invasion of Ukraine.
Overall,
China's exports to Russia in March
fell by 7.65 per cent compared with a year earlier to US$3.82 billion, but imports rose by 26.39 per cent to US$7.84 billion, according to
SCMP
calculations.
"China will take necessary measures to firmly defend the legitimate interests of Chinese enterprises," Shu added without elaborating.
China has constantly called for diplomacy and negotiation over the conflict, which started at the end of February, and it has sought to maintain normal trade relations with both countries.
China, which treats Russia as a comprehensive strategic partner, abstained from voting on a UN Security Council resolution which condemned the Russian invasion of Ukraine at the end of February. It also voted against a UN General Assembly resolution to suspend Russia from the Human Rights Council last week.
On Wednesday, US Treasury Secretary Janet Yellen called on Beijing to account for its ever-closer relationship with Moscow and blasted China for practices that "unfairly damage" the national-security interests of others.
"We oppose any groundless blame and suspicion on China, nor will we yield to any pressure and coercion. Time will prove we are on the right side of history," said Chinese foreign ministry spokesman Zhao Lijian on Thursday in response to Yellen's remarks.
Beijing insisted that all countries' sovereignty rights, including Ukraine's, should be respected, but Russia's reasonable security concerns should also be taken into account.
China has developed a toolkit against foreign long-arm jurisdiction over the past several years, and in June, passed an anti-sanctions law.
The law provides legal backing for sweeping retaliation against any individuals, their families and organisations responsible for imposing foreign sanctions against China.
The Ministry of Commerce also introduced its nonentity list in 2019, which is equivalent to the US entity list.
It also released rules on counteracting unjustified extraterritorial application of foreign legislation in January 2021.
China's accumulative outbound investment totalled US$2.58 trillion by the end of 2020, while it rose by 3.2 per cent from a year earlier to US$113.6 billion last year, government data showed.
But as Chinese interests in countries like the US and Australia receive more scrutiny, Beijing has tried to guide investment in countries and regions covered by its Belt and Road Initiative.
Many Chinese companies have been fined or restricted from conducting business overseas, most notably during the US-China trade war.
Telecommunications giant Huawei Technologies Co. has seen it access to access key technology components made with US technology restricted
In 2020, the US government also tried to force tech giant ByteDance to sell the US arm of its popular video app TikTok, although the plan was eventually shelved.
Additional reporting by Orange Wang