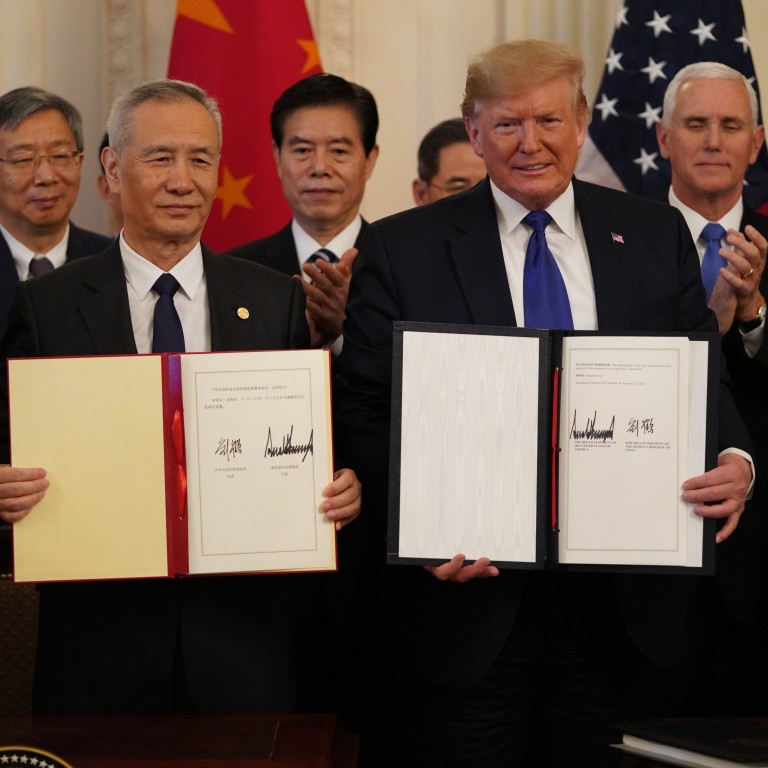 Explainer

|
US-China trade war: timeline of key dates and events since July 2018
The US-China trade war began in July 2018, eventually leading to tariffs on some US$550 billion of Chinese goods and US$185 billion of US goods
A phase-one trade deal was signed in January 2020, but China bought less than 60 per cent of the US exports it had committed to over the two years of the agreement
The
US-China trade war
began in July 2018 under the administration of then-US president Donald Trump, eventually leading to tariffs on about US$550 billion worth of Chinese goods and US$185 billion worth of US goods.
A phase-one trade deal between the two sides was signed in January 2020, but China would go on to buy
less than 60 per cent
of the US exports that it had committed to over the two years of the agreement.
06/07/2018: US-China trade war begins
US places 25 per cent duties on around US$34 billion worth of imports from China, including cars, hard disks and aircraft parts.
China retaliates
by imposing a 25 per cent tariff on 545 goods originating from the US worth US$34 billion, including agricultural products, automobiles and aquatic products.
23/08/2018: US imposes 25 per cent tariffs on a further US$16 billion worth of Chinese goods
24/09/2018: US places tariffs on US$200 billion worth of Chinese imports, China responds
01/12/2018: Xi, Trump call a truce in the trade war at the G20 summit
10/05/2019: US increases tariffs on US$200 billion worth of Chinese goods
US-China trade war timeline since July 2018
15/05/2019: US adds Huawei to 'entity list'
31/05/2019: China announces plans to establish 'unreliable entity list'
01/06/2019: China increases tariffs on US$60 billion worth of US products
29/06/2019" Xi, Trump again agree to a trade war truce at G20 summit in Japan
05/08/2019: US designates China a 'currency manipulator'
13/08/2019: US announces various planned levies have either been delayed or removed
23/08/2019: China announces fresh tariffs on US$75 billion worth of US products
01/09/2019: US tariffs on more than US$125 billion worth of Chinese imports begin as expected
11/09/2019: US agrees to briefly delay new tariffs on US$250 billion worth of Chinese goods
11/10/2019: Trump says 'substantial phase-one deal' reached, new tariffs delayed
15/01/2020: China, US sign the phase-one trade deal
14/02/2020: China halves additional tariffs on US$75 billion worth of US products
12/05/2020: China announces a second batch of trade-war-tariff exemptions
14/05/2020: China allows imports of barley and blueberries from the US
01/09/2020: Dozens of US imports from China are granted short extensions
14/09/2020: US issues restrictions on import of Xinjiang cotton and apparel products
15/09/2020: Beijing extends exemptions on 16 US products for another year
02/12/2020: US to block import of cotton goods produced by China's leading supplier in Xinjiang
02/12/2020 US president-elect Biden tells says he will not make any 'immediate moves' to lift tariffs
18/02/2021 US Treasury Secretary Yellen says that tariffs on China will be 'kept in place'
27/05/2021: Liu He, Katherine Tai speak in the first trade talks since August 2020
02/06/2021: Liu holds 'candid' exchange on issues of concern with Yellen
10/06/2021: Chinese commerce minister speaks with American counterpart
15/07/2021: US does not intend to resume the highest-level bilateral forum
19/07/2021: Trade deal doesn't address 'fundamental problems', Yellen says
04/10/2021: US to 'keep open potential for additional exclusion processes'
08/10/2021: China pushes US to cancel tariffs
01/11/2021: 'Reciprocal' lowering of trade tariffs could ease inflation, Yellen says
04/11/2021: US-China LNG deal unlikely to smooth over trade issues
16/11/2021: Xi Jinping urges Joe Biden to put the US' China policy back on track
19/01/2022: Biden says he won't lift tariffs on Chinese imports
26/01/2022: China has right to impose tariffs on US$645 million of US products
08/02/2022: US-China trade deal a 'historic failure'
23/03/2022: US reinstates tariff exemptions on more than 350 Chinese imports
The move applies to 352 products on which Washington first imposed levies in 2018, when then-president Donald Trump started a trade war with Beijing.
22/04/2022: 'We're looking at' tariff cuts on some Chinese imports
03/05/2022: US looking at lifting tariffs on Chinese goods
10/05/2022: Biden weighs cuts to Trump's China tariffs as inflation roars
11/05/2022: China implores US to drop tariffs
18/05/2022: Yellen confirms she is pressing Biden for some China tariff cuts
24/05/2022: US keeping 'eye on the ball' on China tariffs, removal must be 'strategic'
27/05/2022: US extends Chinese surgical mask tariff exemption
20/06/2022: China, US urged to 'start small' as Biden ponders trade tariff rollback
21/06/2022: Uygur Forced Labour Prevention Act takes effect
22/06/2022: China tariffs are 'significant' leverage
05/07/2022: Top economic officials from China and US talk
05/07/2022: US receive over 400 requests to keep China tariffs