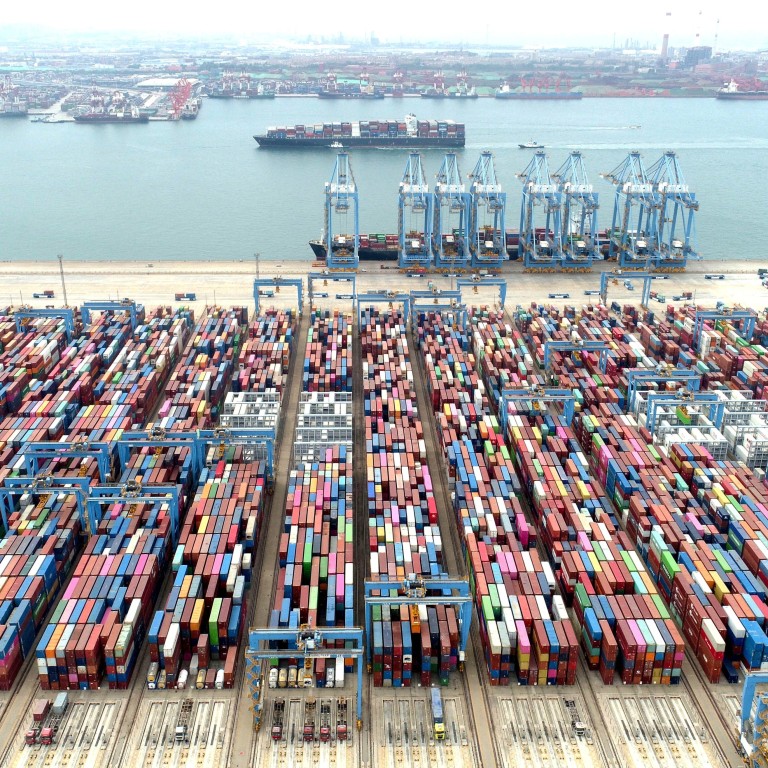 Ukraine war propels 'multilateral momentum' on China-focused 'Nato for trade', experts say
Russia's war in Ukraine will result in trade becoming more regional or alliance-based as opposed to global, which has long benefited China's economy, experts say
The US and European Union are already forging ahead with a coalition to govern use of advanced technology, which could hasten technology decoupling with China
Russia's invasion of Ukraine has renewed talk about formation of a "Nato for trade" alliance to counter unilateral economic coercion, analysts say, while a Washington-led coalition in advanced technology is becoming more likely as competition between China and US intensifies.
The idea of a new trade body outside the World Trade Organization has been discussed by democratic nations since 2020, amid growing concern about China's weaponisation of trade to punish countries that do not toe its line.
"The multilateral momentum from the Ukraine war is understandably giving fresh life to proposals like 'Nato for trade' to see just how far the Group of 7 plus powers can advance coordination on punitive trade measures, from addressing economic coercion to aligning export controls," said Reva Goujon, senior manager at Rhodium Group.
The proposal for a trade-based alliance along the lines of the North Atlantic military grouping would allow collective retaliation in response to coercive measures by China.
So far, no government has officially endorsed the proposal, and many analysts are sceptical whether it is realistic.
"Rather than the 'Nato for Trade' bloc idea coming to fruition, I think the more likely outcome is that you'll see coordination and incentives around friend-shoring for supply chain security that will address in part the threat of economic coercion from China, Russia, and others," Goujon said.
The US has already leveraged its lead in scientific and technological innovation to organise alliances across the globe to counter China, said Zhang Jie, an economics professor at Renmin University of China, in a blog post earlier this month.
"Japan, South Korea, Taiwan and other countries and regions are all subordinate to the global hi-tech industrial chain system created by the United States, and will inevitably participate more or less in the alliance in global science, technology and strategic emerging industries that the United States is building to completely exclude China," Zhang said. "China should not have any illusions about this."
Given the decoupling of China and the US in science and advanced technology is "inevitable", Beijing no longer needs to compromise by opening up its market to the US unilaterally, he said.
"Instead, the principle of reciprocity and openness must be used as the basis for the negotiation and competition between the two parties," Zhang said.
Semiconductors, or computer chips, are a key battlefield in the tech war between China and the US. While China has spent billions to boost its chip manufacturing capabilities, last year the US unveiled a bill aimed at increasing the competitiveness of its domestic semiconductor industry, including US$52 billion to subsidise manufacturing and research.
The Korea Institute for Industrial Economics and Trade, a South Korean think tank, said in an April report that the global semiconductor supply chain is likely to be reshaped in 2025.
By then it will be difficult for South Korea to maintain its "ambiguous neutrality" between Washington and Beijing, because the US possesses a large number of source technologies for semiconductors, it said.
Huang Yiping, a former member of the monetary policy committee at the People's Bank of China, said Russia's war in Ukraine will result in trade becoming more regional or alliance-based as opposed to global, which has long benefited China's economy.
"For a very long time, China was the world's biggest exporter, we were also the biggest receiver of foreign investment," Huang said at an online seminar organised by Renmin University of China last week.
"China is one of the biggest beneficiaries of globalisation."
Now, many countries are becoming more cautious about who they do business with, Huang said.
"When you are building up a supply chain, when you are allocating your assets, the first thing you'd think about is if [that country] is your ally or not, or will it be your opponent? If it is your opponent, the trade volume will be very small," he said.
Robert Atkinson, founder and president of the Information Technology and Innovation Foundation, said Russia's invasion of Ukraine was a shock to the belief that global cooperation trumps disputes.
"In my view, the realisation that this was not the case makes it easier for other nations to be more open to the idea that there needs to be more coordinated action against unfair and destructive trade and diplomatic practices by China," said Atkinson, adding he was not aware of any formal government discussions over "Nato for trade".
Jacob Kirkegaard, senior fellow at the German Marshall Fund, said smaller countries such as Australia and Lithuania would benefit from being part of an alliance like "Nato for trade".
"I think the threshold for such an organisation would be extremely high, so it seems likely that Australia and Lithuania will instead have to rely on more forceful actions taken by existing relevant institutions against China," Kirkegaard said.
"And it is clear that the Russian invasion has led to a more general EU re-evaluation of its economic relationship also with China, especially in Germany.
"There is an unwillingness now to become similarly dependent on Chinese market access, as has been the case with Russian energy. This will greatly benefit Lithuania in garnering the full support of the EU in confronting China."