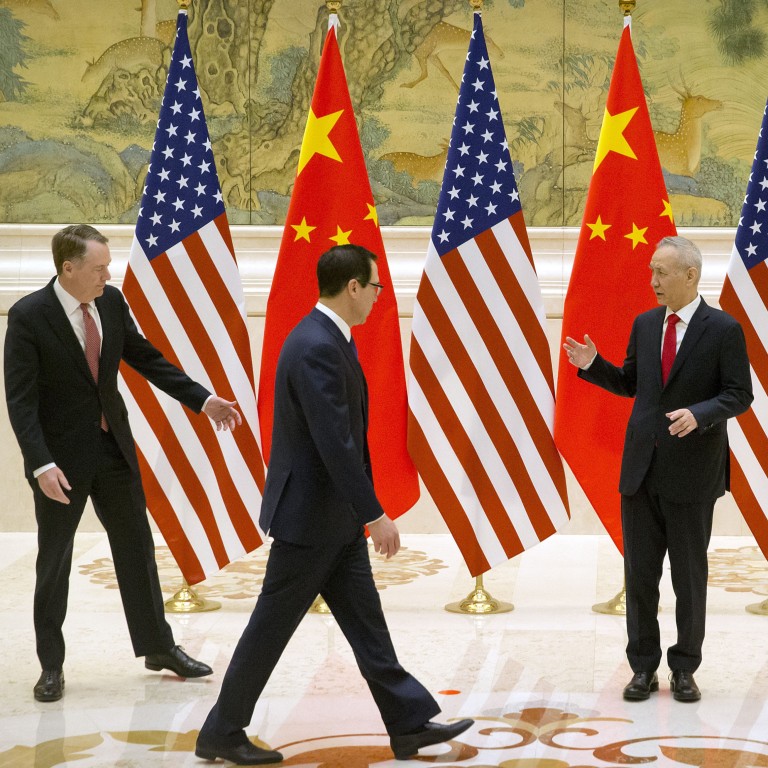 US-China decoupling: Beijing, Washington urged to work on 'real' plans for bilateral engagement
The American Chamber of Commerce (AmCham) in China says the costs of decoupling would be significant and generate no clear winners
AmCham China recommended that both Washington and Beijing separate issues of national security and identify barriers to guide bilateral competition in other spheres
The United States and China should work on "real" plans for bilateral engagement on "an issue-by-issue basis" and refrain from unproductive value-based positioning, a US lobby group said on Tuesday.
"We remain opposed to any effort at
outright decoupling of the US-China
relationship," the American Chamber of Commerce (AmCham) in China said in its latest white paper to outline concerns and policy proposals for US firms operating in China.
"Both sides should commit to real plans for commercial and political engagement on an issue-by-issue basis, while refraining from the public use of inflammatory and unhelpful rhetoric around values-based differences.
"Washington and Beijing should prioritise communication at the working level and with strong business community engagement on both sides, while emphasising real strategies for implementing their plans rather than engaging solely for the sake of engagement."
The costs of decoupling would be significant and generate no clear winner, the chamber added.
"National security actions should be applied in the least trade-restrictive manner possible. The tariff exemption programme should be expanded to facilitate trade, which is mutually beneficial," the report said.
Under pressure to tame high inflation, US President Joe Biden said last week he
could drop some of the tariffs
placed on Chinese imports by the Trump administration.
"The process for doing so will be enhanced if China also on its own made some gestures in this regard with respect to its trade barriers," said Lester Ross, chair of the AmCham China policy committee.
AmCham China recommended that both Washington and Beijing separate issues of national security and identify barriers to guide bilateral competition in other spheres, while any national security concerns should seek to minimise restrictions on innovation.
The organisation also called on both sides to work together to strengthen global public health infrastructure and refrain from politicising the coronavirus and pandemic response.
"We're very concerned about the ongoing and future investment by US and other foreign companies into China, because people can't get access in terms of travel," said AmCham China president Michael Hart.
"Unfortunately, the Covid lockdown this year and the restrictions for the past two years, are going to mean three, four, five years from now, we will see investment [into China] most likely decline."
AmCham China chairman Colm Rafferty said member companies are "undoubtedly undergoing a challenging time".
"In the past, what has made China attractive to our member companies has been the country's clear long-term strategic development goals, significant market opportunity, and a highly supportive and predictable business environment," Rafferty said.
"But, today, our members feel that the business environment has become a lot less predictable, largely due to the pandemic and its related restrictions.
"More worryingly, members don't see any light at the end of the tunnel."
The latest survey by the chamber
showed that more than half of its member companies have cut revenue expectations for this year, while more than 60 per cent have suffered supply chain disruptions.
"We are highly concerned about the problems of blocked logistics and unstable expectations in some foreign-invested enterprises," said Meng Wei, spokeswoman for the National Development and Reform Commission, China's top economic planning agency, on Tuesday.
The chamber also called for called for authorities to address confusion and uneven policy implementation with a "timely and clear" announcement of changes to enhance compliance capabilities.
Ross added that one of the biggest concerns highlighted in the white paper was cybersecurity, which has affected US companies across the board over uncertainties about what data has to be localised, with firms establishing separate data operations within China.
"That affects the ability to govern the company on a worldwide basis. … that's much more expensive, and to some extent, much riskier than it would be," he said.
He also highlighted concerns over regional geopolitical tensions and also China's close ties with Russia, which raised "real questions" in the US about the ability to continue to rely upon China as both a supplier and a market.
The world's two largest economies are still locked in a stalemate over resuming senior-level bilateral trade dialogue despite the expiry of their initial trade deal in December.
The last talks
took place in October
between Vice-Premier Liu He and US Trade Representative Katherine Tai before the meeting between President Xi Jinping and US counterpart
Joe Biden
in November.
Additional reporting by Amanda Lee