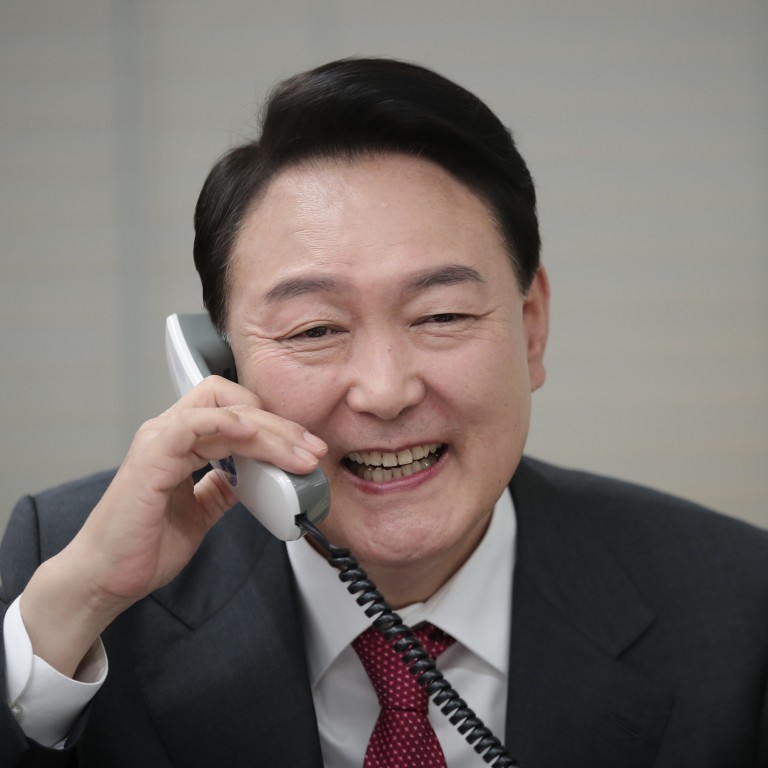 Joe Biden's IPEF economic pivot seen as 'cold war strategy', bringing China 'sharp challenges'
US President Joe Biden set to kick off the Indo-Pacific Economic Framework during his four-day visit to South Korea and Japan, which starts on Friday
The framework focuses on trade, supply chain resiliency, the digital economy, infrastructure, technology, decarbonisation, clean energy, tax and anti-corruption
Joe Biden's new economic initiative for the Indo-Pacific region, which is set to be unveiled in the coming days, is being viewed as "a cold war strategy" that will bring "sharp challenges" to China as the strategy seeks to counter Beijing's rising influence in the region.
The US-led strategic grouping, which was announced in October, will be the Biden administration's focal strategy for the region, and will include partnerships with regional allies revolving around fair trade, supply chain resiliency, the digital economy, infrastructure, technology, decarbonisation and clean energy, as well as tax and anti-corruption.
Washington is seeking to employ the framework to fill the void in the region left by the US's withdrawal from the Trans-Pacific Partnership (TPP) free trade agreement in 2017 by former president Donald Trump.
"The US-led grouping will be a beginning to a new regional dynamic, as well as bring sharp challenges to China that are different from the past," said Shi Yinhong, an international relations professor at Renmin University.
"China is faced with various diplomatic, economic and financial difficulties in the region, no matter whether they are caused by the South [China] Sea disputes, the Taiwan issue, the pandemic, the Ukraine war or the slow and consistent decline of the domestic economy.
"This will be an asymmetrical warfare because the United States has existing advantages in the region, with Japan, Australia and South Korea being its allies. China will likely be at a temporary disadvantage."
In addition to Singapore and the Philippines, the
core IPEF participants
will likely include Australia, Japan and India, while Taiwan is unlikely to be an official partner, Shi added.
Beijing, which considers Taiwan a breakaway province that must be brought under control, by force if necessary, strongly opposes official exchanges between other countries and the island.
New
South Korean President Yoon Suk-yeol
has shown an interest in joining the group, and is expected to announce his government's intention to join the framework when he meets Biden in Seoul on Saturday, according to a
Chosun
newspaper report.
"The IPEF brings no major threats and urgent challenges," said He, who described the plan as being a "cold war strategy".
"Many of its proposed pillars, including worker standards, green energy and the supply chain, overlap with existing policies from RCEP, WTO and G20, and if it can't offer any substantial regional trade arrangements, it will be just empty.
"The US-led IPEF is designed to build a complete supply chain in the Indo-Pacific region, but the point is the US is not in it while China is the core of it," added He, who is also a former economic and commercial counsellor at the Chinese consulates in New York and San Francisco.
RCEP is the world's largest free trade agreement between the 10 Association of Southeast Asian Nations (Asean) members plus Australia, China, Japan, New Zealand and South Korea.
It covers nearly a third of the global population and about 30 per cent of its global gross domestic product, and took effect for most of the 15 member countries on January 1, with South Korea following a month later.
China, according to He, is faced with supply chain threats in high technology sectors, including semiconductors and artificial intelligence, due to the US-EU Trade and Technology Council.
The agreement focuses on principles and ideologies underlying technology policies in a move to slow Beijing's ambitions of becoming a global technology power.
The IPEF, though, remains in its early stages with substantial details yet to be fleshed out, according to Yu Xiang, an adjunct fellow at the Centre for International Security and Strategy at Tsinghua University.
"China is too big of a market for any of its partners to afford to lose," said Yu, who is also a senior research fellow at China Construction Bank.
"The timing is also important here. Next year the whole world will focus on recovering and repairing their economy from Covid, and this political siege will hardly be anyone's priority and the impact of the IPEF will be largely limited."
Since the US hopes to counteract China with rules, Beijing has a clear answer, said Guo Hai, a researcher at the Institute of Public Policy at the South China University of Technology.
"[China needs to] improve its internationalisation level, especially in terms of soft infrastructure such as environment, labour conditions and gender equality," he said.
"The US promotion of the IPEF actually forces China to increase its level of openness and strengthen its international competitiveness to a certain extent. This is not necessarily a bad thing for China, and it is very important under the current climate."