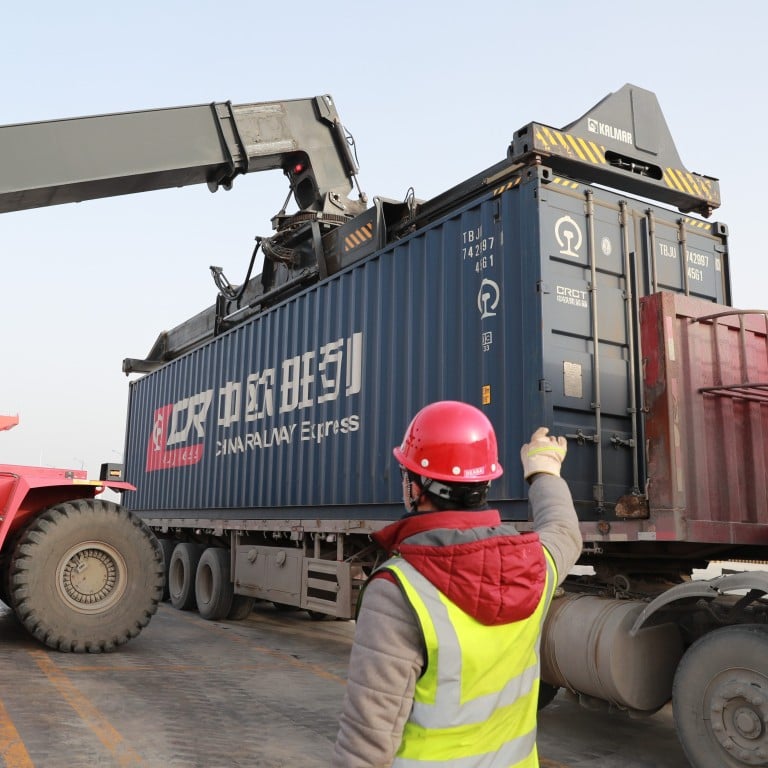 Ukraine war casts shadow over China's belt and road ties with Russia-led Eurasian trade bloc
Collaboration between the Eurasian Economic Framework and Belt and Road Initiative at risk of 'secondary sanctions', analysts say
Increasingly wary of external uncertainty, China is prioritising risk control and prevention for its belt and road push this year
Western sanctions on Russia over its Ukraine invasion are forcing China to recalibrate ties with the Eurasian Economic Framework (EAEU), an economic union of post-Soviet states, with collaborations under the Belt and Road Initiative now at risk of "secondary sanctions".
Beijing and Moscow signed a joint statement on cooperation between the EAEU and belt and road projects in 2015, a year after the union between Russia, Armenia, Belarus, Kazakhstan and Kyrgyzstan was established.
China and the EAEU agreed on greater economic coordination in 13 areas, including customs, trade, intellectual property rights, e-commerce and government procurement.
The enhanced coordination meant countries would not have to "choose between Russia and China", said a commentary by the China Institute of International studies.
But with Russia now subject to sweeping
Western sanctions
after invading Ukraine, China's economic relations with its northern neighbour and other EAEU countries is increasingly tricky.
"Collaboration between EAEU and [Belt and Road Initiative] is affected because sanctions from America and Europe increased the risk of secondary sanctions for Chinese companies," said Zhao Long, a researcher at the Shanghai Institute for International studies.
Contractors and investors involved in EAEU and belt and road joint projects could run afoul of restrictions if they seek financing or conduct other business with companies that have been targeted by Western sanctions, he said.
The risk of these "
secondary sanctions
" has prompted hundreds of businesses and multilateral institutions to suspend ties with Russia.
The Asian Infrastructure Investment Bank and Bank of China have curtailed Russian access to capital markets, according to a database compiled by Yale University's School of Management.
Chinese tech giant Huawei has also halted new orders and furloughed some staff in Russia, the database showed.
Oil and gas behemoth Sinopec has suspended talks with Russia for a gas chemical plant worth up to US$500 million, and at least five Chinese companies stopped work on Russia's Arctic LNG 2 project in northern Siberia at the end of May.
"The war in Ukraine is impacting bilateral developments between Russia and China, and the coordination within the Eurasian union," said Paul Stronski, senior fellow at Carnegie's Russia and Eurasia Programme.
"On sanctions, we are seeing Beijing being quite supportive of Moscow in this war, which is surprising given China's normal approach to condemn separatism and interference in the internal affairs of another country. That is essentially what Russia is doing."
But beyond diplomatic support and motivation to
buy cheap energy
, many Chinese companies "have been wary of running afoul of US or EU sanctions" because both economies are "far more important export and trade markets" for companies in China, Stronski said.
The impact of sanctions imposed on Russia will be felt across the EAEU because the "design" of the union ties them to "Russia's own fate", according to Kataryna Wolczuk, an associate fellow at Chatham House's Russia and Eurasia programme, and Rilka Dragneva, professor at the University of Birmingham's school of law.
Kazakhstan and Kyrgyzstan, for example, are likely to see negative impacts on their currencies and remittances, while restrictions will affect the trade of key commodities, they wrote on the think-tank's website last month.
Katarzyna Czerewacz-Filipowicz, an associate professor at Bialystok University of Technology's faculty of engineering management in Poland, said firms like Cargotor, Maersk and Mediterranean Shipping Company have suspended rail freight services through Russia as "a sign of solidarity with Ukraine".
"Sanctions have also been applied to Russian railways, and this is probably why the uncertainty about the Belt and Road Initiative arises," she said. "However, it is worth emphasising that the sanctions include access to financial markets and transactions in securities. Thus, they do not cover cargo transit contracts via Russia."
A rail line from the Chinese border through Kazakhstan, Russia, Belarus and into the European Union, which was "heavily subsidised by the Chinese side" and seen as vital to get goods from China to Europe through the EAEU, "is now dead", said Stronski.
"European suppliers now are wary about putting their goods on a train via Russia given the reputational risks, or fears that Russia will hold up these goods," he said. "Chinese producers have grown wary of using the route, given all the same reasons."
Increasingly alert to external uncertainty, China is prioritising risk control and prevention for its belt and road push this year, according to a report released in early March by the National Development and Reform Commission.
And Chinese companies have already begun scaling back international investment under the initiative.
Some 194 belt and road projects valued at US$13.66 billion were announced last year, down from 399 projects valued at US$80.51 billion in 2020, according to a report by financial data provider Refinitiv released in December last year.
As for Russia, international isolation will hasten its "pivot to the East" by building the "friend-shoring" alliances, said Zhao at the Shanghai Institute for International studies.
"Members of the EAEU will hasten the free flow of trade, services, capital, labour and the progress of local settlements in the region before 2025," he said. "They'll also strengthen security initiatives with their allies in order to broaden the post-Soviet space of influence."