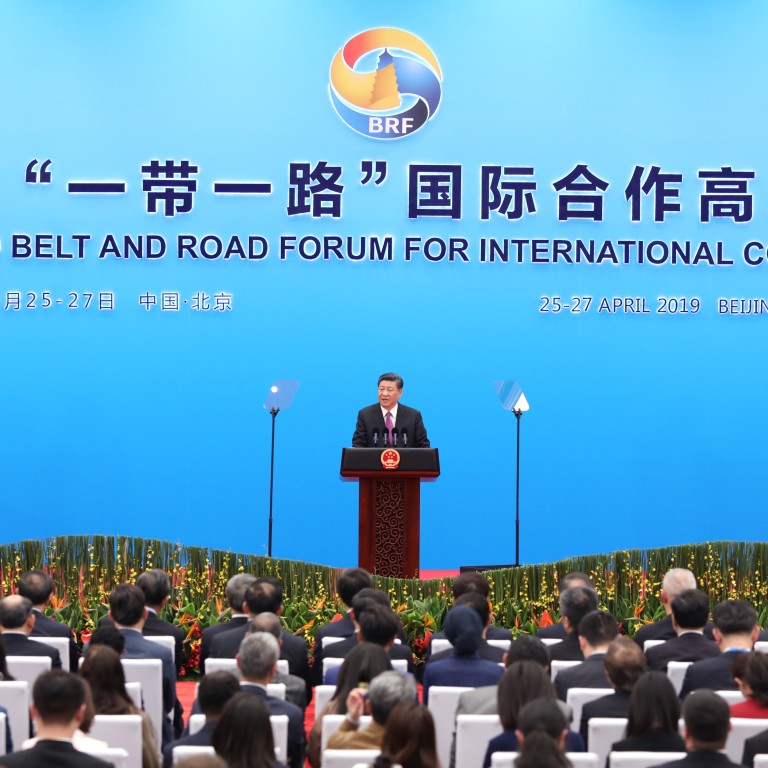 China-US rivalry dampens belt and road investment in Latin America and the Caribbean, but strong demand remains
Chinese foreign direct investment in Latin America and the Caribbean accounted for 6.5 per cent of the region's total last year, falling from 10.44 per cent in 2020
Rivalry between China and the US is 'greatly affecting capital flows', analysts say, but demand for projects under the Belt and Road Initiative is still there
China's foreign direct investment into Latin American and the Caribbean tumbled last year, with the growing rivalry between Washington and Beijing "greatly affecting capital flows" from the world's No 2 economy.
Even so, analysts say the Belt and Road Initiative remains an effective tool for deeper Chinese engagement in the region at a time when the United States and others "don't offer feasible alternatives".
Chinese
foreign direct investment
(FDI) accounted for 6.5 per cent of the region's total last year, falling from 10.44 per cent in 2020, according to the Latin America and the Caribbean Network on China (RED ALC-China), an institute at the Universidad Nacional Autónoma de México.
Deepening confrontation between the US and China last year and the first quarter of this year was "greatly affecting capital flows", the institute said in a report released late May.
US tariffs on Chinese imports, as well as restrictions on its tech exports and financing for Chinese companies on the US stock market were all having an impact on investment, it said.
Still, China's ties with Latin America and the Caribbean (LAC) run deep, analysts say, and there is strong demand for infrastructure development.
"After the [belt and road] announcement in 2013, more than US$60 billion worth of China-Latin America infrastructure projects were reported between 2015-20," said Kanyi Lui, partner at Pinsent Masons based in Beijing.
"The increase in [belt and road] activity levels in LAC were noticeable as early as 2019."
China's globe-spanning Belt and Road Initiative aims to boost Beijing's economic and political influence with a network of railways, highways and ports connecting Asia, Europe and Africa.
Beijing's overseas infrastructure investment usually comes with no political strings attached, which is "generally very well received by the global south", said Lui.
Chinese companies and lenders have been "active and competitive" in the LAC since the early 2000s across multiple sectors, including agricultural, energy, telecommunications, transport, manufacturing, services and hospitality.
Enrique Dussel Peters, professor at Universidad Nacional Autónoma de México's Graduate School of Economics, said the region's demand for infrastructure was "huge", with spending worth around 5 per cent of regional gross domestic product (GDP).
The top three sectors for Chinese investment in LAC between 2000-21 were metals, minerals and mining, as well as transport and energy, according to the report from RED ALC-China.
China Petroleum & Chemical, China National Offshore Oil, State Grid, China Three Gorges and China Minmetals Group were the top five investors over the same period.
"There is no clear or official definition of what's a [belt and road] project and what is not. Taking a very loose definition, all Chinese infrastructure projects in the region could be considered," said Otaviano Canuto, senior fellow at the Morocco-based Policy Centre for the New South.
"[The Belt and Road Initiative] makes sense not only geostrategically for China, but economically as a way to channel excess domestic capacity, whether savings or industrial."
China's growing geostrategic footprint in the region is stoking concern in Washington.
The
Summit of the Americas
held earlier this month was aimed largely at countering Beijing's growing influence in the US' backyard. China has sharply increased investments and infrastructure projects, with China-Latin America trade exceeding US$400 billion in 2021, compared to US$295 billion for the US.
"The US is clearly concerned," said Canuto. "But concerns, attention and discourse don't always translate into actions and impact if they are not followed by resources and other opportunities for countries to benefit economically. Rhetoric is not enough and real results matter."
Take American vaccine donations to the region as an example, he said. Many countries have been left with the impression that China did more than the US because Chinese vaccines arrived faster and in greater quantities during the height of the pandemic, although at this point US donations have far exceeded Chinese ones, Canuto said.
Lui said sustainability, climate change, collaboration and development will all be important themes for the Belt and Road Initiative in Latin America and the Caribbean.
"I expect to see a widening of focus from infrastructure to other sectors, including productive assets and tertiary industries in countries which already have essential infrastructure for business in place," he said.
Recalling an old Swahili proverb, Canuto said the region could position itself to benefit from both US and Chinese investment.
"'When two elephants fight, the grass gets crushed! When two elephants make love, the grass gets crushed!'," he said. "So, the idea is to maximise the flows of resources, investments, and opportunities opened by the dispute rather than unilateral alignments."