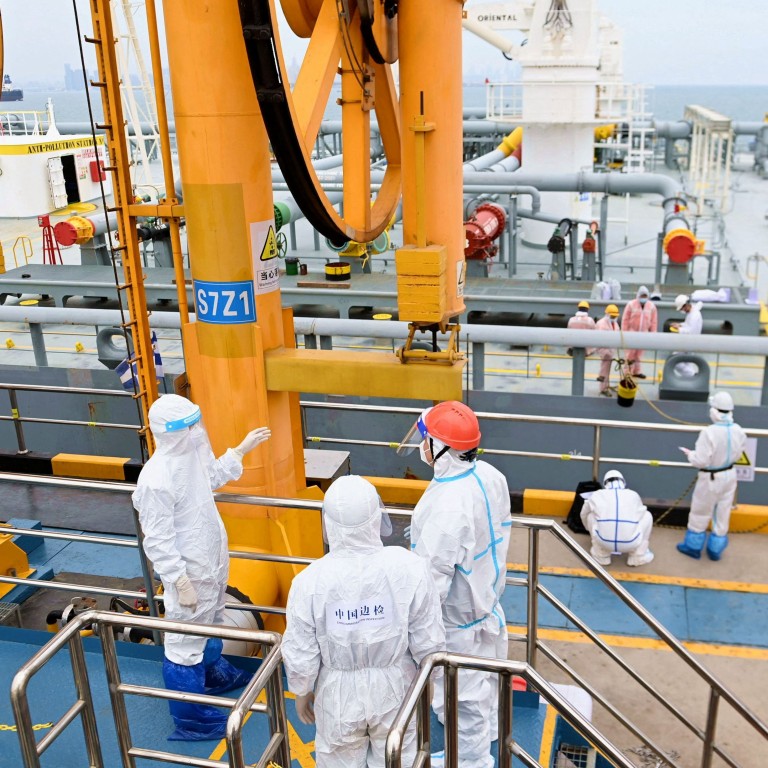 China's Russian oil imports surged over 50 per cent in May, boosted by discounts amid Ukraine war sanctions
China spent US$5.8 billion to import a record 8.42 million tonnes of crude oil from Russia last month, helped by discounts offered by suppliers facing Western sanctions
China's overall crude oil imports rose by 11.8 per cent in May from a year earlier to 45.8 million tonnes
China stepped up purchases of Russian energy in May amid steep discounts offered by suppliers facing Western sanctions over the invasion of Ukraine, customs data showed.
Crude oil imports from Russia soared to a record 8.42 million tonnes last month, increasing by 29 per cent from April and by 55 per cent from a year earlier, according to data from China's General Administration of Customs released on Monday.
The surge lifted the value of total Russia crude imports to US$5.8 billion in May, more than double the value compared to a year earlier.
The value, though, was still lower than China paid for crude imports from Saudi Arabia – its biggest crude oil supplier last year – in May, even though the volume from Russia was around 600,000 tonnes higher.
As many Western countries, including the United States, Canada and the European Union, have announced a
complete or at least a partial ban
on Russian crude imports, more oil has been flowing to Asia – primarily China and India – in the past few months with a lower than market price.
Most seaborne Russian crude oil flowing to China has been an ESPO Blend from the far eastern port of Kozmino, with independent refiners in Shandong province the major destination, according to Yen Ling Song, an associate director at S&P Global Market Intelligence.
"Russia's seaborne shipments of crude oil to China rose for the fourth consecutive month in May to 1 million barrels per day, and arrivals in June will continue," Song said during a seminar earlier this month.
"If the supply from Russia is stable, Chinese refiners are likely to continue to purchase, especially when the price is more advantageous to other grades, this is a very important factor."
Bloomberg reported last month that Beijing was in talks with Moscow to buy additional supplies of oil to bolster China's strategic crude inventories, with White House officials aboard Air Force One at the time reportedly saying this
would not contravene US sanctions.
China's overall crude oil imports rose by 11.8 per cent in May from a year earlier to 45.8 million tonnes.
Last month, China imported 4.7 million tonnes of Russia coal, an increase of 24 per cent compared with April but still 5 per cent lower than the volume at the same time last year.
The figure included 1.7 million tonnes of coking coal – an essential input for production of iron and steel – and 1.8 million tonnes of thermal coal, which is used for power generation.
China has gradually reopened over the last few weeks following its
stringent coronavirus lockdowns
which started in March, but economic activity has still far from fully recovered, which has suppressed the demand for imported coal.
It imported a total of 20.55 million tonnes of coal in May, down from 21.04 million tonnes at the same time last year.
Chinese coal traders currently have more of an appetite for Russian coal as its price has a slight advantage over domestic coal, with the CIF price – which covers cost, insurance and freight – at US$182 per tonne at Guangzhou Port, according to a report from Chinese coal information provider sxcoal.com on Friday.
"As the effective date of [European Union] countries' ban on Russian coal imports approaches, market participants expect a large amount of Russian coal to enter China and India after August," the report said.
China's overall imports from Russia rose by 79.6 per cent to US$10.3 billion in May, according to China customs.
Around 80 per cent of Chinese imports of Russian products includes minerals, with crude oil making up more than 70 per cent of the imported minerals, according to Post calculations based on Chinese customs figures.