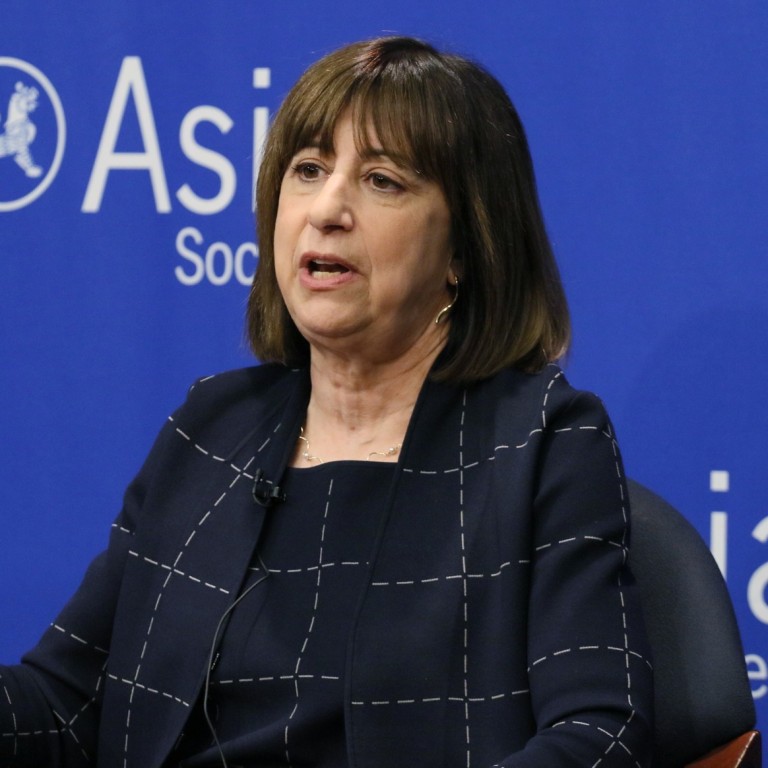 China, US urged to 'start small' as Biden ponders Trump-era trade tariff rollback amid record inflation
Former acting deputy US trade representative Wendy Cutler believes Washington will soon unveil its plan for how to handle the trade tariffs
US President Joe Biden said on Saturday that he is in the process of making up his mind about the US$350 billion of Trump-era tariffs imposed on Chinese goods
China and the United States have been urged to "start small" as the Biden administration seemingly inches towards a decision on how to handle the US$350 billion of Trump-era tariffs imposed on Chinese goods, with hope that any progress could kick-start an "upwards spiral".
Former acting deputy US trade representative Wendy Cutler believes Washington will soon unveil its plan for how to handle the tariffs, which have been in place for nearly four years, amid intense
debate within the Biden administration
.
"I would just urge my Chinese friends no matter what we do, but particularly if the United States goes ahead and rolls back some tariffs, that China responds in kind even for its own reasons," she said on Monday at a forum held by the Centre for China and Globalisation.
"That would be a very positive step … maybe we can see kind of an upwards spiral, meaning that if the United States were to roll back some [tariffs], China could roll back some and even more, and then the United States can respond in kind."
US President Joe Biden said on Saturday that he is in the process of making up his mind about the tariffs, with a talk with Chinese counterpart Xi Jinping expected "soon".
Biden's Treasury Secretary, Janet Yellen, told lawmakers last week that "some reductions may be warranted" with the US battling against inflation that accelerated to a new 40-year high in May.
But US Trade Representative Katherine Tai said last month that
Washington must be "strategic"
when making changes to the tariffs, which increase the cost of Chinese goods imported into the US.
Beijing has largely remained silent on the issue, apart from reiterating its long-standing position that the tariffs only hurt both the two economies and the world, while urging the US government to remove the measures.
China has insisted that tariffs must be discussed under the framework of the
phase-one trade deal, which expired in December
, and involve follow-up arrangements, according to a diplomatic source who asked to remain anonymous due to the sensitivity of the issue.
Cutler, who is vice-president of the Asia Society Policy Institute and managing director of its Washington office, said bilateral engagement between trade officials had deteriorated in recent years.
Both sides have yet to restart senior-level communications on trade issues amid a heightened rivalry over areas including military, investment, Taiwan, space and ideology.
"It's important that we recognise there's little trust, I don't think we should start big, I think we should start small, find very practical areas where we could quietly make progress and build on that over time," she added
"This kind of top-down trying to resume big dialogues and take on mega issues, I think kind of dooms us for failure."
She added that the Biden administration has a burden to show what it can gain from lifting some of the tariffs, but Cutler also pointed out that Beijing has lacked progress in addressing structural issues identified by Washington.
"Why doesn't China go first? Why doesn't China take the initiative and just eliminate tariffs on some US$25 billion worth of US imports and see how the United States responds," she added.
Yi Xiaozhun, a former deputy director general of the World Trade Organization, said China and the US must seek to restore trust, with the recent 12th Ministerial Conference in Geneva highlighting that both Beijing and Washington still share many common interests.
"Instead of a zero-sum world of economic nationalism, both the US and China could work together to promote a positive-sum world of economic cooperation, because interdependence would give countries a stake in each other's success," China's former vice-commerce minister told Tuesday's forum organised by the Beijing-based think tank.
Craig Allen, president of the US-China Business Council, also told the forum that the trade ties between the two countries were still facing many short-term challenges, including Beijing's zero-Covid strategy, its "no limits" friendship with Russia and a rising focus on a state-driven trade policy highlighted by the so-called dual circulation strategy.