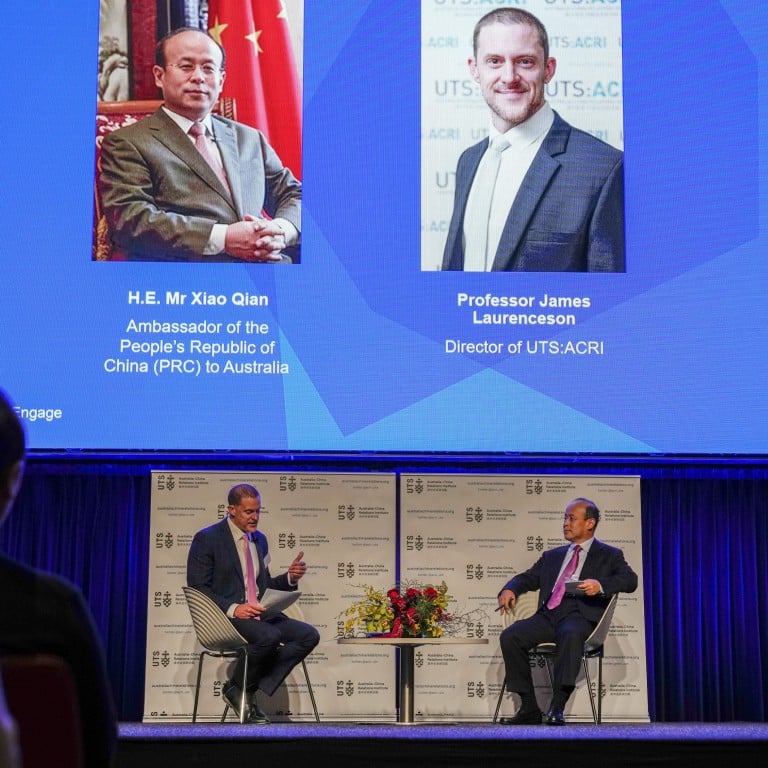 China-Australia relations: chance for 'thaw', but can Beijing, Canberra mend fractured trade ties?
A leadership change in Australia presents an opportunity for at least a 'thawing' of trade ties and diplomatic exchanges with China after a tumultuous two years
China's ambassador to Australia last week said that it was 'important how we can maintain the momentum and put our relationship back on the right track'
As the adage goes, it is a marathon, not a sprint. And insofar as that applies to China-Australia relations over the past 26 months, rather than miles, the finish line still appears a long way off.
But even with fractured trade ties marred by missed opportunities for reconciliation, the goal line in this case – a return to normalcy between the major trading partners – is perhaps still within reach, according to analysts.
Canberra and Beijing have been at odds since April 2020, when the former called for an inquiry into the origin of the coronavirus without diplomatic consultations beforehand. What followed
has been a tit-for-tat battle
, with trade taking the brunt of the blows.
Australia's wine industry has been one of the biggest losers in that respect, taking an A$844 million (US$585 million) hit in the year that ended in March, after China applied duties on Australian wine in March 2021 following anti-dumping investigations.
Canberra's exclusion of Huawei Technologies Co. from its 5G network also drew the ire of Beijing and led to bans and restrictions on Australian coal, beef, lobsters, log timber and barley.
But after Anthony Albanese's Labor Party defeated Scott Morrison's conservative government
last month
, defence minister Richard Marles met his Chinese counterpart, Wei Fenghe, on the sidelines of the
Shangri-La security summit
earlier this month.
Their meeting broke what had been a long diplomatic drought between the two sides, dating back to January 2020.
"The change in government represents an opportunity for a thawing of relations between China and Australia," said Bryan Mercurio, a trade law professor at the Chinese University of Hong Kong.
But while he also called the meeting between defence ministers "a positive development", he cautioned about reading too much into it.
Mercurio pointed to a recent failure by new Australian trade minister Don Farrell to meet with his Chinese counterpart, Wang Wentao, during the World Trade Organization's (WTO) 12th Ministerial Conference in Switzerland earlier this month, saying this was an example of the difficulties facing the two sides, particularly in their trade relationship.
"This brings me to a conclusion that the change in government will not result in an immediate thawing of trade or broader diplomatic relations. I do not expect the new government to massively shift Australian trade policy, nor do I expect them to change the tone of the discussion," Mercurio added.
"The Albanese government will have a difficult time trying to appease China while also standing up for and promoting the interests of the domestic constituency. This is especially the case as at the moment it cannot get a private, closed-door meeting with Chinese officials."
Farrell's predecessor, Dan Tehan, had also previously failed to connect with Wang after
sending a letter
to the then-new Chinese commerce minister in January last year, which he said went unanswered.
Albanese has previously said China needs to lift its sanctions on Australian products to improve relations, though China's move to strike a security pact with neighbouring Solomon Islands has only added to the tense political landscape that any improvement in trade ties must compete with.
Last week, China's ambassador to Australia, Xiao Qian, while taking a swipe at Morrison's "nonsense" move over the coronavirus probe, defended Beijing's decision to impose the tariffs, which have dealt a heavy blow to Australia's economy, as China is its largest two-way trading partner.
Between interruptions by protesters, angry over China's
alleged treatment of the Uygur minority group
, as well as issues concerning Hong Kong, Tibet and Taiwan, Xiao said that ministerial talks between China and Australia were "very significant" following such a long and difficult period in relations.
"Perhaps more important is how we can maintain the momentum and put our relationship back on the right track," Xiao said on Friday in an address to the Australia-China Relations Institute at the University of Technology Sydney.
He also said that the escalation of tariffs was related to concerns about dumping by Australian businesses, and that these moves did not amount to "official sanction measures".
Another curveball in the relationship had also been thrown earlier in the week, as news emerged that Australia's government-backed wine industry body, Wine Australia, was closing its office in Shanghai.
Wine Australia confirmed its "difficult" decision to close its office in Shanghai on Tuesday, saying it was "based on the current environment and market opportunity".
Last June, Canberra lodged a
formal complaint
with the WTO over China's wine tariffs, and the Geneva-based body agreed in October to establish a dispute-settlement panel to address the complaint.
Australia's national association of wine-grape and wine producers, Australian Grape & Wine, backed the move by Wine Australia to close its office, given that China's import duties have led to a 97 per cent reduction in Australia's wine exports to mainland China.
According to Australian Grape & Wine, the market was previously worth A$1.2 billion (US$830 million), but the value fell to A$24.2 million in the 12 months to March.
More recently, however, the association pointed to a congratulatory message from Chinese Premier Li Keqiang sent to Albanese in the days following his election victory.
The association's general manager for government relations and external affairs, Lee McLean, struck an optimistic tone looking forward, saying: "While we do not expect an immediate reopening of the Chinese market as a result of [Li's] gesture, we hope that it signals a willingness to engage in dialogue between our two countries at the political level."
Last month, Treasury Wine Estates confirmed that it will release its
first Penfolds wine made in China
for the domestic Chinese market in the second half of 2022, using grapes sourced in China's northwest Ningxia Hui autonomous region.
China remains Australia's largest two-way trading partner despite the tensions, with bilateral trade amounting to US$231.2 billion last year, marking a year-on-year rise of 35.1 per cent, according to China's Ministry of Commerce.
Earlier this month, Ministry of Commerce spokesman Gao Feng said Beijing hoped that the new administration in Canberra "can face the critical issues in bilateral relations" and "treat China and its development objectively and rationally".
Meanwhile, Weihuan Zhou, an international economic lawyer with the University of New South Wales Law's Herbert Smith Freehills CIBEL Centre, also had an eye on the future in his assessment of ties between the two sides.
"The closure of Australia's wine representative office in China may be more a result of the loss of competitiveness of Australian wine in China, due to the high anti-dumping tariffs that will last until 2026," he said. "It does not suggest that the bilateral relations are getting worse."
"With the new Labour government and China's official reaction to it, one should remain positive about the window of opportunity for the two sides to reverse the declining relations and rebuild the habit of cooperation," Zhou added.
"This requires political willingness, diplomatic wisdom and creative approaches to minimise the impact of a handful of fundamental disagreements on the prospect of economic cooperation."
And with this year marking the 50th anniversary of the establishment of diplomatic relations between China and Australia, others have also expressed hope for improved ties.
"I do not think the bilateral relationship will be doomed in the long term," said Henry Gao, a law professor at Singapore Management University, adding that Canberra and Beijing "still have a significant trade relationship and common frameworks … to engage with each other".