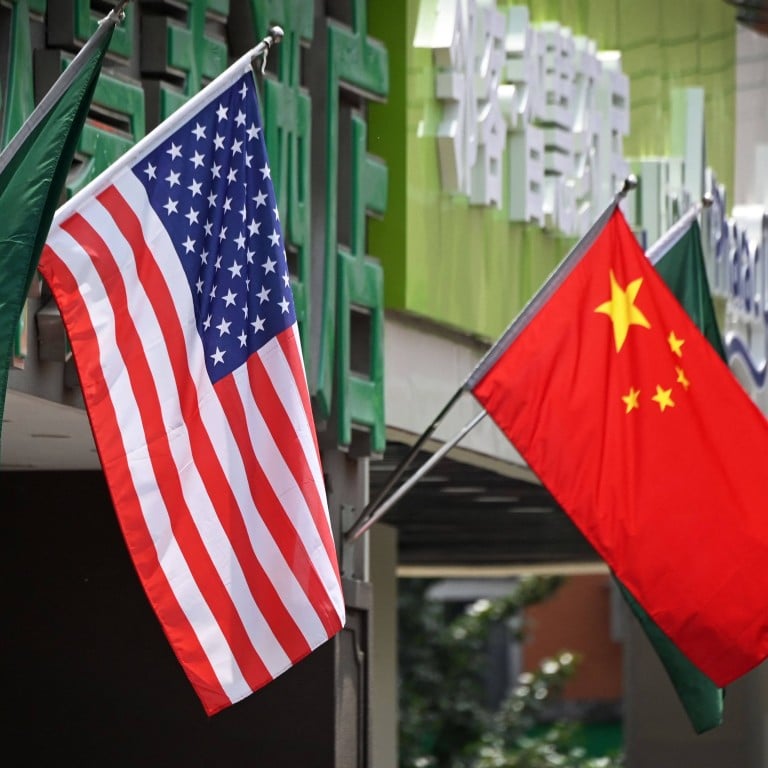 US-China relations: Beijing could face double threat from tariffs and Indo-Pacific pact
Economist Zhong Zhengsheng says the US might use tariffs in concert with the IPEF economic framework to restrict China's economy
Though analysts expect the removal of some US tariffs on Chinese goods, that could be coupled with a new probe into industrial subsidies
China should brace for a scenario where the US leverages both tariffs and the new Indo-Pacific Economic Framework (IPEF) to contain the country, according to a Chinese expert, despite talk of an imminent tariff rollback.
US President Joe Biden has been mulling the possible removal of some tariffs on Chinese imports in a bid to help curb soaring inflation in America, and there are reports that a decision could come
as soon as this week
.
Zhong Zhengsheng, chief economist at Ping An securities, said tariffs could still be used by Washington as a bargaining chip in the trade relations with Beijing, especially as inflation expectations were falling in the US.
Furthermore, the Biden administration might use tariff measures in concert with the
IPEF economic framework
to squeeze China's economy, he said.
"We need to keep an eye on this … the US might use [tariffs and the IPEF] at once and attach importance to both," he said at a webinar held by the think-tank China Macroeconomy Forum on Wednesday.
On Tuesday, China's top trade negotiator Liu He and US Treasury Secretary Janet Yellen had a
long-awaited meeting
that appeared to be a step toward a widely anticipated rollback of punitive tariffs on some Chinese products, four years after being put into place.
The White House said afterwards the Biden administration is looking at options on whether to cut tariffs on Chinese imports to ease inflation.
"There are a lot of different elements to this, especially since the previous administration imposed these tariffs in such a haphazard way, in a non-strategic way," said White House press secretary Karine Jean-Pierre.
"So we want to make sure that we have the right approach. And again, his team is talking, is figuring it out, and they're talking through this."
Analysts expect the removal of some tariffs on consumer goods to be coupled with a new probe into China's industrial subsidies, which might lead to more duties on hi-tech sectors, like semiconductor production.
Zhong said the past four years had shown tariffs alone have failed to contain China. IPEF – which includes 13 Asia-Pacific economies plus the US – appeared to be an attempt to shift the battlefield to supply chains and technology, he said.
Yellen has floated the idea of "friend-shoring" to reduce reliance on supply chains in countries where the US has geopolitical concerns.
"The US government is more likely to temporarily reduce the inflationary impact of China tariffs via tariff exemptions and to woo other relevant countries through the IPEF to pursue trading time for space, so as to gradually reduce import dependence on China," Zhong said on Tuesday.
The first batch of section 301 tariffs on US$34 billion of Chinese goods is set to expire on Wednesday. Another batch of US$16 billion will end in August and US$200 billion will be up in September, according to a note from Commerzbank on Wednesday.
China is expected to remove tariffs on some American goods if the US does the same, while dialogue on economic issues is likely to continue, said Lu Xiang, an expert on Sino-US relations at the Chinese Academy of Social Sciences.
China's annual economic growth rate could be 0.2 percentage points higher this year if the US lifted all tariffs, economists at Standard Chartered Bank said last month.
Chinese furniture manufacturing, electronics manufacturing, air transport, textiles, rubber and plastic products, electrical equipment, chemicals, paper products, metal products and special machinery would benefit the most.
More than 400
requests to keep tariffs in place
on Chinese goods had been submitted to the US Trade Representative's office as of late Tuesday, complicating Biden's decision-making.
Among these are a committee of 24 labour unions from the AFL-CIO to the Air Line Pilots Association, which has requested tariffs imposed by former president Donald Trump continue, covering some US$370 billion in Chinese imports.
Zhong said if the Republicans take back Congress and the Senate in the US midterm elections the fate of the IPEF could be uncertain. A prolonged war in Ukraine might also limit Washington's resources in the Asia-Pacific.
However, Gao Ruidong, chief economist at Everbright Securities, said China could face more challenging circumstances if Republicans wrest control back from the Democrats.
"The IPEF may fade away, but what we may face would be a larger and deeper decoupling between China and the United States," he said.
Additional reporting by Reuters