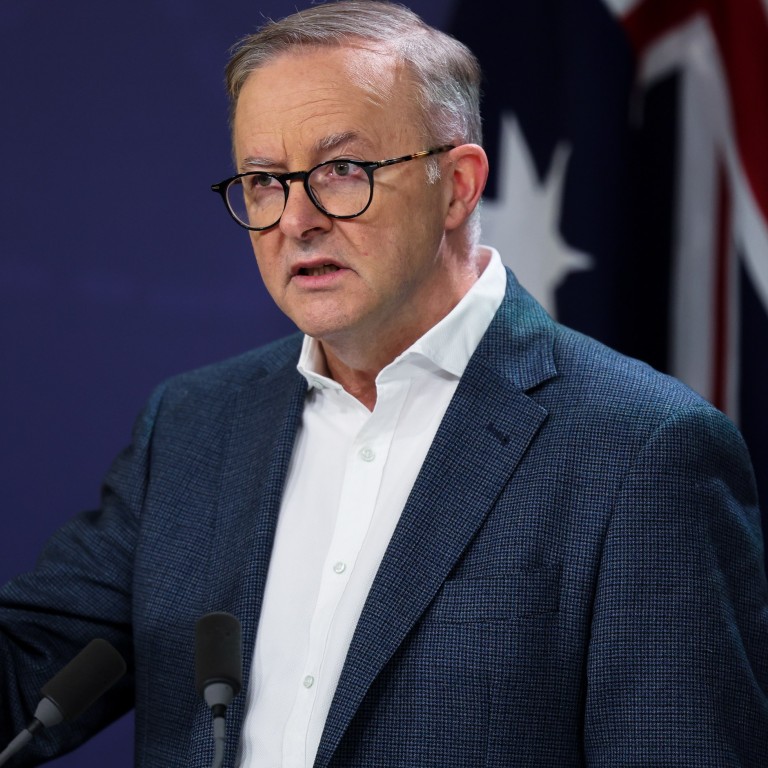 China-Australia coal trade has 'huge potential', but is demand still there as Beijing mulls lifting ban?
Chinese officials are reportedly proposing that senior leaders end an unofficial ban on Australian coal amid concerns that global coal supply may tighten
Prime Minister Anthony Albanese on Sunday said China's sanctions on Australian goods, including coal, should be lifted immediately
While "huge potential" still exists in its coal trade with Australia, China's focus on increased domestic production – plus imports from Russia and an uncompetitive price – could lessen the impact of the world's biggest buyer potentially lifting its unofficial ban, according to analysts.
China implemented an unofficial block on Australian coal in late 2020 amid escalating tensions between Beijing and Canberra, sending imports from its once major supplier to zero.
But some Chinese bureaucrats are
reportedly proposing
that senior leaders end the restriction, as tensions begin to ease amid concerns that the global coal supply may tighten as the effects of Western-led sanctions on Russian energy exports spread.
"There is huge potential for coal trade between Australia and China," said Jo Clark, associate editor at commodity and energy price agency Argus Media.
"[Lifting the ban] is possible, and the rhetoric appears to be favourable, with senior ministers in the new Australian government meeting with their counterparts in Beijing after a couple of years of minimal diplomatic and trade contact."
A
meeting
between Australian Foreign Minister Penny Wong and her Chinese counterpart, Wang Yi, earlier this month represented the first talks between top diplomats from the two nations since 2019.
However, Australian Prime Minister Anthony Albanese was
quick to reject
a list of four "
actions
" given by Wang for Canberra to help improve its relationship with Beijing, which included being a "partner rather than a rival".
On Sunday, Albanese said China's sanctions on Australian goods, including coal, should be lifted immediately.
"There is no justification for these sanctions on Australian products, and they all should be lifted," Albanese said in an interview with Sky News. "It's in China's interests to lift all of the sanctions against Australia, and it's in Australia's interest for that to happen as well."
Albanese said he wants to cooperate with China "where we can" and said he would stand up for Australia's interests "where we must".
But just last week, when asked about the realistic prospects of China lifting its ban on Australian coal, trade minister Don Farrell said on ABC's RN Breakfast radio show that it was "speculation at this stage".
"I think that's a wait-and-see issue," he said. "Obviously, from a trade point of view, we'd love to see those restrictions lifted, but I think it's a little bit too early to predict just how the issue is going to play out."
China has also officially placed restrictions on other Australian goods, including wine and beef, amid a wide-ranging deterioration of relations that followed then-prime minister Scott Morrison's
call for an independent probe
into the origin of the coronavirus in April 2020.
China first blocked Australian coal imports in October 2020. Trade had been worth US$382 million in September that year, but it fell to zero by the start of 2021, when several shipping vessels were left stranded off China's coast.
The ban is believed to have partially contributed to China's nationwide power shortage last year, with Beijing responding by
approving new coal-fired power plants
and calling for increased domestic coal production to ensure energy security.
According to the latest "Resources and Energy Quarterly" report produced by the Australian government in June, Chinese imports of thermal coal used for power generation are expected to decline from around 260 million tonnes in 2021 to 245 million tonnes by 2024 due to "strong pressure now being applied to increase domestic coal output".
China did briefly resume imports of Australian coal, with more than US$1.3 billion worth of thermal and coking coal cleared between October and March, according to China's customs data, though this was suspected of being from the backlog of vessels stranded since the ban was implemented.
But Australian coal imports have since returned to zero, apart from a meagre US$770 worth of thermal coal that was cleared in May.
"China does not need Australian thermal coal. There may be more appetite for coking coal, which is of higher quality," said Rory Simington, a Sydney-based research analyst with Wood Mackenzie.
"The Australian high-ash thermal coal typically traded to China is similar to high quality Chinese domestic material. So the main attraction is that it is cheap compared to domestic coal. But the price of Australian coal is sky-high at the moment so there will be little interest from Chinese buyers.
"Even if the ban were lifted tomorrow, I don't feel there will be a huge rise in trade – it will take time."
In June, China imported 5.3 million tonnes of Russian coal, an increase of 11.2 per cent
compared with May
, according to Chinese customs data. The June figure included 1.7 million tonnes of coking coal – an essential component in the production of iron and steel – and 2 million tonnes of thermal coal, which is used for power generation.
"China has options at the moment to acquire more coal from Russia, which is about to be locked out of the European coal market from August 10. [China] also acquires coal from Indonesia, but it has reduced its reliance on imports over the past year by increasing the capacity of its domestic coal industry," added Clark from Argus Media.
"The Chinese domestic industry has struggled to remain profitable in periods of low coal prices, but it is competitive against imports when you look at the record high seaborne thermal coal prices currently."
China's Ministry of Commerce also responded to the call by Australia's Wong for Beijing to remove "trade blockages", saying earlier this month that "a steady and healthy political relationship meets the fundamental interests and shared wishes of both peoples" that is also "conducive to peace, stability and prosperity in the Asia-Pacific region".
An Australian National University report in April showed that China's thermal imports could fall by at least 26 per cent between 2019 and 2025, and that the figure could reach as much as 45 per cent if Beijing follows through with its ambitious climate policies.
"Our findings are clear: Beijing's plans for rapid decarbonisation and energy security signal the end for Australia's current coal export boon," said energy economist Jorrit Gosens, the lead author of the study.
"And this isn't going to happen far off into the future; it is imminent. When it comes to coking coal imports, Australia is the country that stands to lose the most."
Around a quarter of both Australia's thermal and coking coal exports have traditionally been shipped to China, according to the report, which warned that Australian businesses and politicians cannot rely on an increase in demand for Australian coal, even if China's ban is lifted.
"Even if Australia were to reconcile its current political differences with China, it should expect Chinese demand for its coal to be well below pre-conflict levels and to keep falling from that level," Gosens added.
"China has been investing heavily in coal-transport infrastructure for many years, precisely to reduce dependency on foreign energy. The recent turmoil in global energy markets will only strengthen Beijing's resolve to decrease its dependency on them."
Additional reporting by Ji Siqi, Bloomberg