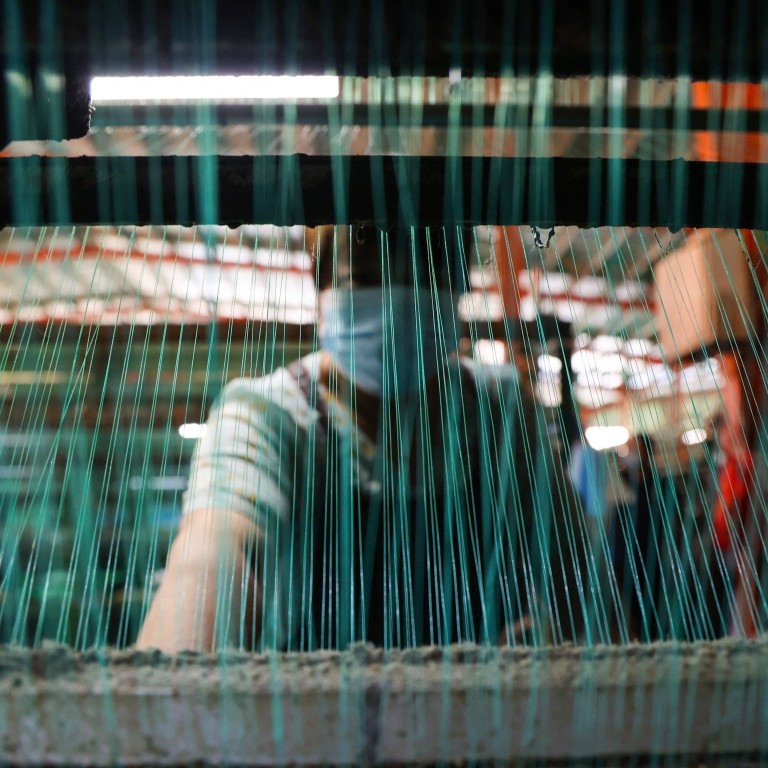 China's 'worse-than-anticipated' economic slowdown at core of IMF cut to 2022 global growth forecast
China's economy will grow by 3.3 per cent, down from the 4.4 per cent forecast in April, the IMF says in its 'World Economic Outlook'
Growth in the United States is predicted to reach 2.3 per cent this year, below the 3.7 per cent figure estimated three months ago
The International Monetary Fund (IMF) on Tuesday lowered its 2022 global growth forecast and that of many of the world's biggest economies, including China, largely because of lockdowns in major Chinese cities over the past three months.
The Washington-based institution, whose periodic gross domestic product (GDP) forecasts are widely seen as benchmarks, expects the global economy to grow by 3.2 per cent this year, down from 3.6 per cent in its previous outlook in April.
That would represent a fall from the
8.1 per cent growth
China achieved last year, but higher than the revised 2.2 per cent growth in 2020.
Growth in the United States was forecast to reach 2.3 per cent this year, down from 3.7 per cent predicted three months ago, according to the outlook.
The IMF cited a "worse-than-anticipated slowdown in China, reflecting Covid-19 outbreaks and lockdowns" as a key driver of slowing growth around the world.
Despite a tentative post-pandemic recovery in 2021, economic conditions suffered in the second quarter of this year due to the knock-on effects of lockdowns and supply-chain disruptions carried over from early in the pandemic, as well as depressed economic activity in Russia due to its war in Ukraine.
The port city of Shanghai came to signify the resurgent challenges facing China after it was locked down for two months in April and May, disrupting factory work, shipping, transport and daily consumption.
"China had these issues already, but no one knew where they would all lead to," said Liang Kuo-yuan, the retired founder of the Taipei-based think tank Yuanta-Polaris Research Institute.
"Global output contracted in the second quarter of this year, owing to downturns in China and Russia, while US consumer spending undershot expectations," the IMF said.
Calvin Cheng, senior analyst in the economics programme at the Institute of Strategic and International Studies in Malaysia, said no one would be shocked by the new IMF forecast.
"There are various headwinds [that are] basically more serious than expected last year," said Cheng.
Most factors depressing the world economy now will remain until the end of the year, said Jayant Menon, a visiting senior fellow with the ISEAS-Yusof Ishak Institute's Regional Economic Studies Programme in Singapore.
Central bank heads are already raising interest rates, which will hit borrowing by investors, to control inflation.
"My main concern is that yet again central banks will overreact to inflation concerns and induce massive contractions in demand," Menon said.
China's 25-member Politburo, the hub of power within the Communist Party headed by President Xi Jinping, could meet for its quarterly gathering as early as this week having last convened in April.
But officials are unlikely to act on the IMF report this month, said Stuart Orr, School of Business head at Melbourne Institute of Technology in Australia.
China's GDP grew by 2.5 per cent in the first half of the year compared with a year earlier and "in the face of … downward pressures, China's economy still showed strong resilience and great potential" this month, the official Xinhua News Agency reported last week.
"There was a certain amount of pride taken in the growth rate and there would be uncomfortable signalling if they were to revise it down against the Western economies they're trying to outperform," Orr said.
Chinese officials have already responded with "material fiscal stimulus" and a "recalibration" of their zero-Covid policy, the IMF outlook said, but it warned that new coronavirus outbreaks could spark more lockdowns.
In other parts of the world, the IMF cut its forecast to 3.2 per cent growth for the United Kingdom, half a percentage point below April, and 1.7 per cent for Japan, down by 0.7 of a percentage point from April.
On a brighter note, Southeast Asia will see growth of 5.3 per cent this year, unchanged from the IMF's April forecast.
India is expected to expand by 7.4 per cent this year, just 0.8 of a percentage point slower than forecast in April.