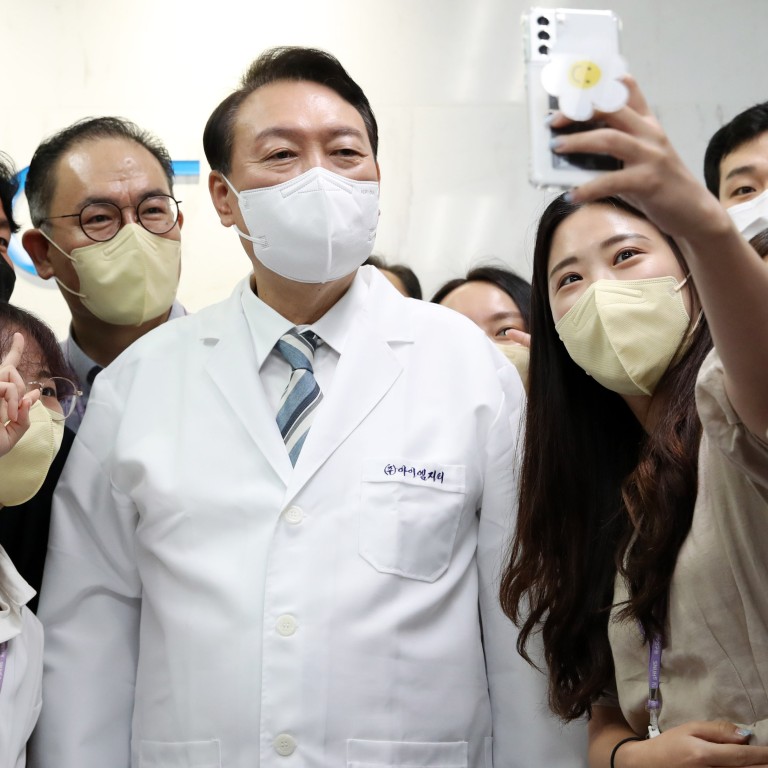 China, South Korea renew service sector talks, opening up a 'win-win for both economies'
China and South Korea signed a free-trade agreement that went into effect in December 2015
Delayed discussions over the second phase began in 2018, although progress stalled, prompting a meeting between chief negotiators earlier this month
Renewed talks between China and South Korea to further open their service sectors could represent a "win-win situation for both economies", analysts said.
The discussions over the second phase of a free-trade agreement that went into effect in December 2015 began in 2018, with nine working-level discussions taking place, although progress stalled, prompting a meeting between chief negotiators on July 13.
China's commerce ministry said that the two sides had "in-depth consultations on cross-border trade in services, investment and financial services and other issues on rules, as well as market access, with positive progress".
South Korea's trade ministry said negotiations had been delayed due to the coronavirus, and also prioritisation of preparations for the
Regional Comprehensive Economic Partnership (RCEP)
that went into effect earlier this year. RCEP is a free-trade agreement among 15 Association of Southeast Asian Nations (Asean) and non-Asean economies in the Asia-Pacific, including China and South Korea.
But despite having resumed, the talks are still far from developing into the stage where sectors are narrowed down and details are discussed.
Uncertainty also looms over the negotiations as South Korea's new administration under President Yoon Suk-yeol is
seeking to cut dependency on China
for trade, by boosting cooperation with Europe and Australia, as the government strengthens its alliance with the US-led West.
"Regardless of the developments, we are aiming to expand the opening of markets," said an unnamed official at South Korea's trade ministry, who did not want to be named due to the sensitivity of the issue.
But despite the apparent shift in the government's external economic policy, analysts said that South Korea could still benefit from the opening up of services sectors.
Initially, there had been concerns about the influx of Chinese medical practitioners and labour lawyers into the market as this could affect the competitiveness of their Korean counterparts.
"But Korea has become more willing toward the idea of opening markets in the service sector, due to the falling competitiveness of Korean products in the manufacturing sector," said Lee Seung-shin, research fellow with the Chinese economy and trade team at the Korea Institute for International Economic Policy (KIEP).
South Korea has already accumulated a US$18 billion trade deficit this year, up until July 20, and faces recording four consecutive months of deficit overall, which could be the first time in 14 years since 2008.
"The accumulating trade deficit is attributed to factors such as the lockdowns in China in the first half of the year that have led to a drop in production at its manufacturing bases and falling Korean exports to China amid the US-China rivalry, but also due to the overall decline in competitiveness of Korean intermediate goods that China has started to substitute," Lee added.
"It could be a win-win situation for both economies when services sector markets are opened up. Korean workers could provide medical, public health and online education services in China, for which there is high demand."
Documents show as part of the China-South Korea free-trade agreement, China intends on opening up its markets to a certain extent for the financial and legal sectors as well as entertainment, including film and TV show production among others.
"China could benefit from Korea opening up its markets for services in the financial and game sectors," Kim Jong-duk, director of KIEP's services trade and industrial organisation, said.
"Korea could also benefit from China opening the same sectors, as well as the entertainment industry."
China is South Korea's largest trading partner, while South Korea is China's fifth largest.
But progress on a deal could be affected by the geopolitical climate surrounding China, according to Lee Dong-gyu, a research fellow focusing on China at the Asan Institute of Policy Studies in Seoul
"China has been actively seeking trade pacts that can boost cooperation with economies within the region of Asia, as the country seeks to curb US influence and increase its own," Lee said.
"However, recent moves to re-establish global supply chains to cut dependency on China and the decoupling unfolding in the tech sector makes unclear the extent of achievements that could be made in the second phase [of the free-trade agreement] talks between Korea and China."
China, South Korea and Japan had also initiated talks over a trilateral free-trade agreement, but the discussions have stalled, as the rivalry between China and the US escalates and the latter solidifies ties with key economies in Asia.
China and South Korea's free-trade agreement went into effect in December 2015, and under the accord, the two countries agreed to abolish tariffs on 7,428 Chinese items and 11,272 Korean items in the next 20 years.
China is also aiming to remove 85 per cent of import tariffs imposed on South Korea, while South Korea is seeking to remove 91 per cent of tariffs on imports to China.
With the ratification of the free-trade agreement, tariffs on Chinese exports to South Korea of aviation kerosene, high frequency medical equipment and transformers, among others, were immediately abolished.
Tariffs on South Korean exports to China of cast iron products, chemical machinery, lithium storage batteries, among others, were also removed.