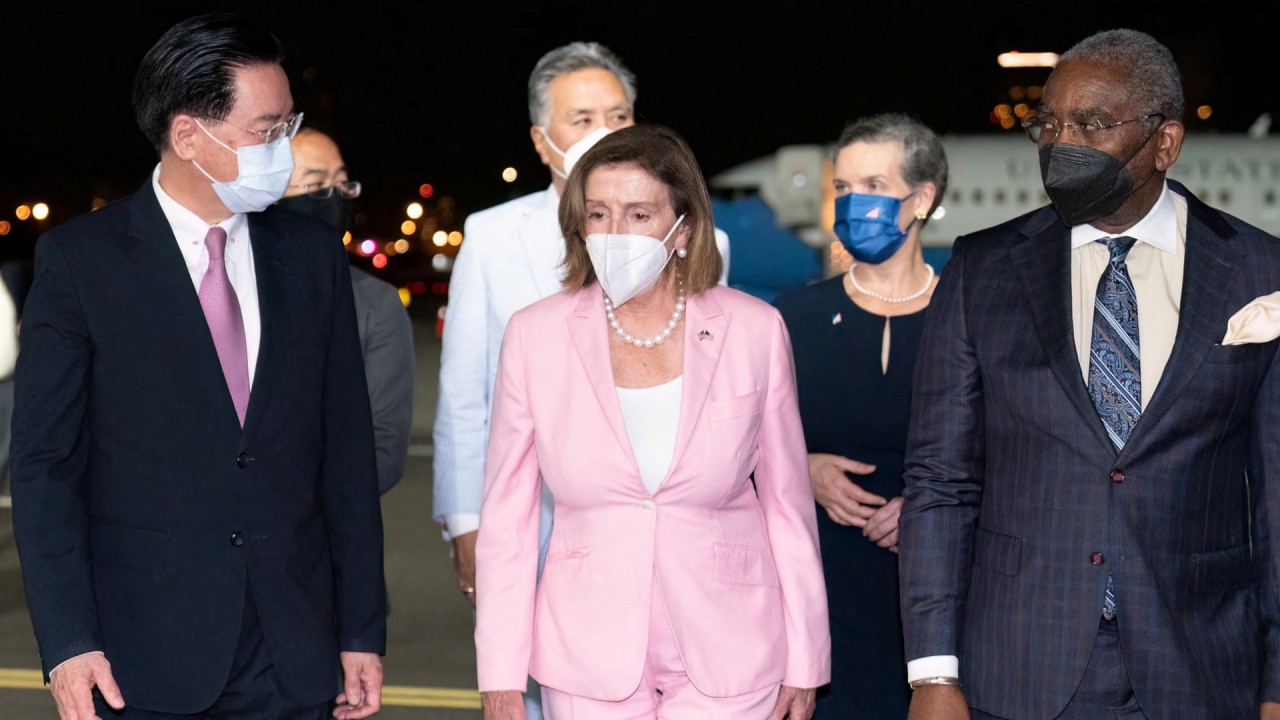 04:57
US House Speaker Nancy Pelosi arrives in Taiwan as Beijing announces live-fire military drills
US House Speaker Nancy Pelosi arrives in Taiwan as Beijing announces live-fire military drills
Nancy Pelosi: China suspends imports of Taiwanese sweets, biscuits, pastries ahead of visit
Various confectionery, biscuits, pastries and bread added to the list of Taiwanese items currently listed as 'imports suspended'
Reports of the ban emerged before US House of Representatives Speaker Nancy Pelosi landed in Taiwan on Tuesday night
Mainland China suspended imports from hundreds of Taiwanese food factories ahead of the controversial stopover on the island by US House of Representatives Speaker Nancy Pelosi.
China's General Administration of Customs added various confectionery, biscuits, pastries and bread to the list of items currently listed as "imports suspended" on its official website.
The Taipei-based United Daily News reported that the ban was imposed on Monday night.
"The Ministry of Economic Affairs and the Council of Agriculture are currently aware of [the import ban]," Taiwan's Bureau of Foreign Trade said on Tuesday. It added that Taipei would help companies to "respond properly".
China's General Administration of Customs and the Ministry of Foreign Affairs did not respond to requests for comment.
Beijing regards the island as a breakaway province that must be reunified with the mainland – by force if necessary.
Wei Chuan Food Corporation, a manufacturer of Chinese condiments, canned goods and drinks, confirmed it "received the new trade policy" on Tuesday morning.
The price of the
popular brand plummeted by almost 2.5 per cent on the Taiwan Stock Exchange on Tuesday following the news of the ban, with the company admitting the future of its imports to China remain unclear as well of the products manufactured at its mainland China factories.
On Monday as reports of Pelosi's visit intensified, Chinese foreign ministry spokesman Zhao Lijian reiterated that China was "standing by" and would "take resolute responses and strong countermeasures to defend its sovereignty and territorial integrity".
Mainland China has tried to influence Tsai Ing-wen's ruling pro-independence Democratic Progressive Party on its agricultural trade policy in recent years.
Last year, it suspended imports of pineapples,
sugar apples and java apples
– the top three fruit exports from Taiwan to mainland China – due to the detection of pests.
Mainland China also banned imports of Taiwanese grouper fish in June due to the detection of "prohibited drugs".
Taiwan's grouper exports to mainland China previously accounted for 91 per cent of the island's total export sales and 36 per cent of the total production in Taiwan, according to agriculture minister Chen Chi-chung.
"In the past, 80 per cent of Taiwan's fruit exports relied on a single market in the mainland, but now it has shrunk to 45 per cent," he said last month.
Last year, despite the ongoing tensions, mainland China and Hong Kong combined as Taiwan's top export destination with 42.3 per cent of the overall export value, according to the island's executive branch.
In June, Taiwan's exports to mainland China and Hong Kong reached US$15.428 billion, down by 4.5 per cent year on year, while imports rose by 14.6 per cent year on year to US$7.911 billion.