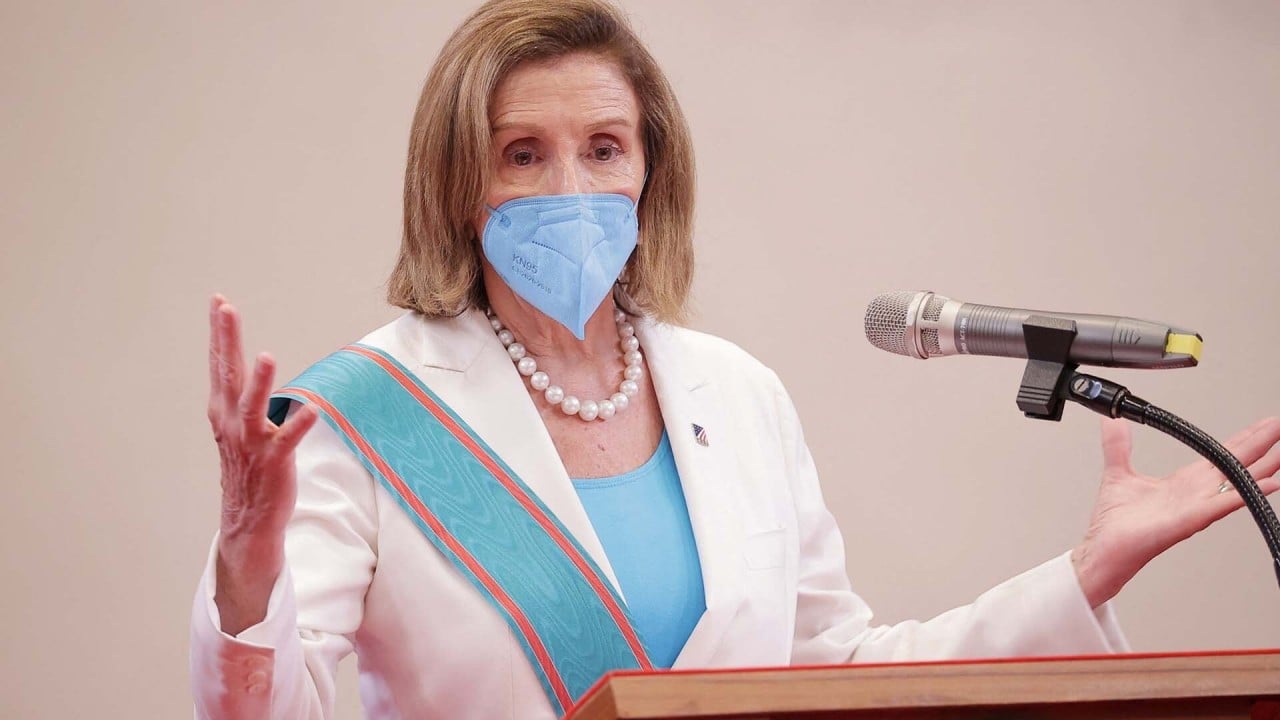 06:03
US House Speaker Pelosi meets Taiwanese president, officials and activists on controversial visit
US House Speaker Pelosi meets Taiwanese president, officials and activists on controversial visit
China's economic sanctions on Taiwan over Pelosi visit 'symbolic', but could hit billions if tensions escalate
China has suspended natural sand exports, while also blocking imports of citrus fruits, chilled white scallops, frozen mackerel, confectionery, biscuits and bread
US House Speaker Nancy Pelosi defied repeated warnings from Beijing and met President Tsai Ing-wen on Wednesday in Taipei
Mainland China could target hundreds of billions of dollars worth of Taiwanese investments and two-way trade if tensions with the self-ruled island worsen after a sharp slide this week due to US House Speaker Nancy Pelosi's visit to Taipei, analysts said.
But they are targeting the ruling pro-independence Democratic Progressive Party and probably saving any moves against high-value exports or direct investments as a final move, the analysts added, as measures against Taiwan could ripple back to the mainland.
"[Taiwanese] companies are such an integral part of the Chinese value chain that it becomes difficult to put too much pressure on those trade routes," said Zennon Kapron, the Singapore-based director of financial industry research firm Kapronasia.
The People's Liberation Army kick-started large-scale military drills following Pelosi's arrival on Tuesday night, while Beijing has already rolled out various economic sanctions.
Chinese customs suspended imports
of Taiwanese citrus fruits, chilled white scallops and frozen mackerel from Wednesday, extending the list of banned items to more than 1,000 products as cross-Strait relations have deteriorated in recent years.
The Ministry of Commerce also suspended exports of natural sand, a raw material needed for the construction of transport infrastructure and water projects.
"China's constant opinion has been that any unilateral economic sanctions are double-edged. However, Pelosi's visit might well push China into restricting certain imports from Taiwan and the US, but I do think that such restrictions will be very limited," said Tao Jingzhou, an international arbitrator who has practised in Beijing, Hong Kong and London.
"As retaliation, the US might increase export control measures for technology and also increase scrutiny of activities of Chinese companies in the US. This visit will further deteriorate the US-China relations across the board."
Mainland China will probably strike at farming and small manufacturers in parts of southern Taiwan where President Tsai Ing-wen's Democratic Progressive Party has its main strongholds, said Chen Yi-fan, an assistant professor of diplomacy and international relations at Tamkang University in Taiwan.
Beijing hopes to influence Taiwan's local elections in November, Chen said, with the party that wins most seats often shaping the outcome of the presidential race two years later.
Tsai's ruling party takes a guarded view toward China, while its main opposition prefers a more conciliatory stance.
Beijing is expected to release sanctions "bit by bit" to gauge responses in Taiwan, said Yu Xiang, an adjunct fellow at the Centre for International Security and Strategy at Tsinghua University.
Export bans can be cancelled as quickly as they are announced and some have called the existing suspensions largely symbolic because farming and fishery exports make up just a fraction of Taiwan's US$765 billion economy.
"Processed food is not even in the top 10 items that Taiwan exports to China, so China's move is currently only symbolic," said Darson Chiu, a fellow with the Taiwan Institute of Economic Research's international affairs department in Taipei.
Taiwan's export economy runs on shipments of semiconductors and consumer electronics, followed by machinery and petrochemicals.
But to penalise key goods would hurt numerous Taiwanese people, stoking anti-Chinese sentiment, and strike at the mainland's own economy, some analysts said.
"Taiwanese businesses are a major component of China investors, and Taiwan is part of China," said Hong Hao, an author and independent China economist.
"Therefore, to sanction Taiwan is just like moving a stone and dropping it on your own foot, plus it deepens divisions between the two sides."
The US-China trade war, which has been ongoing since 2018, has shown that sanctions aimed at one country hurt both sides, said Wang Huiyao, founder of Beijing-based think tank, the Centre for China and Globalisation.
"In the end, the US consumer and companies are paying the price for that. I don't think that the economic sanctions are going to work," Wang said.
"In the long run, we really have to find a way not to dissolve the status quo and really keep the peace and prosperity in the region."
Any ban on imports of Taiwanese petrochemicals, machinery, transport goods and textiles would also violate the Economic Cooperation Framework Agreement trade deal signed by the two sides in 2010 when political relations had reached a peak, Chiu added.
Taiwanese investors have put money into mainland Chinese since the 1980s, and their 4,200 enterprises employ numerous staff, while they also help to drive economies near Shanghai and in the Pearl River Delta.
Taiwan-based Foxconn Technology and Pegatron make equipment for US multinational technology company Apple at mega factories in mainland China.
From 1991 to mid-2021, approved investment reached US$193.51 billion, according to official Taiwanese figures, although that investment
fell by 14.5 per cent
in the first 11 months of last year as investors shifted production to Southeast Asia or back home.
Lu Xiang, a researcher on US studies with the Chinese Academy of Social Sciences, said sanction will not be used as a major tool and that Beijing will refrain from escalating to a full-scale economic war.
"The mainland still aims for economic integration with the island over the long run. Companies which support pro-independence and some industries will be sanctioned or hit, but the impact will be limited. Mainland China is one of the only few trading partners that Taiwan has maintained a trade surplus with," said Lu.
Taiwan's exports to mainland China and Hong Kong reached an
all-time high last year
of US$188.9 billion, thanks to demand for the island's semiconductors.
Chinese smartphone makers particularly depend on Taiwanese semiconductors, which the Boston Consulting Group said makes up 92 per cent of world's capacity.
"I think the challenge for mainland China is the fact that it is so heavily reliant on the high-end chips and technology that's coming out of Taiwan," Kapron added.
Beijing views Taiwan as a breakaway part of its territory and has vowed to take back control of the island, by force if necessary, while it also resents US influence in Taiwan's military or political space.
But Taiwanese leaders will make no policy changes in response to sanctions, according to Chen from Tamkang University, as neither side wants to look weak.
Tsai opposes China's goal of unification with Taiwan and has courted foreign support for her cause since taking office in 2016.
"Now there is a deep distrust across the strait, so nothing Tsai does will bring comfort to the other side," Chen said.
The Taipei government made no immediate comment in response to Wednesday's trade bans, but Lo Ping-cheng, minister without portfolio and spokesman, said the cabinet would help business operators "respond appropriately" to any fallout from Pelosi's visit.