Taiwan
Get more with myNEWS
A personalised news feed of stories that matter to you
Learn more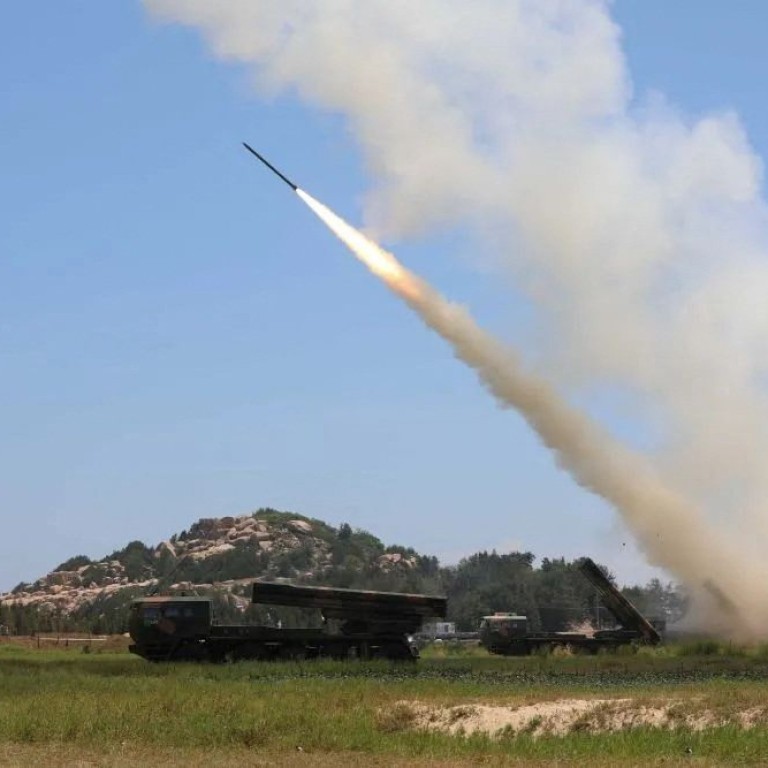 China's military drills around Taiwan drive foreign firms to draw up exit plans for staff and assets
Foreign companies in Taiwan are drawing up plans to evacuate people and assets following military drills by the People's Liberation Army
Firms are not expected to leave in the short-term, but the heightened tensions have forced them to reassess vulnerabilities, analysts say
Multinational businesses in Taiwan are laying plans to evacuate assets and personnel in case mainland China attacks the island.
While no one is fixing to leave, analysts say the
military drills
by the People's Liberation Army (PLA) have led some companies to draw up contingency plans or dust off pre-existing ones designed to keep people and property safe in the event of a war or military blockade.
The PLA began military exercises encircling Taiwan on Thursday after US House Speaker Nancy Pelosi defied Beijing's repeated warnings with a whirlwind visit to the self-ruled island last week.
Beijing sees Taiwan as a renegade province that must be reunited with the mainland, by force if necessary.
Countries that have diplomatic ties with Beijing, including the United States, acknowledge the existence of the one-China principle, which states Taiwan is part of China. But they may not explicitly agree with it. Washington does not take a position on the status of Taiwan, though it opposes any attempt to take the island by force.
"The companies are creating better structures to monitor and analyse geostrategic shifts while writing up scenarios for staff and shifting supply chains if Taiwan is blockaded," said Rupert Hammond-Chambers, president of the US-Taiwan Business Council.
"The heightened tensions companies are feeling are magnified by the unsurety over peace in the Taiwan Strait and the lack of good options over what to do should their supply chains be disrupted."
Seven Fortune 500 companies have asked US-based security firm Global Guardian to outline "triggers" that would justify removal of people, infrastructure and assets from Taiwan, CEO Dale Buckner told POLITICO.
"There are some companies that are taking this very seriously [because] they don't want to happen what just happened in Russia, where they lost billions of dollars' worth of assets, both financial and hard," Buckner was quoted as saying.
At least 37 multinationals, from energy firms to banks and car vendors, have lost between US$100 million and US$24 billion each due to Russia's war in Ukraine, according to market research firm Statista.
Over the past decade, multinationals such as Microsoft and Google have expanded their presence in Taiwan to tap hi-tech talent in fields such as artificial intelligence. Apple depends on a number of Taiwanese firms for iPhone parts and assembly.
Taiwan's Ministry of Economic Affairs recorded 729 foreign investment projects from January to April this year worth a combined total of US$3.1 billion, two times more than the same period in 2021.
Foreign direct investment in Taiwan averaged US$569.95 billion from 1996 to 2022, according to Trading Economics data.
"Certainly the risks facing foreign companies have increased as a result of [the military exercises], and the chances of a conflict either by accident or deliberate have risen," said Gareth Leather, senior emerging Asia economist with Capital Economics in London.
Companies are not expected to alter their Taiwan business in the short term, Hammond-Chambers said, and no council members are actively considering departure. Investments in Taiwan will continue because of research and development "commitments" and views that Taiwan offers "superior" protection of intellectual property, he said.
John Eastwood, a partner with the Eiger law firm in Taipei, said foreign firms would withdraw assets and personnel if they saw a military build-up foreshadowing an attack.
"China, in their reckoning, is not ready to invade, and a 90-mile (145km) ocean requires a bit of logistical preparation that will likely be detected well in advance by satellite or other technologies," Eastwood said. "Those expats will then take their families back home via commercial flights and not wait for the shooting to start."
War or a military blockade would let most US companies in Taiwan avoid contractual obligations by pointing to unforeseen circumstances, Eastwood said. Many would renegotiate contracts to cover increases in transport and insurance costs.
American and European companies that supply machines and products to Taiwan's US$115 billion
semiconductor sector
– the world's largest – "may suffer a bit" following any removal of assets and personnel, Eastwood said.
Despite the caution, foreign multinationals would not necessarily leave if mainland China took control of Taiwan, analysts say.
Mainland authorities are unlikely to seize foreign assets in Taiwan because that would be met with severe retaliatory economic sanctions, said Stuart Orr, head of the School of Business at Melbourne Institute of Technology.