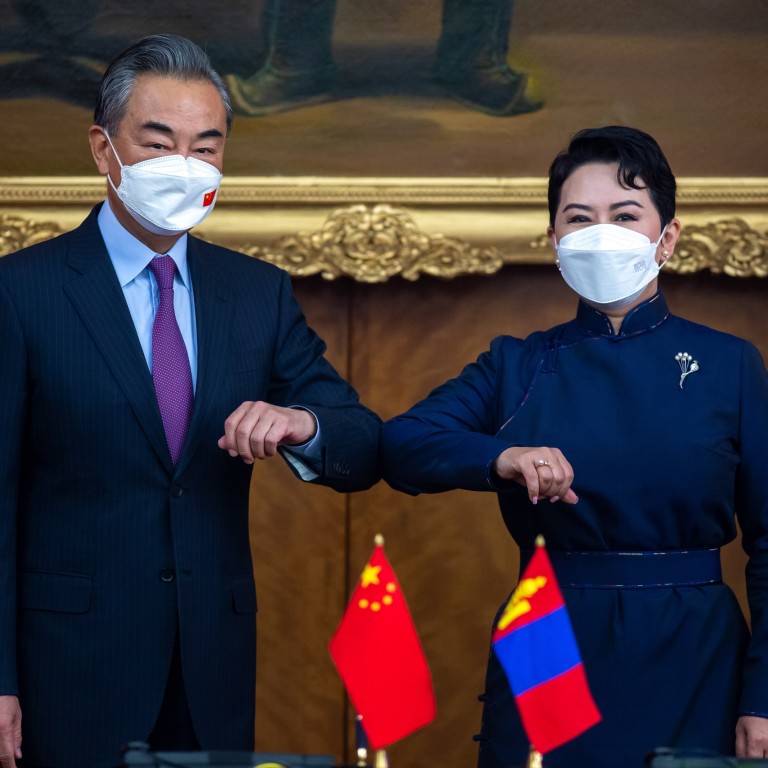 China accelerates Mongolia investment to 'facilitate' Russia trade link and secure energy, commodities
Mongolia and China signed 'cooperation documents' after Foreign Minister Wang Yi visited Ulaanbaatar earlier this week
Mongolia's top exports include gold, followed by coal briquettes and iron ore, while railway improvements are set to help smooth shipments between China and Russia
China has intensified trade relations with Mongolia, and investment in railway infrastructure improvements in its northern neighbour are set to improve Beijing's access to vital natural resources and smooth commerce with sanction-hit Russia, analysts said.
Mongolia and China signed "cooperation documents" after Foreign Minister Wang Yi visited counterpart Battsetseg Batmunkh in Ulaanbaatar this week, according to China's Ministry of Foreign Affairs.
The two sides agreed to connect railways to highways "so as to keep the industrial and supply chains stable and unimpeded" and to also reopen border crossings, the statement said.
The 4,630km-long (2,877 miles) land border is mostly empty deserts and mountains, but is also part of the world's longest railway line, the Trans-Siberian.
Some crossings have been closed due to the coronavirus pandemic, but for China, a more connected Mongolia helps ensure access to resources for its economy and 1.4 billion population.
"China views its reliance on imported goods as a national security risk and economic vulnerability," said Julian Evans-Pritchard, senior China economist at Capital Economics.
"Where imports can't be easily substituted by domestic production, China is trying to shift the source of its imports toward more friendly countries, such as Mongolia."
Coal and copper are "key" to China's power generation, as well as the construction and infrastructure components for China's economy, Evans-Pritchard added.
Mongolia's top exports include gold, followed by coal briquettes and iron ore, according to the Observatory of Economic Complexity database.
Exports of coal briquettes are worth US$2.1 billion per year to the Mongolian economy and copper ore shipments US$635 million. Coal briquettes are an energy source, while copper ore is used to make wiring and other metal alloys.
The country with a largely impoverished, rural population of 3.3 million people emerged two decades ago as a fast-growing hotspot for minerals, but its economic success has waned in keeping with slowing gross domestic product growth in China.
Around 95 per cent of Mongolian exports are transported to China, which became the world's largest manufacturer by output after its accession to the World Trade Organization in 2001. Mongolia's exports to China were worth US$5.4 billion in 2020.
"The primary goal of China's infrastructure push in Mongolia appears to be … expanding Mongolia's capacity to supply coal and copper ore," Evans-Pritchard said.
One memorandum signed with China will improve cross-border railway transport at the Gants Mod border crossing, while the two sides further agreed during Wang's visit to promote trade, investment, mining and energy cooperation, according to the official statement.
China has charted a strategy to ensure self-sufficiency in commodities, including energy, amid shifting international relations and disruptions to the global supply chain due to the coronavirus.
Railway improvements are expected to help smooth shipments between China and Russia as the two have boosted trade links even as Western countries sanction Moscow economically over its war in Ukraine.
China
increased its shipments of Russian oil
by over 50 per cent in May, while two-way trade rose by 21.8 per cent year on year in the first seven months of 2022 to around US$134 billion, according to China's General Administration of Customs.
Around 90 per cent of freight transport between China and Russia passes through Mongolia, according to the Organisation for Economic Co-operation and Development.
"Given that most trade between China and Russia passes through Mongolia, and trade between the two has expanded rapidly this year, the improved infrastructure will aid in facilitating this trade," Steve Cochrane, chief Asia-Pacific economist at Moody's Analytics said.
Investment from China will help Mongolia move away from reliance on older Soviet-era railway systems and trucking, said Eric Chiang, an associate economist at Moody's Analytics.
The upgrades will in turn speed up three-way trade, as "the greater connectivity will definitely benefit all three countries," he added.
Mongolia broke ground on a 415km railway from the Erlian border checkpoint into the mineral-rich eastern part of the country last month, according to state-owned news agency Montsame.
The Choibalsan-Khuut-Bichigt railway will be able to move 25 million tonnes of freight annually and link China with Russia, Montsame added.