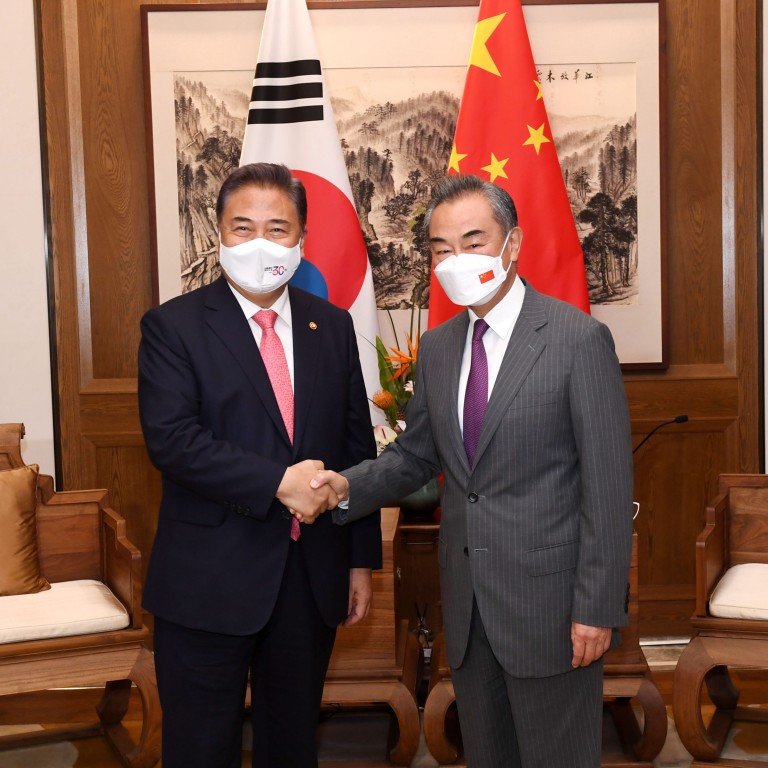 South Korea's delicate US-China balancing act as Chip 4, IPEF limits room for Seoul, Beijing to manoeuvre
South Korea is considered an integral part of the US-led Indo-Pacific Economic Framework (IPEF) and Chip 4 alliance
But Beijing has protested that both are Washington's plans to contain China and exclude it from various supply chains
As South Korea is increasingly being forced to choose sides between the United States and China, Seoul and Beijing have been encouraged to work out areas for substantial cooperation, which could potentially create "some room" for the Yoon administration to manoeuvre.
South Korea is considered an integral part of the US-led
Indo-Pacific Economic Framework (IPEF)
and Chip 4 alliance, both of which Beijing protests as Washington's plans to contain China and exclude it from various supply chains.
Beijing has been putting pressure on the Korean government to not join the arrangements, with Seoul continuously emphasising that it is focused solely on its own national interests.
"We must participate in IPEF, as our national interest will be gravely damaged if we miss out on such a process of making the rules [for regional trade]," Korean President Yoon Suk-yeol said as the IPEF was launched in May.
Although it is the only one yet to officially commit to the arrangement, South Korea is widely expected to join as doing so is seen as "unavoidable" to maintain the competitiveness of its key industry, analysts said.
Seoul has distanced itself from the idea that Chip 4 is an "alliance", deliberately calling it a "semiconductor supply chain consultative body".
"South Korea really has no intention to exclude or be hostile to China. But at the same time, there is not much Korea can do in the context of a strategic competition between the US and China," said Kang Jun-young, a Korea-China relations professor at Hankuk University of Foreign Studies.
"The Chip 4 grouping is intended to facilitate stabilising the supply chain and fostering talent within the semiconductor ecosystem. As the semiconductor industry is one of the few major industries that Korea is globally competitive, the country will naturally try to participate in this ecosystem to not lose such status. So from South Korea's perspective, it really is not an effort to target a specific country."
South Korea joining arrangements, such as Chip 4, could also not necessarily be seen as bad news for Beijing, since it means there will be at least one member that is not directly antagonistic towards China.
"[Within the Chip 4 members], there are no other countries that can potentially look out for China's interest, as the US, Japan and Taiwan are not amicable to China," said Choo Jae-woo, a Chinese foreign policy professor at Kyung Hee University.
He added that it could be a win-win situation if South Korea could leverage this role within the group as a bargaining chip against China.
"South Korea's strategic value in terms of geopolitics and geoeconomics is peaking at the moment, as both the US and China are in need of Korea. … So Korea should come up with a diplomatic strategy that leverages such value," said Choo.
Chinese Foreign Minister Wang Yi met his South Korean counterpart Park Jin in the eastern Chinese city of Qingdao on Tuesday, vowing to strengthen ties and maintain stable supply chains amid the growing rivalry between Beijing and Washington.
Moving forward, South Korea and China have been encouraged to have more direct dialogue and identify areas for cooperation and exchange.
"I think in the end, problems that can realistically be resolved between South Korea and China should be dealt with directly through dialogue between the two. Korea really wants to maintain good relationships with both the US and China," Kang said.
China is critically important to South Korea not just because it is its biggest trading partner, but because it has the biggest influence on North Korea, he added.
"If the North Korean nuclear problem is well managed and controlled, then South Korea can finally have something to say to the US [in regards to its bilateral relations with China], and Korea can have some room to be independent," Kang added.
But in terms of economic cooperation, cutting-edge technology may prove difficult because of the tensions between the US and China, although there are other industries through which ties could be deepened.
"It would be best if economic and security matters could be separated so that Korea can maintain a balance between the US and China. But this is realistically very difficult because the US is heavily emphasising economic security recently," said Kang Sung-jin, an economics professor at Korea University.
Industries that depend less on technology and more on labour, such as manufacturing or agriculture, have potential, he added.
But a "vicious cycle" of deepening distrust still exists between the two, according to Guo Hai, a researcher at the Institute of Public Policy at South China University of Technology, which could see South Korea depend more on the US for security.
"Korea's relations with China and the US will be quite uncertain. The reality is that Korea is an ally of the US, and it has less and less room to manoeuvre diplomatically when US-China relations become increasingly hostile," said Guo.
"In the long run, Korea's relations with China will deteriorate for sure, for Korea will inevitably find it more profitable to double down on its dependence upon the US when there is no room for improvements of ties with China."