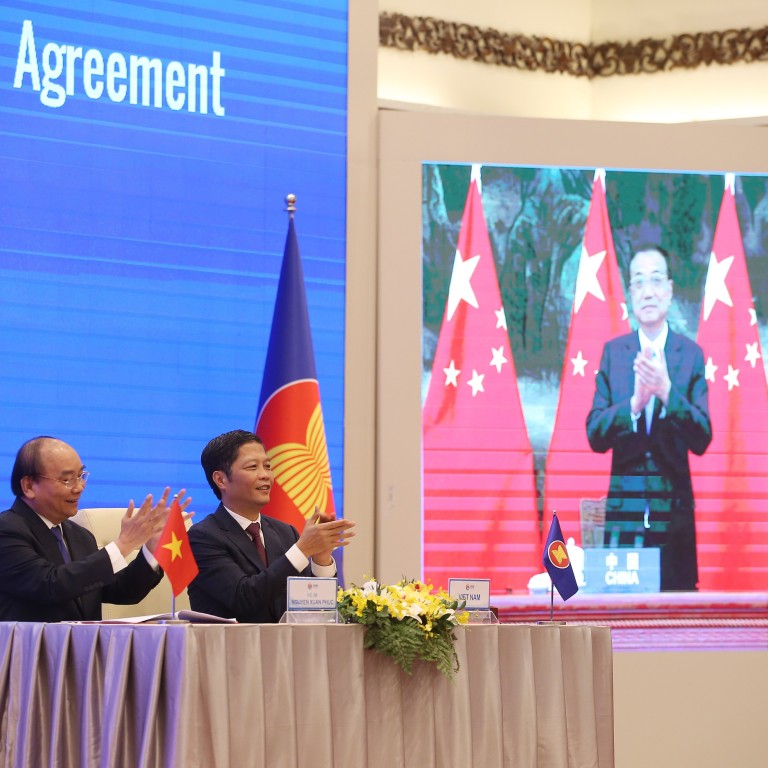 Explainer

|
Why haven't Philippines, Myanmar followed Indonesia and ratified the RCEP trade deal?
Regional Comprehensive Economic Partnership (RCEP) is a free-trade agreement including the 10 Association of Southeast Asian Nations (Asean)
Australia, China, Japan, New Zealand, and South Korea are also members of the world's biggest trade deal, which took effect in most countries at the start of 2021
The Philippines and Myanmar are the only countries yet to ratify the Regional Comprehensive Economic Partnership (RCEP) after Indonesia cemented its membership of the China-backed trade deal this week.
RCEP is a free-trade agreement between the 10 Association of Southeast Asian Nations (Asean) members plus Australia, China, Japan, New Zealand, and South Korea.
As the world's largest free-trade agreement, the deal covers nearly a third of the global population and around 30 per cent of the global gross domestic product (GDP), although this is expected to rise to 50 per cent by 2030, according to HSBC.
Tariffs on more than 65 per cent of trade in goods are expected to reach zero under the regional agreement, a figure that is expected to rise to around 90 per cent over the next 20 years.
Why was Indonesia so late to ratify RCEP?
Indonesia's chief economic minister Airlangga Hartarto said last year that Jakarta would likely ratify their membership of RCEP in 2022.
However, the government was unable to complete the formalities in the first quarter as some lawmakers were concerned that the deal would affect local businesses.
Lawmakers represented by Achmad Baidowi from the United Development Party insisted that the country's local firms were not prepared to face new competition and lacked the capacity to join global chains.
Hartarto pointed out the potential for East Asian countries to become strategic investors in Indonesia's new industry and digital economy.
How can Indonesia's economy benefit from RCEP?
Indonesia's Ministry of Trade predicted that within five years of RCEP ratification, exports will grow by between 8 and 11 per cent, while foreign investment will increase by 22 per cent.
The Coordinating Ministry for Economic Affairs also indicated that ratification will boost Indonesia's GDP by 0.07 per cent, while boosting exports and imports by US$5 billion and US$4 billion, respectively, by 2040.
"We describe this agreement as a toll way to enter the global market, and it is time for Indonesia to storm the international markets," Indonesian Trade Minister Zulkifli Hasan told lawmakers after the law was passed on Tuesday.
Why are the Philippines and Myanmar 'missing' from RCEP?
Like all members, the Philippines and Myanmar signed the deal in November 2020 in an online ceremony due to the coronavirus, but they have yet to complete the formal process of ratifying the deal domestically.
Members must deposit their ratification instruments with the Asean Secretariat, which acts as the depository for the pact. RCEP will enter into force 60 days after a member submits their instruments to the depository, explained Jeff Schott, a senior fellow at the Peterson Institute for International Economics.
"The 'missing' members are aiming to be in by the end of the year. The Philippines was delayed by their election cycle. Indonesia has been managing the G20 and preparing for Asean chair next year. Plus they have a contested election ahead," said Deborah Elms, the executive director of Asian Trade Centre.
"We are still waiting for all 15 to ratify RCEP. This is actually quite important, as members are hoping to announce full ratification prior to or simultaneous with the first collective meeting.
"The first item on the agenda is to address the issue of the RCEP Secretariat. Given the complexity of RCEP, a full-time staff to manage the institution is important."
According to Schott, "several RCEP countries are unhappy about dealing with Myanmar".
Myanmar's democratically elected government was deposed in a coup in February 2021, with a military junta taking power.
What does RCEP mean for the Philippines?
RCEP members account for around 50 per cent of the Philippines' exports and around 68 per cent of its imports, according to the Department of Trade and Industry.
Ratification of RCEP could help local industries obtain raw materials and intermediate products at cheaper prices and contribute 0.9 per cent to national GDP growth, while also reducing the poverty rate by 5 per cent by 2030, according to former deputy speaker of the House of Representatives of the Philippines, representative Rodante Marcoleta.
China remained the Philippines' largest trading partner and its top source of imports in 2021. China was also the Philippines second-largest export market last year.
The Philippines' trade with China totalled US$38.34 billion in 2021, up by 24.9 per cent year on year.
The Philippines imported US$710 million of pharmaceutical products from China in 2021, up by 553.1 per cent year on year.
Exports of fishery products to China reached US$110 million in 2021, an increase of 200.3 per cent.
What does RCEP mean for Myanmar?
As the least developed economy among RCEP members, Myanmar only needs to eliminate 30 per cent of tariffs on trade in goods, less than the 65 per cent promised by other members.
It will also receive a transition period of three to 10 years in areas of intellectual property rights and e-commerce to allow it to prepare the corresponding provisions, which could help improve the international competitiveness of Myanmar's products.
Myanmar's former Union Minister of Investment and Foreign Economic Relations, U Thaung Tun, previously backed the deal since Myanmar would only need to remove tariffs on 30 per cent of goods, while RCEP would also encourage greater foreign investment into its manufacturing sector.
What is blocking the Philippines from ratifying RCEP?
Former president Rodrigo Duterte ratified RCEP in September 2021, but the Senate failed to sign off on the deal due to concerns for the agriculture sector before the new administration of Ferdinand Marcos Jnr took office.
"So, let's have a look at it again," said Marcos Jnr, who is better known as Bongbong Marcos, before his inauguration in June, according to various local media reports.
Over 100 agriculture groups previously appealed for the Senate to either reject or delay the RCEP ratification as they said the Philippines was not ready for free trade in the global market.
The country's trade deficit is their main concern, with the national agricultural deficit having soared to more than US$7 billion since joining the World Trade Organization in 1995.
The groups also claim the contribution of the agriculture sector to the country's GDP has been reduced from more than 20 per cent to 10 per cent and caused more than 1 million people to lose their jobs.
The Department of Trade and Industry has offered reassurances to farmers as highly sensitive agricultural products, including swine and poultry meats, potatoes, onions, garlic, cabbages, sugar, carrots and rice, are excluded from the zero tariff list. Cement, flat-rolled products of iron or non-alloy steel are also exempted from tariff liberalisation, the department said.
Data released by the Department of Agriculture showed that the Philippines is a net importer of fertilisers as it relies on imports for 95 per cent.
The Department of Trade and Industry also indicates that 74 per cent of fertiliser imports come from RCEP members such as China, South Korea and Japan, where it also imports 70 per cent of its pesticide from.
Why has Myanmar not yet ratified RCEP?
Myanmar submitted its instrument of approval to the Asean Secretariat in September 2021, but it was not accepted due to the volatile domestic political environment.
New Zealand announced in February that it would not deal with Myanmar, citing the deadly violence and democratic setbacks in the Southeast Asian country after the military seized power last year.
Days after New Zealand, the Philippines also said that it would reject Myanmar's instrument of ratification.
China is Myanmar's largest trading partner as its largest export and import destination.
China has already eliminated tariffs on 94.4 per cent of Myanmar's goods since 2012, according to Myanmar's former ambassador to China, U Myo Thant Pe in an interview last year when discussing China-Myanmar cooperation.
Who has applied to join RCEP?
Hong Kong formally submitted
its application to join RCEP in mid-January, but new members are unable to join until July 2023, at the earliest.
"In the meantime, the HKSAR government will step up its engagements with RCEP members and other stakeholders with a view to garnering their support for Hong Kong's early accession," said a Hong Kong Trade and Industry Department statement.
Bangladesh has also expressed an interest to join RCEP.
"RCEP could expand, but the agreement says that accession talks cannot start until mid-2023. Given the experience of many RCEP members grappling with accession to a parallel agreement, the
[Comprehensive and Progressive Agreement for Trans-Pacific Partnership],
it is now clear that joining a mega regional is not as simple or fast as might be imagined," Elms added.
"Implementation of RCEP among existing members has been uneven. Some aspects are in place, others less so. Some members are waiting for full ratification. Some are just moving slowly. Others have already largely completed the process."
Additional reporting by Reuters