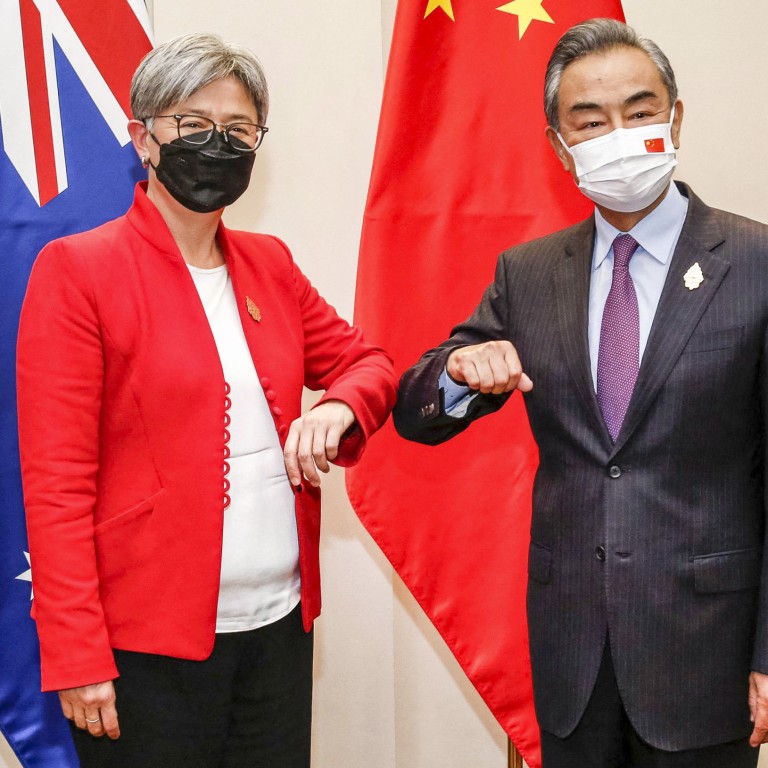 Australian firms seek 'practical ways' to boost trade, economic ties amid Beijing, Canberra tensions
Relations between Canberra and Beijing have been tense since Australia called for an international inquiry into the origin of the coronavirus in April 2020
The move sparked a furious response from Beijing, with China later imposing trade restrictions on billions of dollars worth of Australian exports
Australian businesses in mainland China and Hong Kong are calling for closer engagement amid unresolved political and trade disputes between Beijing and Canberra.
Business representatives are keen to explore "practical ways in which they can support bilateral business engagement, particularly in light of renewed intent from both the Australian and Chinese governments to stabilise the bilateral relationship", said a joint statement released earlier this week from key groups representing Australian businesses.
The calls for closer engagement with governments and agencies in both countries and key companies and stakeholders in China came from the boards of the Australia China Business Council, the China-Australia Chamber of Commerce chapters in Beijing, West China and South China, the Australian Chamber of Commerce in Shanghai and the Australian Chamber of Commerce in Hong Kong.
Besides developing relations in key sectors in China for Australian businesses, there is also a proposal to re-establish a
high-level trade and economic forum,
to be held, tentatively, in Australia in the third quarter of 2023, according to the statement.
Vaughn Barber, chair of the China-Australia Chamber of Commerce chapter in Beijing, said that closer collaborations between Australian organisations across China will "provide Australian companies and institutions with connectivity to stakeholders, potential business partners and on-the-ground perspectives to support decision-making about emerging opportunities in this important market".
Acknowledging China's restrictions on international travel, the statement also outlined plans to set up "a programme of high level and industry focused delegations from each country to the other as soon as travel can safely resume".
"Our role is changing. Increasingly, we are stepping forward in challenging times to offer fresh and compelling ideas, working across borders to expand the economy for all," said Australian Chamber of Commerce in Shanghai chair Heidi Dugan.
The joint statement also reflects growing frustration among both Chinese and Australian companies operating in the two countries as relations between Beijing and Canberra have worsened over the past few years.
Chinese and Australian foreign ministers met in July for the first time in three years, on the sidelines of a Group of 20 meeting in Bali, after the election of a Labor government in Australia.
Chinese Foreign Minister Wang Yi told Australian counterpart Penny Wong that China was ready to reinvigorate ties with Australia, while Wong said it was in both countries' interest to stabilise the relationship.
A diplomatic source in Beijing said that while both sides have expressed the need to mend relations, there has not been much progress in practical developments to foster a change.
Relations between Canberra and Beijing have become increasingly tense since April 2020, when then-Australia prime minister Scott Morrison called for an international inquiry into the origin of the coronavirus, which sparked a furious response from Beijing.
Later in 2020, China's embassy in Australia leaked a list of "14 grievances" in which Canberra was accused, among other things, of unfairly blocking Chinese investments citing "ambiguous and unfounded national security concerns' despite a free-trade agreement between the two countries.
In a significant move by Beijing that has been widely seen as economic retaliation, the Chinese government has imposed restrictions on billions of dollars worth of Australian exports, citing dumping and other trade rule violations.
Australian wine,
coal, beef, lobsters, log timber and barley exports have all been affected.
China's imports from Australia fell by 11.1 per cent from a year earlier in the first seven months this year.
Tension between the two countries has also extended to the Taiwan Strait. New Prime Minister Anthony Albanese has said Australia does not want to see "unilateral change to the status quo", while his foreign ministry criticised Beijing's recent exercises following the
visit of US House Speaker Nancy Pelosi
as "disproportionate and destabilising".
Beijing sees Taiwan as a breakaway province and has never renounced the use of force to bring the self-ruled island back under its control.
Countries that have diplomatic ties with Beijing, including the United States, acknowledge the existence of the one-China principle that holds Taiwan be part of China, but may not explicitly agree with it. Washington also does not take a position on the status of Taiwan but opposes any attempt to take the island by force.
China also claims sovereignty over much of the South China Sea despite a series of competing claims by neighbouring countries and opposes any foreign "intervention" in the waters.