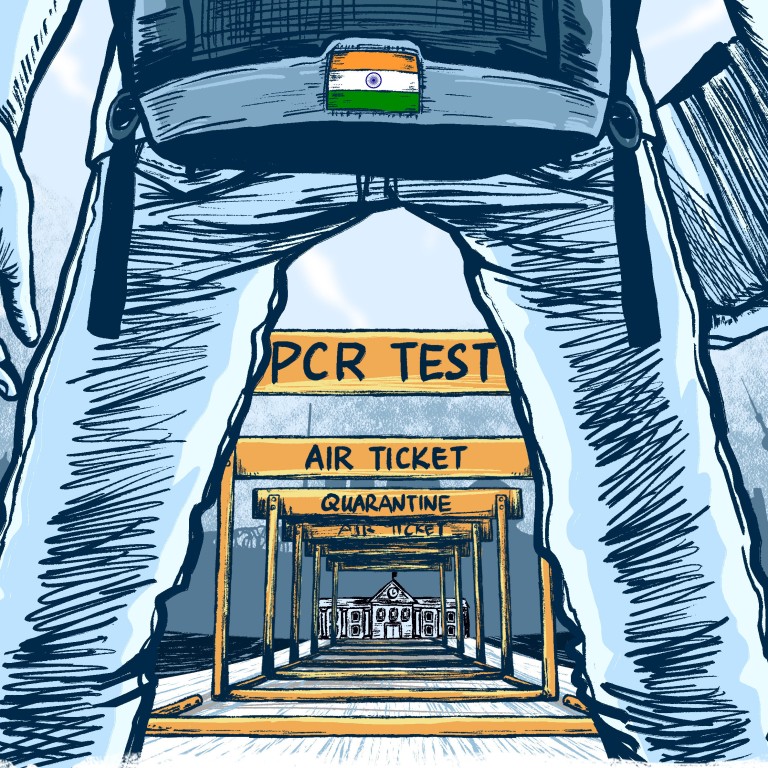 China's zero-Covid policy still creating headaches for overseas students, even as some near return after 3 years
Overseas students enrolled at universities in China have been forced to study online for the best part of three years due to the coronavirus
As China slowly eases some travels restrictions, students now face complicated and expensive journeys to resume their studies
Anayat Ali, a fourth-year PhD student at Tongji University in Shanghai, is finally set to return to China after being stranded in India for almost three years due to the strict coronavirus border controls. It is a long overdue journey that comes with the heaviest price tag he has ever paid for a flight.
Ali will transit to China via Hong Kong on October 7 as there are no direct flights from India. The journey, which includes a four-day stopover in Hong Kong to comply with quarantine and testing requirements and then a further seven days of quarantine in China, will set him back around 150,000 Indian rupees (US$1,880).
Ali's father will cover the cost of the trip, which amounts to a little more than his entirely monthly income of US$1,500. When Ali first travelled to China in 2019, the trip cost him a mere 18,000 rupees (US$226).
"It's a very big expense for all students," said the 29-year-old from Kashmir, adding that some of his fellow students have spent up to 300,000 rupees.
"To spend 200,000-300,000 rupees just to enter China, I had to think about it a million times."
Despite reducing centralised quarantine to seven days and considerably easing its visa policies, China still has some of the toughest Covid-19 restrictions in the world. Travel remains difficult for foreigners, in part due to complex health regulations governing entry into the mainland and skyrocketing flight costs, as demand continues to far outstrip supply.
According to data by VariFlight, roughly 100 international flights operate daily to and from China, compared to 2,600 before the coronavirus pandemic. From June 2021 until June this year, the passenger volume was 583,000 on international routes in China, according to data from the Civil Aviation Administration (CAAC), representing a 23 per cent decline year on year.
In comparison, in 2019, passenger turnover on international routes hit 318.5 billion passenger-kilometre, according to the CAAC. A passenger-kilometre is a unit describing the passenger carrying performance of certain means of transport, over a kilometre.
China requires all passengers to provide a negative PCR test taken 48 hours and 12 hours before boarding a flight, which means travellers must stay in the transit country for at least three days, in addition to following any health related procedures.
Most travellers choose to enter China via Hong Kong, but it is almost impossible to book a flight from Hong Kong to China online, said Ali, who had to turn to an agent for help.
"The agent can just throw any cost at you," he said, adding that some gave him a price of 8,000 yuan (US$1,141).
However, even direct flights to China are just as expensive, if not more.
In neighbouring Pakistan, flights to China are so high that students are pushing for more transit options, said Asmat Malik, a third-year PhD student at Northeast Agriculture University in Harbin.
"Connecting flights from Pakistan to China are more economical," said Malik, who is also a member of the Pakistan China Student Union.
Malik will fly to China on Saturday, with the flight itself costing him 467,000 Pakistani rupees (US$1,995). Quarantine included, his expenses will be more than 500,000 rupees.
"It is very difficult for any student," said Malik. The average monthly salary for professionals in Pakistan can be around only 82,000 rupees.
Malik is leading a campaign to put pressure on the Pakistani government to offer a 50 per cent discount on flight costs for the 10,000 students stuck in Pakistan, but he admits that it will be "impossible."
"I receive so many calls from students and parents who say they cannot afford the tickets," said Malik, adding that the uncertainty around when the students might be called back to China left most of them unable to find employment.
"I don't believe that China is opening up," Malik said.
According to Goldman Sachs, some market participants expect a material easing in China's zero-Covid policy after October's 20th party congress.
But they also said that a review of key health and political considerations mentioned by policymakers suggests that a reopening will probably be delayed until at least the second quarter of next year before being implemented gradually.
On Monday, China did issue draft rules aimed at making it easier for some foreigners to enter China for visits to tourism sites along the Chinese border.
"We have improved visa and other policies to better facilitate cross-border travel and exchanges and cooperation with other countries," foreign ministry spokesperson Wang Wenbin said in a statement last month.
"We welcome the return of international students to China to resume their studies."
Ji Rong, a counsellor at the Ministry of Foreign Affairs, said on Twitter recently that "personally think the biggest concern is still Covid flare-ups from time to time which slow down students return process of uni & local govt".
China recently halved the suspension period for inbound flights to one week if infections are found in 4 per cent of the passengers and two weeks if 8 per cent of the passengers test positive. After Beijing suspended flights by American carriers, the US suspended 26 flights by Chinese airlines between the US to China.
Direct flight costs from the UK and US to China are considerably higher, with economy fares starting at around US$7,600 and US$9,000, respectively, said Dan Wharton, CEO of Teach English Global, a company that has recruited and placed more than 50 English teachers in China since the start of the coronavirus pandemic.
"Some teachers have spent this much," said Wharton. "But most people can't afford this kind of money for a flight."
Last week, the American Chamber of Commerce in China organised what it called a "Back to Work" charter flight for 87 passengers from San Francisco to Beijing, the first such flight from the US since the start of the pandemic.
It was a process that took "months of planning" and "lengthy negotiations with key stakeholders, most notably the Beijing government," according to a statement released by the chamber.
France and Switzerland have also organised similar charter flights to China for their business communities in August and September, respectively, which were the first since the start of the pandemic.
In India, businessmen driven by the urgency of finally resuming their lives in China coordinated with authorities to organise a special charter flight, again the first of its kind.
A logistics company in Yiwu
asked the local government to arrange the flight especially for Indian traders, as India is its second largest export destination.
"You want to go back as early as possible because you want to start your normal life," said Indian businessman Kalpesh Doshi, who runs a garment export business in Guangzhou, and was instrumental in organising the trip.
"When I am talking to buyers I don't know what the sample looks like or feels like when it comes to the factory," added Doshi, who had been stranded in India since January 2020.
"This is not like IT or finance wherein it's easier to work from home."
Doshi obtained the first slot on the first day the Chinese embassy in Mumbai started accepting visa applications again. He said he had "no choice" to pay 20,000 yuan (US$2,853) for the whole trip.
For those who have no option but to take a transit route, the cost is cheaper, but daunting nonetheless.
Nicola Ferguson, a teacher from Scotland placed in a school in Beijing through Wharton's company, travelled via Hong Kong recently, with the trip costing more than US$4,500.
With difficulties in finding an agent to book a flight from Hong Kong to China, Ferguson spent three additional days in Hong Kong,
after seven days of quarantine,
to cross the border into Shenzhen via a lottery system, where 2,000 people per day are chosen by a ballot.
Ferguson was three years into her bachelor's degree in Tianjin in 2019, when she flew back to Scotland. But after graduation, she too was unable to find work due to the uncertainty of when she might be able to return to China.
"I've already had a lot of money given to me by my family that has been spent faster than they made it," she said, adding that she used her savings to fund part of the trip.
But soon, earning a monthly salary of 23,000 yuan (US$3,281) as an English teacher, Ferguson plans to pay her family back.
But there are many who have been deterred by the restrictions as well as high flight costs to resume their lives in China.
Wharton himself was an English teacher in Shanghai before he returned to the UK in February 2020.
"For the first few months my plan was to return to China," he said. "But after that I decided against it," adding that the decision was in part influenced by China's coronavirus policies.
As a recruiter in partnership with several schools in China, Wharton said he will not return to meet with clients until travel becomes easier.
Julia Feotistova, former guest relations manager for Novotel Shanghai Hongqiao, also left China in around March 2020, but has so far been held back by the cost of returning.
Six months after she returned to Russia, she mutually agreed to end her contract with the company having realised she will not be going back any time soon.
Now, working as a freelance consultant in Romania for low-budget hotels, Feoktistova earns €2,500 (US$2,500) per month, and sees no reason to spend close to €7,000 to return to China, unless she gets a similar job for higher pay.
"I miss China and its culture," she said. "But it's about money, time and the ease of moving back."