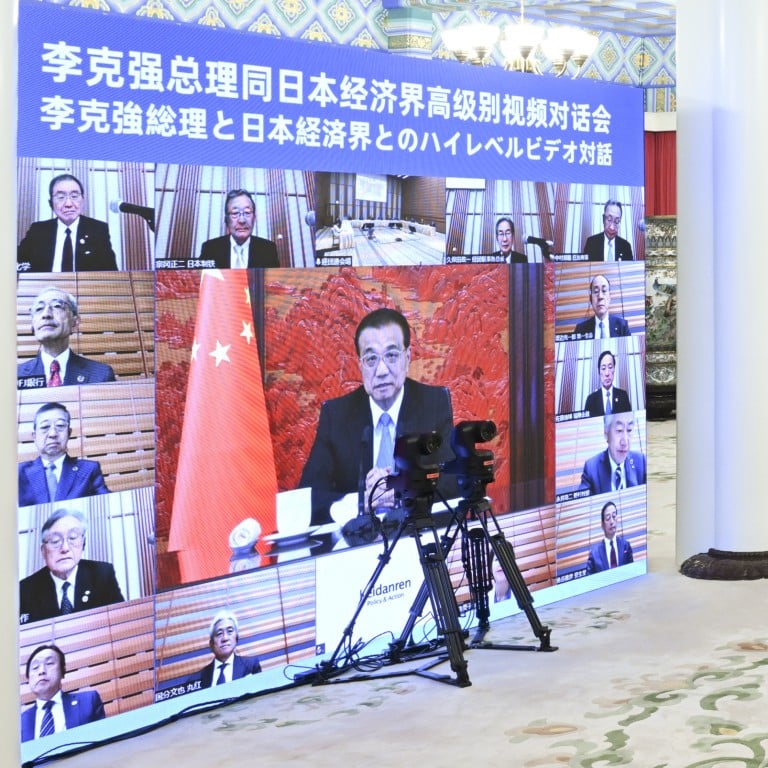 China's foreign investment door 'will only open wider and wider', Premier Li Keqiang insists
Premier Li Keqiang told Japanese business community representatives that China will deepen its reform and opening up to attract more foreign investment
Foreign business groups in China have been increasingly raising concerns over the mounting challenges of operating in the world's second-largest economy this year
Beijing insists it will ensure a "transparent, stable and predictable" regulatory environment to maintain its status as a hotspot for investment, at a time foreign businesses have become increasingly cautious about putting money into China amid its tightening zero-Covid policy and rising geopolitical tensions.
China will deepen its reform and opening up to
attract more foreign investment,
and do its best to ensure that economic growth this year remains at a healthy level, Premier Li Keqiang told Japanese business community representatives during an online meeting on Thursday.
Li said Beijing's reform and opening policy, which has been an important engine for China's spectacular economic growth for over four decades, is a key to coping with numerous headwinds, according to the official Xinhua News Agency.
"China will adhere to the basic national policy of opening up, and the door to opening up will only open wider and wider," Li said.
The country will continue to deepen its reforms by creating a business environment that is international, market-oriented and respecting the rule of law, Li added.
"[We will] ensure transparent, stable and predictable regulatory rules, further relaxing market access, strictly protecting intellectual property rights, and make China to become a major global market as well as a hotspot for foreign investment," he said.
Foreign business groups in China have been increasingly raising concerns over the mounting challenges of operating in the world's second-largest economy this year, as coronavirus disruptions and geopolitical entanglements have rapidly eroded the country's decades-old reputation for predictability.
Many European multinationals are, as a result, being forced to reduce, localise and isolate their China operations, according to the
annual position paper
released by the European Union Chamber of Commerce in China this week.
According to a survey from Teikoku Databank, a leading Japanese credit research house, there were 12,706 Japanese firms in China as of June, down by 940 since 2020.
More than 200 companies have also withdrawn from Shanghai due to the stringent coronavirus lockdown this spring, the survey showed.
"The downward trend is intensifying," the survey concluded. "Japan is entering a new era of 'de-dependence' on China."
This month will mark the 50th anniversary of the normalisation of diplomatic relations between China and Japan, the world's second and third largest economies.
"We hope the Japanese business community will continue seizing China's development opportunities, actively expand its presence in the Chinese market, strengthen cooperation with Chinese partners, and achieve more mutual benefits and win-win results," Li said during Thursday's meeting, along with promises to increase direct flights between the two countries.
Li also said China will take a realistic approach and do its best to work towards reasonable economic growth for the rest of the year.
"This year, due to the shock of unexpected factors, the downward pressure on the Chinese economy has intensified. China has responded decisively, made timely adjustments, and worked to stabilise employment and prices. The Chinese economy has continued to run within an appropriate range and is showing an overall recovery trend," Li said.
"China will take a realistic approach and do its best to ensure the country's whole year economic growth at a healthy level."
Beijing has
downplayed its 2022 growth target
of "around 5.5 per cent" set in March in recent months, while doubling down on its zero-Covid policy that has led to repeated stringent lockdowns.
Some investment banks have accordingly lowered their estimates on China's yearly growth, including to 3.3 per cent by Standard Chartered Bank, 3 per cent by Goldman Sachs and UBS, respectively, and 2.7 per cent by Nomura.
Goldman Sachs and Nomura also both revised down their 2023 growth forecasts this week to 4.5 per cent, from 5.3 and 5.1 per cent, respectively.