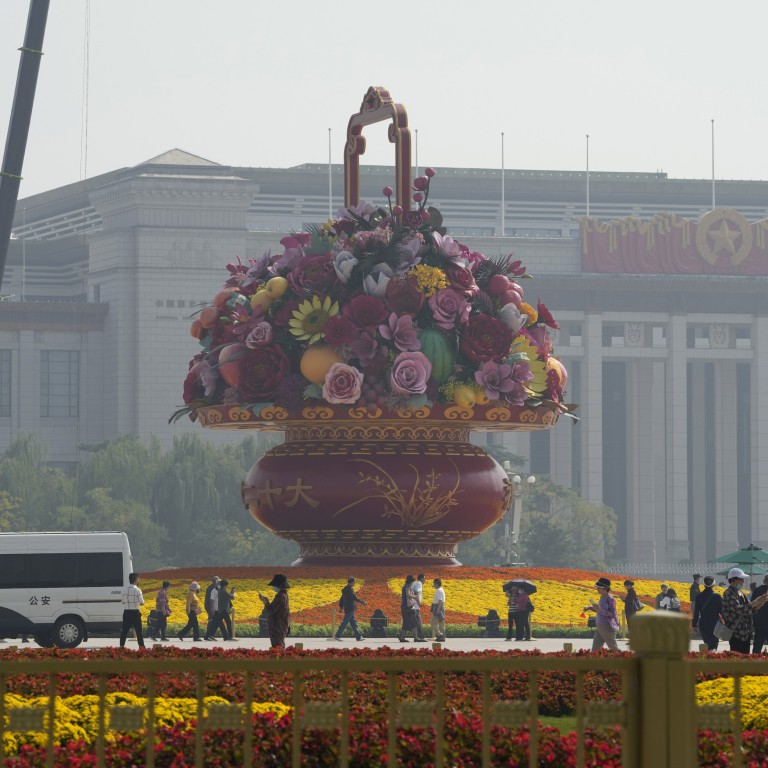 Global Impact newsletter: With China's 20th party congress less than a month away, Russia and Taiwan remain hot topics
Global Impact is a fortnightly curated newsletter featuring a news topic originating in China with a significant macro impact for our newsreaders around the world
In this edition, we look at Beijing's position on Russia and Taiwan after President Xi Jinping's meeting with Russian counterpart Vladimir Putin, and following Joe Biden's remarks about the self-ruled island.
The 20th party congress is less than a month away. Apart from the opening date of October 16, little information about the conclave has been released.
A monthly Politburo meeting is expected this week. It will be followed by the seventh plenum of the 19th Central Committee on October 7 – just over a week before the start of the congress – during which members will review a draft report, amendments to the party constitution and a work report by the party's top anti-corruption watchdog.
In the interim, China will also celebrate its National Day on Saturday, which kicks off a seven-day holiday on the mainland.
Unlike previous "golden week" holidays in the pre-pandemic era,
expectations are low
about a holiday-induced consumption binge due to the country's zero-Covid policy and sluggish economy. Tales of doom and gloom under lockdowns have also discouraged potential holidaymakers to travel this year.
Yet, there is little evidence that China's senior leaders are overly concerned. President Xi Jinping just made his
first overseas visit
in more than two years to Kazakhstan before attending the Shanghai Cooperation Organisation summit in Uzbekistan. On the sidelines of the summit in Samarkand,
Xi met Russian President Vladimir Putin
– their first face-to-face meeting since before the Ukraine war – and the two sides vowed to support each other "on issues concerning their respective core interests".
Beijing – which sees Taiwan as a breakaway province that must be reunited, by force if necessary. Most countries, including the US, do not recognise Taiwan as an independent state. Washington, however, opposes any attempt to take the island by force.
60 second catch-up
Deep Dives
What does it take to get promoted in Chinese politics? Up-and-comers offer clues
Those with regional leadership experience, technical backgrounds and ties to the top most likely to ascend the Communist Party ranks, observers say

Loyalty still matters, but those closest to Xi are 'not necessarily tied to any particular ideological position', according to Chinese politics expert
The Communist Party is set to hold its 20th national congress in mid-October, a gathering that will usher in a new line-up of the party's leadership. In the third piece in a three-part series exploring the rules of the personnel reshuffle, Mimi Lau looks at the shared traits among those likely to be promoted to key national positions.
In February 2020, the Communist Party faced one of its worst crises in three decades as the deadly coronavirus, first detected in the central Chinese province of Hubei, rapidly spread across the country, and a poor initial response fuelled rare public discontent.
China's military told to 'resolutely do what the party asks it to do'
PLA Daily runs lengthy article telling soldiers to follow the party's leadership and take 'whatever risks and challenges' are needed
It comes as Beijing's propaganda machine goes into overdrive ahead of next month's twice-a-decade national congress
Revised code for Chinese officials lays out quickest ways to lose a job
Updated directive seeks to galvanise leaders around Chinese President Xi Jinping, while weeding out cadres with 'shaky ideals and beliefs'
Amended code issued less than a month before party's pivotal 20th national congress
China brings cash to former Soviet republics in bid to win favour with Central Asian 'stans'
New investments and agreements illustrate how deals between China and Central Asia are being increasingly prioritised following President Xi Jinping's visit
China could be looking for 'a new Silk Road', the ancient Eurasian trade network that bypassed what's now Russia to reach parts of Europe
China is manoeuvring to play a more pivotal role in Central Asia, as new investments and agreements further consolidate relationships in the wake of President Xi Jinping's first overseas trip since the coronavirus pandemic began, analysts say as the world's second-largest economy re-evaluates its trade ties amid rising geopolitical tensions and decoupling calls.
Beijing may use Anti-Secession Law to seek Taiwan reunification, Wang says
Wang Yi says if the law is violated, Beijing will take 'resolute actions to safeguard the country's sovereignty and territorial integrity'
He also warns that US approach may have 'subversive impact' on ties, during meeting with former secretary of state Henry Kissinger
Wang also warned that Washington's pro-Taiwan, anti-Beijing approach might have a "subversive impact" on US-China ties, during a meeting with former US secretary of state Henry Kissinger on Monday. Wang is in New York for the general debate of the 77th session of the United Nations General Assembly this week.
SCO summit: China urges member states to ward off foreign-backed 'colour revolutions'
Addressing leaders in Samarkand, Xi Jinping says competition between unity and division around the world is growing
We must jointly oppose interference in other countries' internal affairs, Xi says
China's No 3 official calls for united front with Russia against sanctions
Li says China and Russia should fight together against 'external interference'
He thanks Russian lawmakers for Moscow's support of Beijing's stance on Taiwan
China holds firm on its Ukraine stance while Putin sends more troops
Beijing reiterates call for negotiated resolution after Russian president activates 300,000-strong military reserve
In an address to the nation, Putin also accused the West of 'nuclear blackmail' and promised to use 'all means' to protect territorial integrity
"If there is a threat to the territorial integrity of our country, and for protecting our people, we will certainly use all the means available to us – and I'm not bluffing," Putin said in an address to the nation on Wednesday.
Global Impact is a fortnightly curated newsletter featuring a news topic originating in China with a significant macro impact for our newsreaders around the world.