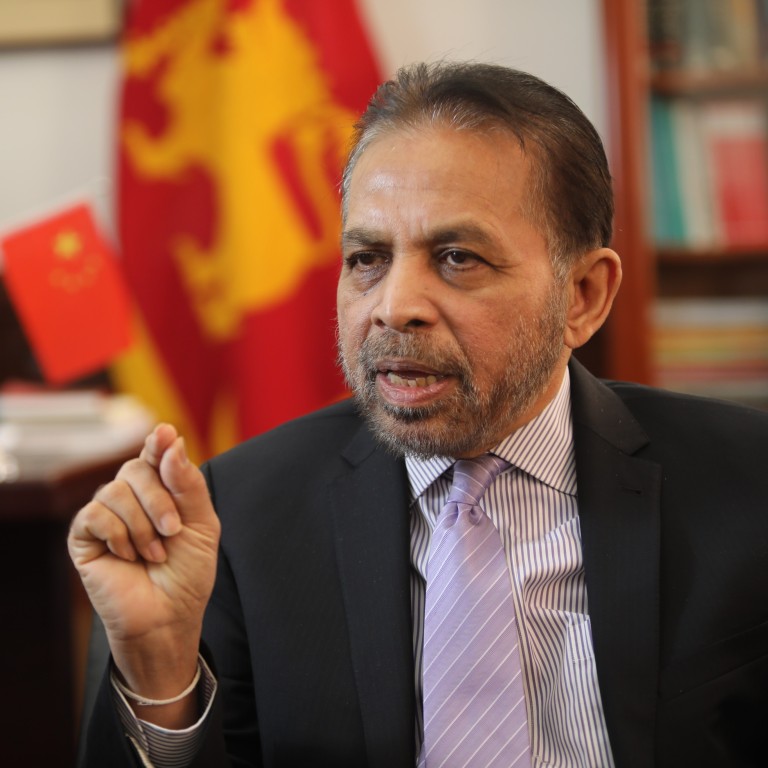 Exclusive

|
Sri Lanka 'in a hurry' to resume China free-trade deal talks to get 'back on the radar' after recent unrest
Talks between Beijing and Colombo over a free-trade agreement that began in 2014 have resumed, according to Sri Lankan ambassador to China, Palitha Kohona
Sri Lanka has been racked by civil unrest and economic disruptions, but this month reached a deal with the International Monetary Fund for a US$2.9 billion bailout
Sri Lanka, racked by civil unrest and economic disruptions for much of the year, has resumed free-trade agreement talks with China over the past two months amid new social stability within the island nation, the South Asian country's ambassador in Beijing said on Friday.
"It's been going on not at a high level, but at an official level," Palitha Kohona told the Post.
"We are in a hurry because we would like to see more goods get access to the Chinese market."
The two sides will consider an "asymmetric" trade deal that would address the small size of Sri Lanka's economy compared to China's and cover "low-hanging fruits" rather than every potential item eligible for import tariff cuts, Kohona added.
Talks that began in 2014 had reached a fifth round in 2017, when the two sides exchanged views on trade, investment and economic cooperation, according to the Chinese Ministry of Commerce.
The Chinese ministry lists its Sri Lanka free-trade agreement – China's potential third in South Asia after Pakistan and the Maldives – as "under negotiation".
China knows that Sri Lanka has gone "back to normal" following social unrest earlier in the year, Kohona said, and despite remaining financial issues, "Sri Lanka is much more stable than two or three months ago".
The International Monetary Fund (IMF) this month
reached a preliminary agreement
for a US$2.9 billion loan to help Sri Lanka overcome inflation and shortages of daily essentials that sparked anti-government riots. Sri Lanka expects the IMF board to approve the loan by the end of the year.
Years of economic mismanagement plus the coronavirus pandemic have left Sri Lanka in its worst economic crisis since independence from Britain in 1948, leading to sovereign debt defaults.
In July, then-president Gotabaya Rajapaksa fled the country and resigned after the deadly public protests.
A free-trade agreement would help China by opening up a market of 22 million people to Chinese exports, such as electronics and petrochemical products, analysts said.
Kohona, though, said Chinese-funded infrastructure is not up for discussion as part of the ongoing trade talks.
Beijing had grown "increasingly frustrated" by a lack of progress on the free-trade agreement, said Guilherme Campos, manager of international business advisory with Dezan Shira & Associates in Hong Kong.
In April, Premier Li Keqiang told Rajapaksa that China supported "continuous progress in bilateral practical cooperation projects" and hoped to conclude the free-trade agreement, according to a Ministry of Foreign Affairs statement.
"We've put similar pressure on China," Kohona added.
China is growing a world free-trade agreement network as relations with its key partners Australia and the United States have declined over the past four years.
"For the Chinese, this is to further cement their links and control over Sri Lanka," said James Chin, a professor of Asian studies at the University of Tasmania in Australia.
Sri Lanka needs the support, Chin said, explaining that "if your house is burning, you don't have much choice – whoever comes with the water can help".
A deal with China would also let Sri Lanka tell the world that it is stable, said Jayant Menon, a visiting senior fellow with the ISEAS-Yusof Ishak Institute's Regional Economic Studies Programme in Singapore.
"Anything that sends a positive signal like resumption of FTA negotiations will help Sri Lanka appear as if it's back on the radar," Menon said.
A free-trade agreement would further help Sri Lanka if it allows a surge in Chinese tourism or opens China to zero-tariff shipments of its signature textiles, garments, lingerie and tea.
Black tea is a chief export to China, according to Kohona, as Sri Lanka competes with the likes of India and Kenya.
China exported around US$4 billion in goods to Sri Lanka in 2020 and accepted US$266 million worth of Sri Lankan imports, according to the Observatory of Economic Complexity database created by a group under the Massachusetts Institute of Technology Media Lab.
Exports from Sri Lanka to China reached US$275 million last year, according to Kohona.
Sri Lanka also would depend less on European and US imports by taking Chinese goods at lower prices, Campos said.
But if low-priced Chinese products matched Sri Lanka's own, local industries would find it hard to compete, he added.
"Sri Lanka's domestic manufacturing industry has not been prepared to deal with competitive imports, and remains in several sectors somewhat underinvested with, at times, antique technologies dating back to the time of the British still being used for manufacturing processes," Campos said.
China and Sri Lanka have raised the idea of liberalising 80 per cent of all goods being traded, Kohona said.
"China is a very important market for Sri Lanka, and Sri Lanka is not accessing it at the moment," the ambassador said.
He added that China has been "sympathetic" toward Sri Lanka's goals during the negotiation process.
The Ministry of Commerce in Beijing did not respond to a request for comment this week on the status of its talks with Sri Lanka or on whether the IMF loan would affect the negotiations.
Sri Lanka and China are attempting to set a date for formal trade-deal negotiations, but yet to a agree a timeline, Kohona said.
China's travel restrictions aimed at controlling the coronavirus pose a "hindrance" to in-person meetings, he added.