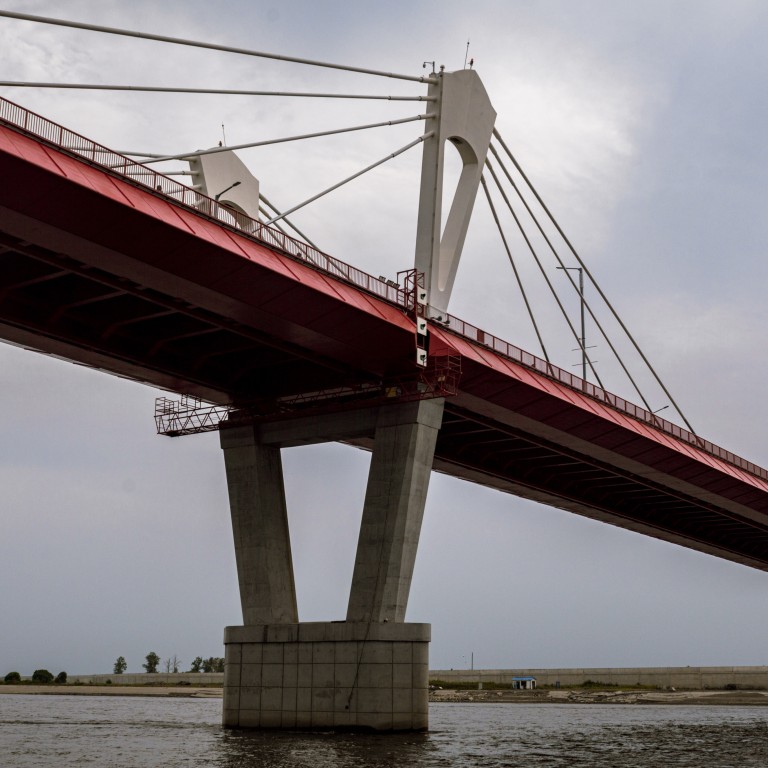 Chinese investment in Russia's resource-rich Far East is growing, but Western sanctions are clouding the outlook
A number of joint infrastructure projects between China and Russia have been completed in the resource-rich Far East region in recent months
Analysts say Chinese investment is to make imports of Russian oil, natural gas and farm goods easier, but no major projects are on the horizon
China is strengthening transport links with Russia's Far East at an accelerating pace, with a number of joint infrastructure projects aimed at streamlining trade completed in the past few months.
The Heihe-Blagoveshchensk bridge over the Amur River was opened in June, the maiden voyage of the Quanzhou-Fast East shipping line sailed in mid-September, and the 2,200-metre Tongjiang-Nizhneleninskoye railway bridge is expected to be inaugurated in the coming months.
Analysts say recent Chinese investment in the Far East is to aid imports of Russian oil, natural gas and farm goods, but no game-changing projects or large capital inflows are on the horizon following Russia's invasion of Ukraine.
In the lead up to Russia's invasion, Moscow and Beijing issued a declaration their friendship had "no limits". Trade between the two countries has
subsequently boomed
.
The shared border between the two countries is rich with natural resources such as natural gas, gold, coal, diamonds, timber and seafood. With the construction of the Trans-Siberian Railway at the end of the 19th century, it also serves as a transit hub between Asia and Europe.
Despite the completion of recent transport projects, large Chinese companies have generally avoided investment in the Far East, according to Sergey Ivanov, a senior fellow with the Institute of History, Archaeology and Ethnology at the Fast Eastern Branch of the Russian Academy of Sciences.
"I do not see any structural changes in Chinese investments and, under sanctions [on Russia], they are even more unlikely to happen," he said. "Overall, we see a decline in the medium term."
China's trade with Russia's Far East, which borders the northeastern province of Heilongjiang, rose 28 per cent year on year to about US$14 billion last year, accounting for nearly 10 per cent of overall bilateral trade, said Li Zhanshu, chairman of China's top legislative body during a visit to Russia last month.
By the end of June, the world's No 2 economy had announced 54 projects in advanced special economic zones and the free port of Vladivostok worth about US$14.7 billion, Li said. That was an increase from US$2.4 billion in 2019.
Russian deputy prime minister Yury Trutnev said ahead of the Eastern Economic Forum in September that more than 90 per cent of foreign investment in the Far East was from China.
In 2020, Chinese media reported the country accounted for 85 per cent of investment in the region, while Russian officials said it was 71 per cent in 2016-19.
Analysts point out, however, the growing proportion of Chinese foreign investment may not necessarily be a result of rising capital inflows, especially as international investors retreat from Russia following its invasion of Ukraine.
Two key sources of spending in the Far East, Japan and South Korea, were labelled "unfriendly countries" by Moscow in March.
Ivanov said Russia's "pivot to the east" policy – which was announced by Russian President Vladimir Putin in 2012 – was not about attracting foreign investment but consolidating regional assets held by large Russian corporations.
"Any expansion of Chinese investment in the Far East will inevitably come up against the simple question of whether Russian big business will be willing to share assets," he said.
Russia is looking to
broaden trade ties
with China beyond the energy sector, with a particular focus on farm goods.
Jiabei Agricultural Holding Co, which owns 3,100 hectares (7,660 acres) of Far East farmland, is just one company with investment plans in the region. It has announced spending of 400 million yuan (US$56.2 million) between 2022-25 to upgrade infrastructure, acquire more property and build a grain dock.
Agriculture was one of the key investment sectors identified in a bilateral cooperation road map for the Far East in 2018.
The manager of a Chinese agricultural company with a presence in the Far East said the impact of the Ukraine war and coronavirus pandemic on the crop growing sector is relatively small and its operations will progress as planned.
"[But] a major risk faced by investors in the future is geopolitical tension, because the volatility of the exchange rate will have a huge impact on business operations," said the person, who wished to be anonymous.
"We won't be aggressive, nor retreat."
Overall Chinese investment in Russia has been in steady decline in recent years, from US$2.96 billion in 2015 to US$570 million in 2020, official data showed. Figures for 2021 are unavailable.
Anton Kireev, an associate professor at the Far Eastern Federal University, said the structure of Chinese investment supported an economic model based on the extraction and export of natural resources.
However, "the volume of accumulated Chinese capital is not sufficient to replace the reduced budgetary investments in the region", he wrote in the August issue of World Economy and International Relations magazine.