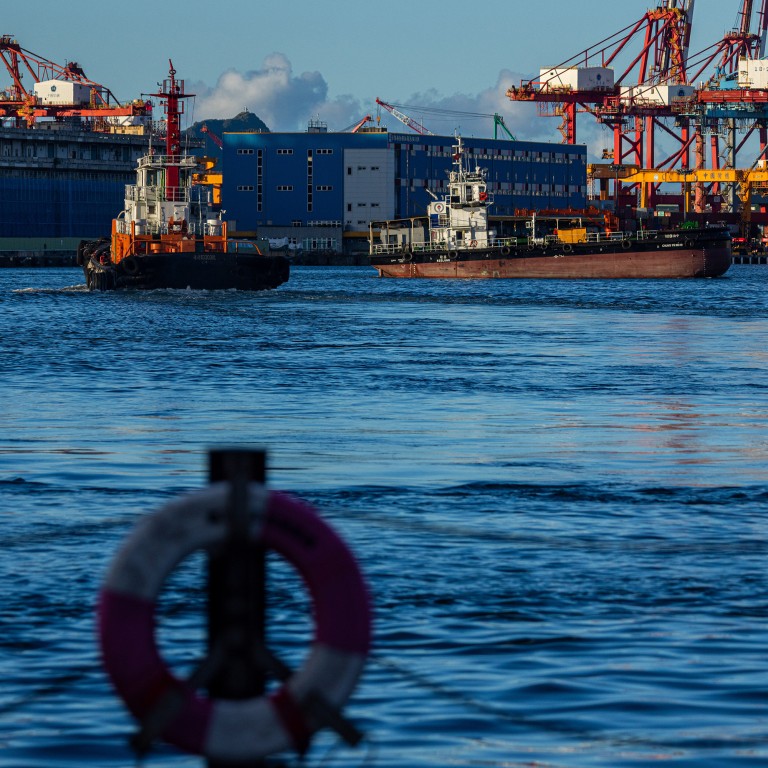 Taiwan's export orders fall in September as economic distress in mainland China intensifies
Taiwan's export orders totalled US$60.93 billion in September, down by 3.1 per cent year on year, but up 11.6 per cent on August
Orders from Taiwan's biggest buyer, mainland China, reached US$11.55 billion last month, tumbling 27.9 per cent year on year
Global demand for Taiwanese exports declined last month for the fourth time since the start of the coronavirus pandemic as consumption continues to weaken in mainland China.
Taiwan's export orders totalled US$60.93 billion in September, down by 3.1 per cent from a year earlier, but up 11.6 per cent from August, the Ministry of Economic Affairs said on Thursday.
Orders from Taiwan – for the likes of PCs, servers and smartphones – are seen as a bellwether for the health of other Asian exporters, including South Korea, and an indicator of global consumption trends.
"Inflation and [monetary] easing in various countries have become negative factors that coalesced in the third quarter globally," said Yeh Yin-hua, chairman of the Taipei-based economic think tank Yuanta-Polaris Research Institute.
"Exports are shrinking, so the economy is sliding. It's not just Taiwan.
"Basic demand is declining, so end-user needs are going down. That weighs on exports."
Orders in August
reached US$54.59 billion
, up by 2 per cent year on year, but roughly the same as in July and down from a one-year peak of US$67.9 billion in December.
Global demand is being undermined by the war in Ukraine, high inflation that directly affects consumers' disposable income, supply-chain disruptions linked to mainland China's zero -Covid policy and long-running China-US tech disputes.
Orders for Taiwan's consumer electronics – the backbone of the island's US$759 billion economy – rose by 5 per cent year on year in September, compared with 15.4 per cent in August.
Communications equipment orders rose by 6 per cent compared to a year earlier, up from a 3.1 per cent increase in August.
Consumer electronics and communications equipment led all export categories by dollar value, data showed.
Taiwan Semiconductor Manufacturing Company, the world's largest contract chip maker, this month cut its 2022 target for capital expenditure by 10 per cent, in a sign of weakening demand for consumer electronics.
The hi-tech hardware firm grew quickly during the first two years of the pandemic on global orders for PCs and other telework or home study devices. That demand has tapered in 2022.
Exports from South Korea, also a major exporter of chips and consumer electronics, rose by 2.8 per cent year on year last month, down from a 6.6 per cent gain in August.
Taiwan's orders from mainland China – its largest buyer, snapping up 28.21 per cent of total exports last year – were valued at US$11.55 billion in September, tumbling 27.9 per cent year on year.
The International Monetary Fund has forecast China's economic growth for 2022 at the unusually low level of 3.2 per cent.
Mainland Chinese have spent less than usual this year, with consumption faltering under the weight of Beijing's harsh Covid controls and prices for
staples like pork
skyrocketing.
At the same time, multinationals in Taiwan have been diversifying trade and production away from mainland China in light of political and military tensions, said Hu Jin-li, a professor at the Institute of Business and Management of National Yang Ming Chiao Tung University in Taipei.
Cross-Strait tensions have flared this year as Taiwan grows closer to the US, whose rivalry is deepening with China. Beijing sees Taiwan as a breakaway province that has to be reunited with the mainland, by force if necessary.
Exports to the Association of Southeast Asian Nations are increasing as Taiwan shifts away from mainland China, Hu said. Orders from Southeast Asia reached US$6.02 billion last month, up by 12.5 per cent year on year.
Taiwan's exports to Europe rose by 9.6 per cent year on year in September, ahead of the December holidays, and orders from the US edged up by 2.8 per cent to the highest September total of any country at US$19.84 billion.