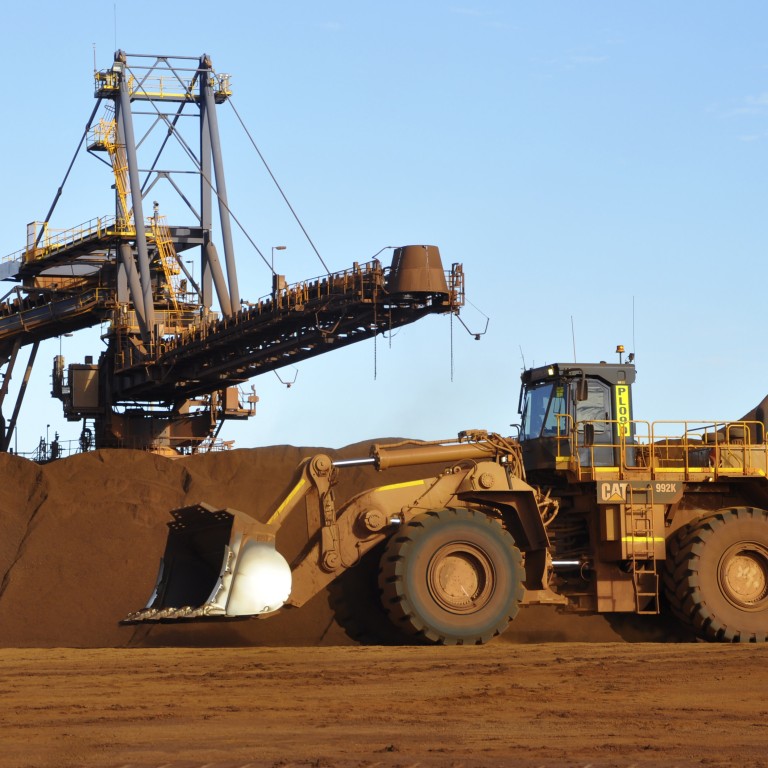 Australia urged to 'entrench' role as China's 'indispensable' commodities supplier after trade bans 'fail'
Lowy Institute report claims China's trade policies against Australia since early 2020 have 'so far failed' to meet their economic and national security objectives
China is most dependent on Australian iron ore, liquefied natural gas (LNG) and wool, the report showed, reflecting the two countries are 'interdependent'
Australia should work to "entrench" its position as a key commodities supplier to China for the benefit of its economy despite ongoing tensions, according to a report from an independent Australian think tank.
Cementing Australia's role of being the "indispensable" exporter to China can also give Canberra leverage in the face of Beijing's ongoing "trade coercion", said the Lowy Institute report.
Beijing's trade policies and
bans against a variety of Australian products
since early 2020 have "so far failed" to meet their objectives of imposing substantial costs across the economy and changing Australia's national security policy, the report added.
However, even as bilateral relations start to stabilise after over two years of strained ties, Australia should expect punitive measures to remain in place, either in whole or in part.
"Although geopolitics are changing the tone of the bilateral trade relationship, the global supply and demand dynamics are still the most important determinant for the resilience of the Australian export sector," the report stated.
"Given the enduring geopolitical rivalry between the US and China, and Australia's position as a strong US ally, Canberra should assume that Beijing will continue punitive trade measures in one form or another," said Richard McGregor, the author of the report.
"The good news, however, is that China will struggle to diversify away from Australia in a number of key sectors."
China is most dependent on Australian iron ore, liquefied natural gas (LNG) and wool, the report showed, reflecting the two countries are "interdependent".
Figures from the report showed that China imported over 60 per cent of its iron ore – the key raw material for making steel – from Australia.
China Customs figures showed that it imported 694 million tonnes of iron ore from Australia in 2021, representing 61.65 per cent of total imports.
Australia's largest competitor, Brazil, shipped 72 per cent of its iron ore to China, representing 334 million tonnes, the Lowy Institute report showed.
"The key advantage for Australian exporters is geography," the report argued as it takes on average 18.7 days for Australian bulk carriers to arrive in China, compared to over 52 days from Brazil.
This is reflected in the onshore price, the report added, with Australian ore averaging A$100 (US$63) per tonne compared to A$109 per tonne from Brazil.
"The collaboration on raw materials is a business behaviour that's not the determining factor to direct the China-Australia relationship, which should be based on mutual trust and respect," said Xu Qinhua, a professor of international political economy and international relations with Renmin University's School of International Studies.
The report also said that Australia has been the main supplier of LNG to the Chinese market since 2006, accounting for 43 to 45 per cent of total imports between 2017 and 2020. Qatar and Malaysia are the second and third, respectively, at 12 and 9 per cent.
"As with iron ore, Australia is geographically and geologically blessed to benefit from the growth of the East Asian LNG market," the report added, citing the limited supply and strong demand in the region keeping prices high.
There are, though, a number of major gas producers "courting" the Chinese market, it added.
According to China Customs, Australia remained China's largest LNG exporter in 2021, accounting for 39 per cent. China imported LNG from 27 countries last year, including Qatar, Malaysia, Indonesia and Russia.
Russia and Qatar, though, were the only major suppliers to
increase LNG exports to China
in the first eight months of the year, Chinese customs data showed.
The Lowy Institute report also showed China accounted for around 80 per cent of Australia's wool export in recent years, with the figure increasing to more than 90 per cent during the acute coronavirus pandemic period, making China "indispensable" for the country's 50,000 wool producers.
China's market share of Australian wool exports increased from 4.2 per cent in 1990 to more than 90 per cent in 2021, the report added.
It is also the largest buyer of Australian wool in terms of volume, and the largest importer of high-value Australian fine and superfine wool due to the demand from the country's growing middle class.
"China's textile industry and Australian farmers have come to rely on each other," the report explained, stating high-quality wool is used to make high-end fabrics for European fashion houses.
It is "unlikely" that Beijing will target Australian wool in light of the lack of ready alternatives, the report said, but it added that a Chinese boycott could cause "devastation", "personal angst and horror".