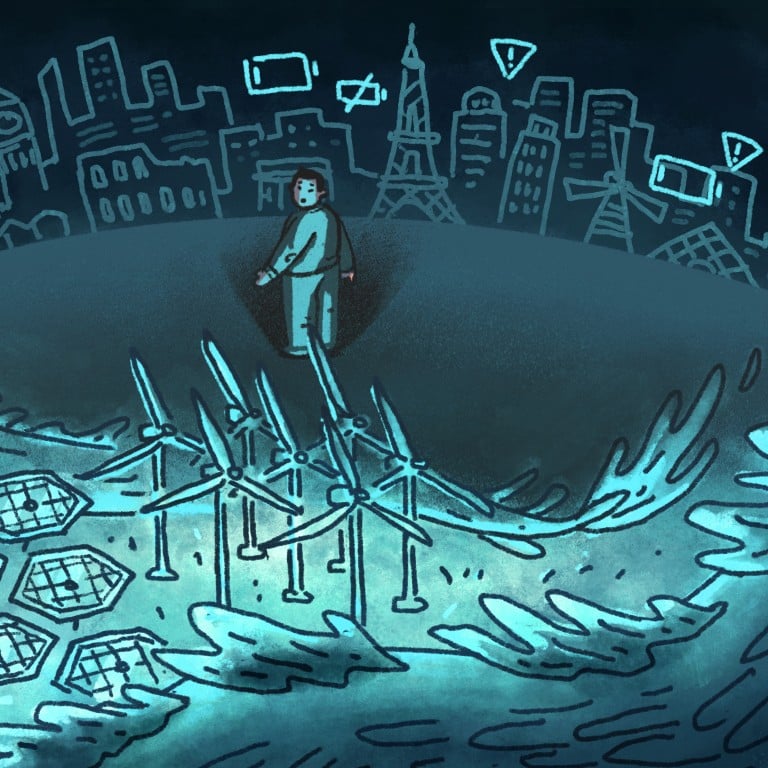 As Europe's energy crisis bites, is there potential for deepening collaboration with China?
Some analysts say Europe's energy crisis and a grimmer economic outlook may leave it with no choice but to rely more on China
But Beijing's zero-Covid policy and over-politicisation of economic affairs are pulling the continent in the opposite direction, others say
As fears of a worsening energy crisis spread in Europe with the approach of winter, voices in China suggesting the country could become the continent's "white knight" are growing louder.
Such talk has its roots in China's long-time role as the world's factory, with manufacturers in east coast provinces ramping up production of electric blankets, heaters and solar panels following an influx of orders from Europe.
Rarer moves from Chinese energy companies have since underscored the argument, with many
reselling excess liquefied natural gas
that they acquired under long-term contracts to European countries that are scrambling for fuel after Russia cut off supplies.
And while many energy-intensive firms in Europe have reduced or even halted production due to skyrocketing energy prices – since cheap Russian gas was key to their competitiveness – the high-profile inauguration of a landmark plant for German chemical giant BASF in Zhanjiang, Guangdong province, has further fuelled the discussion.
Although anti-China sentiment has been on the rise in Europe following Russia's invasion of Ukraine and European politicians have been calling for the
reduction of economic dependence
on China, some analysts said the energy crisis and a grimmer economic outlook may leave European countries with no choice but to increase reliance on the world's second-largest economy.
Zhang Zhiwei, chief economist at Pinpoint Asset Management, said increased investment by European companies seemed inevitable "as the costs of domestic production have been pushed up".
"And this is not just a short-term issue, but rather a persistent situation," he said. "So energy-intensive industry in Europe may no longer be that competitive.
"So maybe they have to rely on China more. At least it would be more difficult to decouple."
Others said, however, that an energy crisis was unlikely to result in any solid changes to the trajectory of
China-EU economic relations
, as China was also highly dependent on energy imports and two power crises since last autumn had revealed the fragility of its power grid and threatened its status as the world's top manufacturing hub.
"An energy crisis in Europe matches the energy crisis in China," said Joerg Wuttke, president of the European Union Chamber of Commerce in China.
"So in a way, nobody in Europe is moving to China because of energy issues, they all might consider moving to the United States," he said, adding that the US had a lot of gas, a lot of oil and very competitive prices.
With both German Chancellor Olaf Scholz and French President Emmanuel Macron expected to visit China next month – the first such trip for Scholz since he took office and Macron's first since the start of the coronavirus pandemic, all eyes are again on how economic relations between China and Europe will develop. Will there be more interdependence, following the trend of the past few decades, or will they grow further apart amid political tensions, in the same way as China and the US?
Among the hundreds of billions of dollars in China-EU trade each year,
solar panels
might best epitomise the relationship.
The technology is originally from Germany, but mass production in China using machinery from Europe is more efficient and cheaper, according to Tao Guangyuan, executive director of the Sino-German Renewable Energy Centre.
And the potential for deepening collaboration along similar lines was high due to the global fight against climate change and the need to hit decarbonisation goals, Tao added.
Klaus Zenkel, chairman of the European Chamber of Commerce in South China, said Europe needed China and China needed Europe.
"Europe is one of the biggest consumers of Chinese goods," he said. "On the other hand, European companies are holding lots of knowledge and experience in new technologies and hi-tech, so that is what China needs."
Europe, as a whole, does rely on China in some strategic sectors, said Alicia Garcia Herrero, Natixis' chief economist for the Asia-Pacific region. She said they included solar panels, wind turbines and processed rare earth metals, which were all "essential" for the EU's green transformation.
Maartje Wijffelaars, a senior economist at RaboResearch Global Economics & Markets, said that reliance on imports from China was crucial because Europe needed to speed up its energy transition in the wake of the energy crisis brought on by the lack of Russian gas.
"Cautioning voices and objections have indeed been on the rise over the past years … most importantly because of inputs – raw materials or processed raw materials – that China has, or has access to, and the EU doesn't, which are necessary for the energy transition," she said.
China was the EU's largest source of imported goods last year, and the third-largest market for European goods exports after the US and United Kingdom.
That, however, meant China was far more reliant on the European market than the other way around, Wuttke said.
"In the first eight months, China sent more than 4 million 40-foot containers to Europe, whereas Europe is only exporting 1 million 40-foot containers," he said. "So the ratio of trades is 4 to 1 in goods. European consumers are employing 16 million workers in China."
Dependence between any pair of trade partners is mutual, said Zha Daojiong, an international studies professor at Peking University.
"European voices about over-dependence on China, in part, are a reflection of seeing the consumer markets in Europe serving exports from as many middle- and low-income economies as possible," Zha said.
Francois Chimits, an analyst at the Mercator Institute for China Studies, a German think tank, said that while more European companies were relying on China due to the energy crisis, there were also other factors, such as
China's zero-Covid policy
and over-politicisation of economic affairs, working in the opposite direction.
For European investors, taking a more cautious approach or diversifying their investment away from China was more to do with what was going on inside China than what policymakers were calling for back home, Wuttke said.
"European companies look at economic data and the [Chinese] economy is softening," he said. "There's absolutely not a single case when European companies are reconsidering their investment because of politicians back home – it has zero impact on the investment."
According to an Asian Development Outlook report published in September, China's forecast economic growth this year of 3.3 per cent will be slower than the rest of emerging Asia's 5.3 per cent for the first time in more than three decades.
Wuttke said that was what made European businesses more interested in investing in the rest of Asia.
According to a study by New York-based Rhodium Group, European investment in China has become much more concentrated among big companies, with "virtually no new European firms" having chosen to enter the Chinese market in recent years.
Coronavirus travel restrictions were a major drag for smaller European companies considering new investments in China, Wuttke said.
"For the top companies, there is no alternative to China," he said. "They're primarily cars, chemicals, machinery, and in essence, mostly German. But the rest are looking for alternatives, and it's easier for executives to fly into Southeast Asia and India than to China these days."
Assessing the risk of continued investment in China was a hotly debated topic in the boardrooms of German companies, said Jens Hildebrandt, executive director and board member of the North China branch of the German Chamber of Commerce in China.
"Major risk contributors are the increasingly complex geopolitical landscape and, to a large extent, China's extended zero-Covid policy," he said. "Some German companies are looking to diversify in the Southeast Asia region or are localising operations in China.
"Almost all German companies stay committed to the Chinese market as growth opportunities are still seen as significant. However, the enthusiasm for the Chinese market has somewhat cooled off."
Wuttke said that in the second quarter of this year, Chinese investment in Europe was higher than European investment in China.
"So it seems that Europe, at this stage, is more interesting to Chinese enterprises than China is to European enterprises," he said.
Scholz told a business conference in Berlin this month that decoupling was the wrong answer.
"We don't have to decouple from some countries," the German chancellor said. "I say emphatically we must continue to do business with China."
Nick Marro, a global trade expert at the Economist Intelligence Unit, said European policymakers were waking up to how reliant European companies were on Chinese demand, and companies were facing increasing pressure from both politicians and civil society groups to reduce such reliance.
"Importantly, this pressure isn't just coming from US encouragement for the EU to rethink its relationship with China," he said. "The weaponisation of energy links by Russia likely spooked a lot of European governments into how a rapidly changing geopolitical environment can carry significant economic consequences."
Breaking its economic reliance on China in the near-term would be difficult for Europe, he added, "but as global geopolitical tensions intensify over the next decade – and as US-China frictions worsen in the coming years – the impetus for Europe to address this economic imbalance will grow."
One question for future China-EU economic relations was how much the political driver would be able to tweak the economic dynamic, Chimits said, adding that EU policymakers wanted economic interaction with China to be "much less naive".
"This is not decoupling," he said. "It's a readjustment of the way we couple."