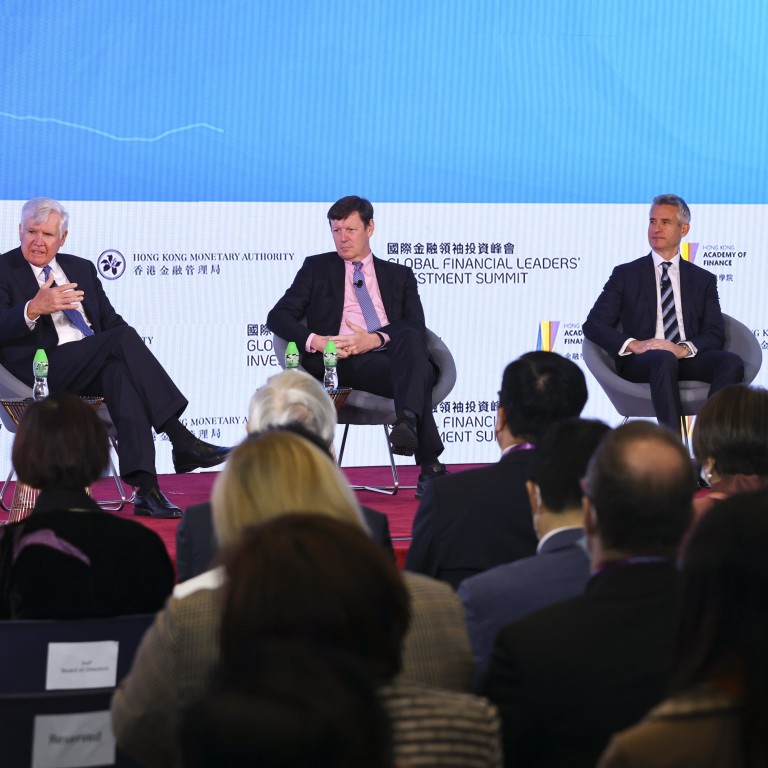 Global Impact: 'Hong Kong is back': global financiers herald city's return
Global Impact is a fortnightly curated newsletter featuring a news topic originating in China with a significant macro impact for our newsreaders around the world
In this edition, we look back at the highlights from the Global Financial Leaders' Investment Summit and ponder what it means for Hong Kong's future as a global financial hub.
The much-heralded gathering of global bankers and financiers ended on Thursday on an optimistic note about Hong Kong's prospects, as overseas attendees hailed their unhindered participation as proof that the city can
put its coronavirus restrictions behind it
and get back to business.
The message that was repeated and reinforced throughout the three days of the Global Financial Leaders' Investment Summit was that it is "
business as usual
" in Hong Kong, even if the city had been slower than other countries in opening its borders to corporate and leisure travel.
The fact that half of the 250 financiers from 120 global firms did manage to fly in from abroad – 40 of them being C-suite executives – underscored the message by Chief Executive John Lee Ka-chiu that "
Hong Kong is back
".
The event, led by the Hong Kong Monetary Authority (HKMA), kicked off informally on Tuesday with a closed-door meeting between some invited bankers and the city's financial officials at the office of the de facto central bank.
Bankers and financiers seen arriving for the meeting included HSBC CEO Noel Quinn, Standard Chartered group CEO Bill Winters, Goldman Sachs CEO David Solomon, Morgan Stanley chairman James Gorman, UBS Group chairman Colm Kelleher, Bank of China president Liu Jin, BlackRock president Rob Kapito, Credit Suisse chairman Axel Lehmann, JPMorgan Asia-Pacific CEO Filippo Gori, Pimco CEO Emmanuel Roman, and Carlyle Group co-founder and co-chairman William E. Conway Jr.
Deputy Financial Secretary Michael Wong Wai-lun led the Hong Kong officials at the meeting, joined by the Secretary for Financial Services and the Treasury Christopher Hui Ching-yu, Securities and Futures Commission chief executive Ashley Alder, and Nicolas Aguzin, CEO of Hong Kong Exchanges and Clearing Limited (HKEX).
Every speaker at the conference, from Hong Kong's chief executive to the foreign bankers speaking on panels, spoke without a mask on.
Global inflation, geopolitical tensions, climate change, lingering effects of the Covid-19 pandemic on economies, talent and markets were the major concerns looming on the horizon for Hong Kong, other emerging economies and mainland China, attendees said.
Singapore was on the tip of many attendees' tongues, as several global banks grappled with an exodus of staff who were fed up with Hong Kong's previous Covid-19 restrictions. The solution in the post-Covid era was co-location, where senior positions in both Hong Kong and Singapore could serve different purposes, said the Swiss bank Julius Baer.
"Hong Kong has always been the centre of gravity for North Asia, with its proximity to China and the Greater Bay Area," said Philipp Rickenbacher, CEO of the Zurich-based private bank, adding that the two cities are both hubs for expanding in Asia.
Several bankers also backed out. Citigroup CEO Jane Fraser and Blackstone president Jon Gray caught Covid-19 and had to stay away, while Barclays CEO C.S. Venkatakrishnan, Capital Group CEO Timothy Armour and Amundi's Valerie Baudson pulled out for scheduling conflicts and other reasons.
The HKMA may organise the summit again in 2023 to mark its 30th anniversary, said Yue. Most participants this year said they would not think twice about returning.
60 second catch-up
Deep Dives
Beijing 'fully focused' on economic growth, with Hong Kong's capital markets a crucial enabler: top regulators
Officials from China's central bank and securities watchdog hit back at the notion that China has reduced its focus on economic growth during a global summit on Wednesday
Beijing will continue to strengthen Hong Kong as an international financial centre to drive the mainland's development, regulators added
Beijing remains "fully focused" on economic growth and is committed to making Hong Kong an even stronger international financial centre to help achieve that goal, China's top financial regulators said during a global finance summit in Hong Kong on Wednesday.
As Federal Reserve's rampant rate increases turn markets cloudy, investors should focus on fundamentals, money managers say
The outlook for equity investors is cloudy as rising interest rates could tip many economies into recession and hit corporate earnings, State Street CEO says
With volatility set to play a bigger role in markets, investors should revisit their portfolio to get the right balance between growth and value, Wellington CEO says
The era of high return on investment is over, and the focus should be on value amid looming market uncertainty, according to top money managers, as the Federal Reserve left open the possibility of further rate increases after delivering another steep rate increase.
Inflation, geopolitical tensions will cast a shadow on an uncertain global economy next year, say top bankers
Speakers on the first panel at a global investor summit discussed the impact of inflation and geopolitical tensions on the world economy
The era of low global inflation is over for now, said James Gorman, chairman and CEO of Morgan Stanley
Hong Kong can take the lead to set disclosure example in sustainable financing, bankers say
Each of Hong Kong's 2,500 listed companies must put numbers on potential impact from extreme climate events, according to draft rules due for final approval in 2023
Any fund manager with a portfolio larger than US$1 billion must disclose the emissions data of companies they invest in, starting this month, the SFC says
Cryptocurrencies, blockchain are reshaping future of finance, say global banking chiefs
The biggest challenge for institutions is navigating security issues related to public blockchain networks, says Daniel Pinto, COO of JP Morgan
Senior figures from JPMorgan, BlackRock, HSBC and Standard Chartered shared their thoughts at a global banking summit in Hong Kong
Global Impact is a fortnightly curated newsletter featuring a news topic originating in China with a significant macro impact for our newsreaders around the world.