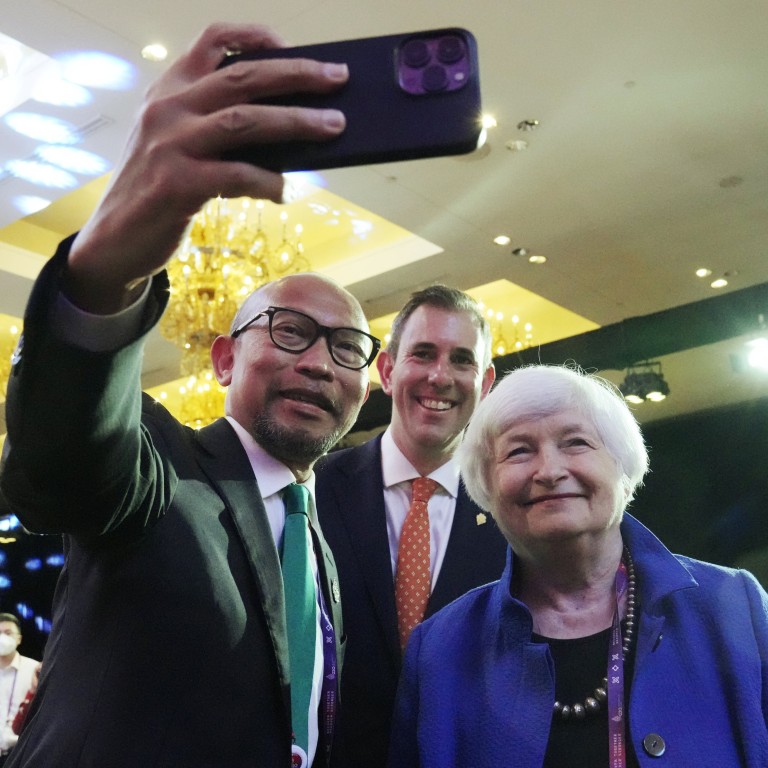 China, US discuss 'global macroeconomic, financial challenges' and 'economic prospects' as top officials meet
US Treasury Secretary Janet Yellen and People's Bank of China (PBOC) governor Yi Gang met on the sidelines of the Group of 20 (G20) summit on Wednesday
It represented the first such high-level contact in four months and came after President Xi Jinping and US counterpart Joe Biden also met at the G20 on Monday
A meeting of top Chinese and US financial officials has fuelled expectations of further talks between the world's two largest economies, with both needing to address "global macroeconomic and financial challenges" as well as their respective "economic prospects".
Wednesday's face-to-face talk between US Treasury Secretary Janet Yellen and People's Bank of China (PBOC) governor Yi Gang on the sidelines of the Group of 20 (G20) summit in Bali, Indonesia, represented the first such
high-level contact in four months.
It came after President Xi Jinping and US counterpart Joe Biden also met at the G20, although the meeting between Yellen and China's central bank chief was viewed to be more symbolic with Yi expected to step down as governor after being left off the 376-member Central Committee of the Chinese Communist Party, the party elites and top decision making body.
Yellen said on Twitter that the pair had discussed "global macroeconomic and financial challenges, including economic prospects of our two countries", and that she was looking forward to "future engagements" with Chinese economic officials.
A PBOC statement following the meeting referred to the exchange as "constructive".
"Talks on specific bilateral matters, such as trade, investment and technology, should be the next steps," said He Weiwen, a senior fellow at the Beijing-based Chongyang Institute for Financial Studies.
A variety of issues lie ahead for Beijing and Washington, including the widely discussed tariffs imposed on a vast majority of US-bound Chinese goods, growing US technical containment and traditional issues such as market barriers and intellectual property rights.
No meaningful negotiations are expected in coming months, however, as Beijing will soon
reshuffle cabinet officials
following last month's 20th party congress, potentially including trade negotiators.
Vice-Premier Liu He, who helped negotiate the
phase-one trade deal
with the Trump administration in January 2020, did not attend the meeting between Xi and Biden as the 70-year-old is expected to retire in March.
Yellen previously called on the removal of some trade tariffs to help curb US inflation and Biden said earlier this year he was considering
rolling back
some of the Trump-era tariffs.
But a recent review in August left in place a 25 per cent levy on goods worth around US$16 billion.
On Tuesday, US Trade Representative Katherine Tai said Washington was engaging with Beijing and she was "optimistic about the capability to manage an important and complex relationship with respect to tariffs", but
made no indication that tariffs will be removed.
During their meeting, Biden raised concerns about China's non-market economic practices and said Washington will continue to "compete vigorously" with Beijing.
"Naturally, more communication between the US and China would benefit relations," said Enodo Economics, a London-based macroeconomic and political forecasting firm.
"But it does not alter the fundamental direction of travel, with both the US and China determined to fight for supremacy."
While the US is poised to curb its 40-year high inflation following a series of aggressive interest rate increases, China is witnessing a fast economic slowdown amid its zero-Covid policy and a property downturn.
China's exports also slowed in October,
declining by 0.3 per cent
compared with a year earlier, down from 5.7 per cent growth in September.
Authorities have spent more efforts on
tackling domestic issues,
including refining coronavirus control policies, while offering support for property developers and small businesses.
"We've noticed that the international environment remains complicated and the domestic pandemic situation is still severe. More efforts are needed to recover the economy in the fourth quarter," said National Development and Reform Commission spokeswoman Meng Wei on Wednesday.
"To sum up, we must grasp the time window to drive further economic rebound."