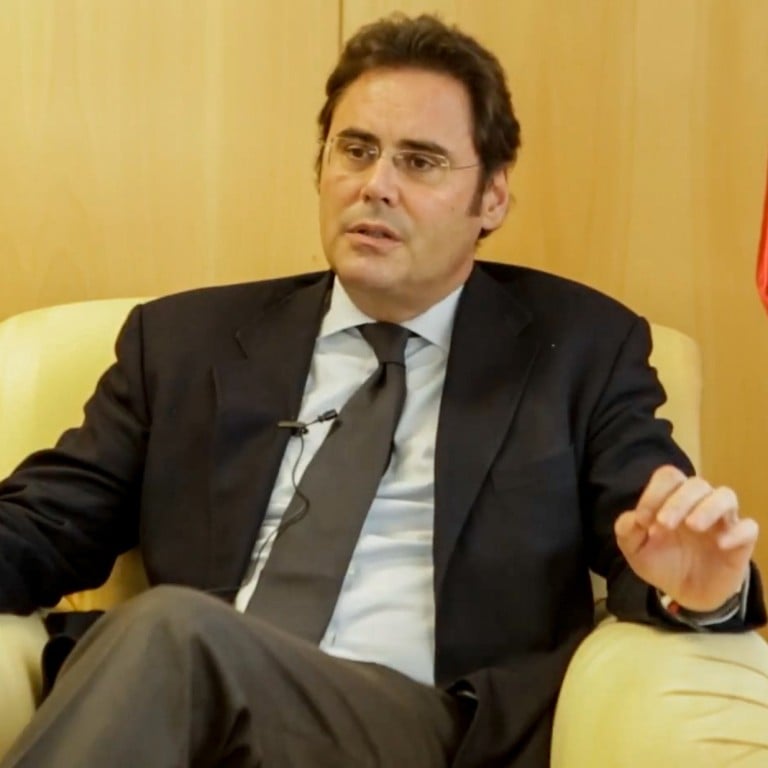 EU calls on China to 'live up to' debt relief responsibilities, as burden rises in developing world
The European Union's ambassador in Beijing says China should live up to its debt-relief responsibilities in the developing world
China, the developing world's single largest creditor after the World Bank, has been criticised for a lack of transparency around its debt restructurings
The European Union's (EU) ambassador to China has urged Beijing to help relieve the debt burden of the world's least developed countries, which are increasingly vulnerable to energy and food crises exacerbated by the Russia-Ukraine war, a potential global recession and rapid strengthening of the US dollar as the country hikes rates.
In his first public speech since taking his post in September, Jorge Toledo Albinana said the world's poorest countries face US$30 billion in debt repayments to official and private sector creditors this year, and there had been a "lack of progress in bringing key creditors around the table".
"Not moving ahead with debt restructuring could burden those highly indebted low and middle-income countries with years of debt servicing problems, lower growth and underinvestment," he told the Caixin Summit in Beijing on Thursday.
Some developing countries, such as
Sri Lanka
, are facing enormous financial distress following the economic shock of the coronavirus pandemic.
Criticism has been levelled at China, the developing world's single largest creditor after the World Bank, by the international financial community for a
lack of transparency
around its debt restructurings, making it more difficult for other creditors to assess what level of support they may need to provide.
Albinana said positive results from the Group of 20 (G20) common framework for debt relief, which was initiated in 2020, have proven to be "elusive".
At the G20 summit on the Indonesian island of Bali earlier this week, leaders expressed concern about the deteriorating debt situation in some vulnerable middle-income countries, saying this could be addressed by multilateral coordination involving all creditors.
"More than 40 per cent of [debt] is due to China, as the World Bank has found," Albinana said. "With the US dollar appreciating and interest rates up, the debt burden has become even heavier.
"The EU hopes that all countries, especially China as these countries' largest bilateral creditor, will live up to its responsibilities.
"We're sure China – as an economic powerhouse – will live up to these responsibilities."
Albinana did not elaborate on how China should live up to its role, but he signalled bilateral trade could be leveraged, which he called "the most important trade relationship" in the world.
The EU is China's second largest export destination after the Association of Southeast Asian Nations, buying US$518.2 billion of Chinese goods last year and registering a trade deficit of US$20.8 billion.
Chinese exports to the region rose by 14 per cent from a year earlier to US$472.8 billion in the first 10 months, while its purchases of European merchandise dropped by 6.3 per cent year on year to US$238.6 billion, customs data showed.
"We are trying to change that. We are trying to rebalance that," Albinana said.
Relations between Beijing and Brussels face a number of tests, including disagreements over the alleged mistreatment of Uyghers, Hong Kong and Taiwan, on top of regular issues like trade and market access. A hard-negotiated
bilateral investment agreement
was shelved last year.
China's policymakers have courted European businesses, after relations with the United States, Canada and Australia soured. It rolled out the red carpet for a delegation led by German chancellor Olaf Scholz earlier this month, despite growing calls within Germany and the EU for a tougher line on China.
Chinese authorities have lent huge amounts of capital overseas to fund projects under its Belt and Road Initiative, but it has bristled at allegations of "debt trap" diplomacy.
Beijing announced debt exemptions for some less-developed nations, especially in Africa over the past two years. However, no overall figures have been released.
In a speech delivered in September, Jin Zhongxia, former executive director for China at the International Monetary Fund, said debtor nations should take major responsibility.
"Chinese creditors will enhance internal coordination and strengthen communication and cooperation with the IMF and other official creditors," he said.
"Once there's a chance, we'll try our best to communicate with the Paris Club to reach an ultimate solution," he said, referring to the informal group of creditors who aim to find coordinated and sustainable solutions for debtor countries.