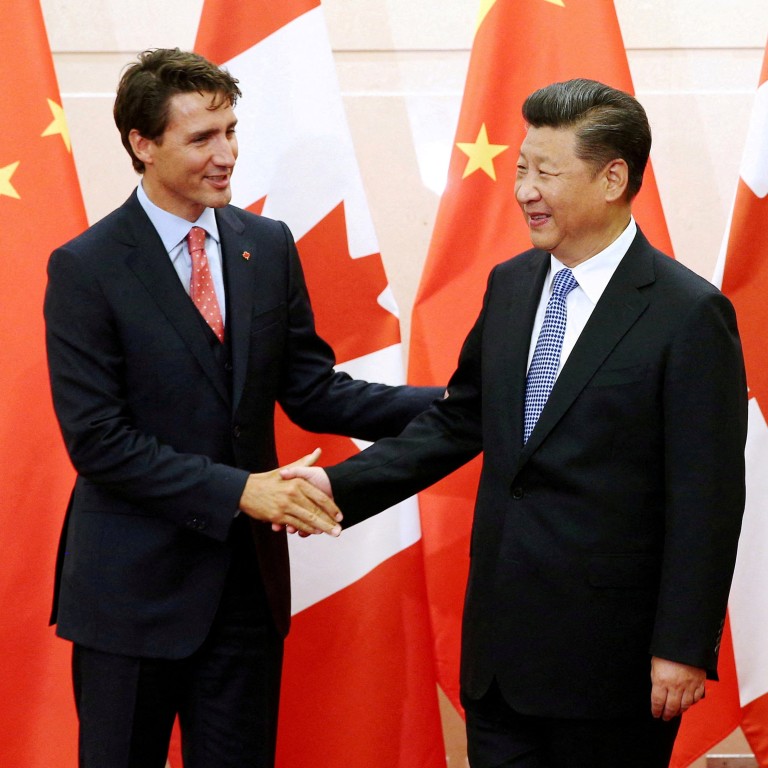 China-Canada economic relations enter era of 'cold coexistence' as political distrust grows
Trade is expected to hold steady, but Ottawa is taking a more cautious stance on investment and major economic partnerships with Beijing
The dip in China-Canadian relations shows no sign of 'normalising any time soon' and sets a backdrop for ongoing economic tension, analysts say
Canadian officials are getting tougher on economic ties with China – their top trading partner after the United States – following years of tensions and a broader trend of Western diversification away from the world's No 2 economy, experts say.
Trade is expected to hold steady as each side needs the other, but Ottawa is taking a more cautious stance on investment and major economic partnerships with China.
"It doesn't mean they will stop their ties with China," said Yun Sun, director of the Washington-based Stimson Centre's China programme. "But it does mean they intend to be more cautious and vigilant about the consequences."
Within the past month, Canadian foreign minister Melanie Joly has warned domestic companies against deepening partnerships with China due to political issues, while Ottawa told three Chinese companies to divest from lithium mines linked to Canadian security interests.
"The Canadian government does seem to be indicating a potentially tougher stance towards China after a number of years of carefully straddling the fence with Beijing," said Vincent Rigby, senior adviser with the Centre for Strategic and International Studies research institution in Washington.
Canadian police recently charged an employee of electricity producer Hydro-Québec with espionage on suspicion of digging up trade secrets for China. The suspect had worked as a battery materials researcher, the company said in a statement. Canada regards battery materials as strategic.
Two years ago, the Canadian government cited security reasons when it blocked a Chinese company from buying an Arctic gold mine.
Lama Khodr, a spokeswoman for the government's Global Affairs Canada, said last month that Ottawa is no longer pursuing a free-trade agreement with China.
The Chinese Ministry of Commerce website lists that deal as "under consideration" following "extensive consensus" reached in 2017 to explore the feasibility of a deal.
Chinese Ministry of Foreign Affairs spokesman Zhao Lijian said Joly's warning was not based on facts and labeled it an intervention in domestic affairs. On Thursday, ministry spokeswoman Mao Ning said China is not responsible for the recent upsets with Canada.
Chinese investors resent a "lack of a sufficient explanation" about restrictions imposed by Canada on national security grounds, said Victor Gao, vice-president of the Centre for China and Globalisation in Beijing.
"For China, it's sort of a puzzle why Canada would tighten scrutiny of its businesses in China," Gao said.
Despite hope for improvement, "policy uncertainty is quite high", said Zhang Zhiwei, president and chief economist with Pinpoint Asset Management in Shanghai.
The United States is helping to drive Canada's longer-term shift away from China, according to analysts, who say Canadian officials are finding it easier to work with President Joe Biden on the issue than with his predecessor Donald Trump.
"Maybe they follow Biden more, because Trump was considered more extreme," said Edwin Lai, associate director of the Centre for Economic Policy at the Hong Kong University of Science and Technology.
The US and other Western countries fret about overreliance on China for trade, as well as issues of national security.
US officials launched a trade war with China in 2018, placing tariffs on US$500 billion worth of Chinese goods. Washington says some Chinese tech firms threaten its national security.
Supply-chain disruptions as a result of China's zero-Covid policy also continue to fan concern in the West.
"Canada does appear to be moving closer towards the tougher positions adopted by its allies, including the US and Australia," said Rigby, who is also a visiting professor at Montreal-based McGill University's public policy school.
The dip in China-Canadian relations shows no sign of "normalising any time soon", said Stephen Nagy, senior fellow with the Macdonald-Laurier Institute think tank in Ottawa. Canadian officials may find it hard to develop a "rational China policy", Nagy said, and instead live in a period of "awkward cold co-existence".
Political problems between the two countries have set a lasting backdrop for ongoing economic tension, some analysts say.
"No one should expect that things just went back to normal as if nothing happened," Sun said. She called the political cases, for Canada, "a living reminder of the kind of power China is, and the kind of coercion it is willing to resort to to get its way when things don't agree".
Canada ruled out the free-trade deal because of the "two Michaels" alleged espionage case, said Jeremy Paltiel, a political-science professor emeritus at Carleton University in Ottawa.
More broadly, Canadian officials are looking for a balance between trade and human rights.
Exporters in western Canada want to keep shipping raw materials to China, Nagy said, while national officials are watching Beijing's treatment of ethnic minorities in China with an eye toward limiting engagement.
Measurable China-related impacts on Canada's gross domestic product probably exceed US$55 billion, the University of Alberta's China Institute has estimated.
Canadian exports to China totalled C$28.84 billion (US$21.62 billion) last year, according to customs data from Ottawa, up 14 per cent over 2020. Canada ships mainly coal to China. China shipped US$51.51 billion worth of goods to Canada last year, largely electrical equipment, electronics and machinery.
Exports of Canadian pork and soybeans have taken a hit as pandemic lockdowns in China close restaurants, the University of Alberta said. The "enduring deterioration" of China-Canadian political ties has cut further into a C$2.8 billion soybean crop, according to the Soy Canada trade group.
Differences aside, Canada will sustain its overall economic and trade ties with China because of its "importance in the world", Rigby said.
Two-way trade has returned to pre-pandemic levels, a Canadian government spokeswoman said.
"Canada will maintain a respectful relationship with China, despite our relationship having seen difficulties," she said. "Our trade policy will always be motivated by what is in the best interests of Canadians and in line with our values."
Given spiralling economic issues in Western countries including the threat of recession, "Canada's economy would benefit to open trade rather than restrict trade", Lai said.
Most investment channels will stay open too, Paltiel said.
"In principle, Canada is still open to investment from China except in areas where national security is at stake, meaning base metals or other minerals not deemed strategic," Paltiel said.
"However, given the pattern of rejected investment proposals, it would not be surprising if Chinese investors – especially a state-owned entity – would not feel welcome here."