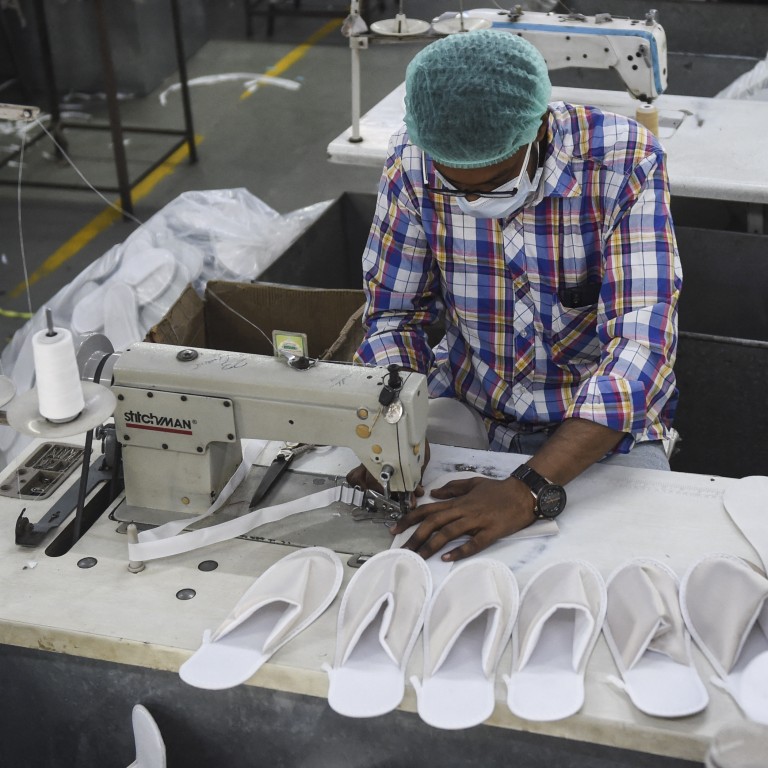 US-led diversification push tests India's potential as a China supply chain alternative
There is a growing consensus among policymakers and analysts that India is emerging as an alternative production base to China
But the country must address challenges ranging from red tape to skills shortages if it wants to capitalise on Western diversification
As Western nations become increasingly concerned about over-reliance on China, few countries stand to gain more than India.
In her first visit to New Delhi as US Treasury secretary earlier this month, Janet Yellen described India as an "indispensable partner" in the US' quest to diversify its supply chains.
A day later, former Australian prime minister
Kevin Rudd
expressed a similar sentiment.
"As someone who's dealt with India for the last 20 years, for the first time, I became convinced that they are about to attempt a significant policy shift," said Rudd during a business conference in Singapore.
Rudd's words highlight a growing consensus among policymakers and analysts that India is emerging as an alternative production base to China.
"What we are seeing geopolitically is effectively a new cold war," said Sadanand Dhume, senior fellow at the American Enterprise Institute. "Against this backdrop, India is hoping to benefit economically from Western concerns about growing Chinese hegemony."
India has seen a surge in foreign direct investment in recent years, receiving its highest ever inflows over 2020-21 at US$81.97 billion. Last year's investment figure was more than double the $39.9 billion recorded in 2017.
While growing distrust of China explains part of it, government reforms have also made the country more appealing to multinationals.
"The government has undertaken labour market and tax reforms, embraced digital technologies, and made improvements to soft and physical infrastructure," said Eswar Prasad, Tolani senior professor of trade policy at Cornell University.
Morgan Stanley predicts manufacturing as a portion of India's gross domestic product could increase from 15.6 per cent today to 21 per cent in 2031, doubling the export market share of the world's fifth largest economy.
"India is gaining power in the world order, and in our opinion these idiosyncratic changes imply a once-in-a-generation shift and an opportunity for investors and companies," Ridham Desai, Morgan Stanley's chief equity strategist for India, said earlier this month.
Another of Apple's Taiwanese contract manufacturers, Pegatron, has also begun assembling the latest iPhone 14 model in India.
Still, about 70 per cent of components for manufacturing are sourced from China, so Apple's dependence on the world's No 2 economy is unlikely to change any time soon, said Ivan Lam, senior analyst at Counterpoint Research.
"Apple's shipments to India are increasing steadily and local demand for Apple products is increasing," he said. "As personal income rises, there is a potential for India to be the biggest market for consumer electronics."
Tech giants Google and Samsung are also planning to shift some manufacturing capacity to India, partly to take advantage of the government's production linked incentive scheme that subsidises the sale of commodities in multiple competitive sectors.
"The hope among Indian policymakers is that companies are going to diversify to reduce their risk because the geopolitical situation is so volatile," said Dhume.
"So part of your risk management strategy would be to not put all your eggs in China's manufacturing basket."
India has seen notable investments in sectors dominated by China.
In September, Indian mining conglomerate Vedanta Resources and Foxconn announced the establishment of India's first semiconductor plant in the state of Gujarat.
Last year, First Solar announced it would set up a vertically integrated solar module manufacturing facility in the state of Tamil Nadu.
"The balance right now is still strongly tilted towards China and other countries are trying to get a slice of the pie. No one thinks the whole pie is going away from China," said Dhume.
"India is hoping to be seen as part of a more reliable supply chain, a supply chain that is based in the democratic world."
However, a raft of challenges stand in the way of India living up to its promise.
"The reform agenda is hardly complete yet," said Prasad, pointing to the much needed clean-up of the banking sector and further enhancements to public governance and infrastructure.
In the World Bank's 2018 logistics performance index, India ranked 44 out of 160 countries, below regional heavyweights such as Vietnam, South Korea and Malaysia.
"India cannot count on a clear playing field," said Prasad, adding competitors such as Vietnam, Mexico and Chile are also "ready to snap up any attempts by US and other Western firms to diversify their production bases away from China".
Dhume said there remains an "enormous amount" of red tape.
"There is no shortage of labour but there is a relative shortage of skilled labour and all this takes place against the backdrop of India effectively building higher walls than before," he said.
India's protectionist tendencies are also an oft-cited concern. Despite entering into a slew of bilateral agreements with countries such as Australia, the United Arab Emirates, Canada and Britain, the government is wary of entering into multilateral trade pacts.
In 2019, it pulled out of the China-led Regional Comprehensive Economic Partnership trade negotiations at the last minute, citing concerns about competition to domestic manufacturers. It also opted to sit out of the trade pillar of the US-led Indo-Pacific Economic Framework more recently.
In recent months, New Delhi has banned critical exports of wheat and broken rice and raised custom duties on some of its strongest export commodities such steel and iron ore, leading to complaints from the sector.
"India is trying to make itself attractive to get a larger slice of the pie in an environment that is geopolitically favourable but it's also doing it with a set of trade policies that cut in the other direction," said Dhume.