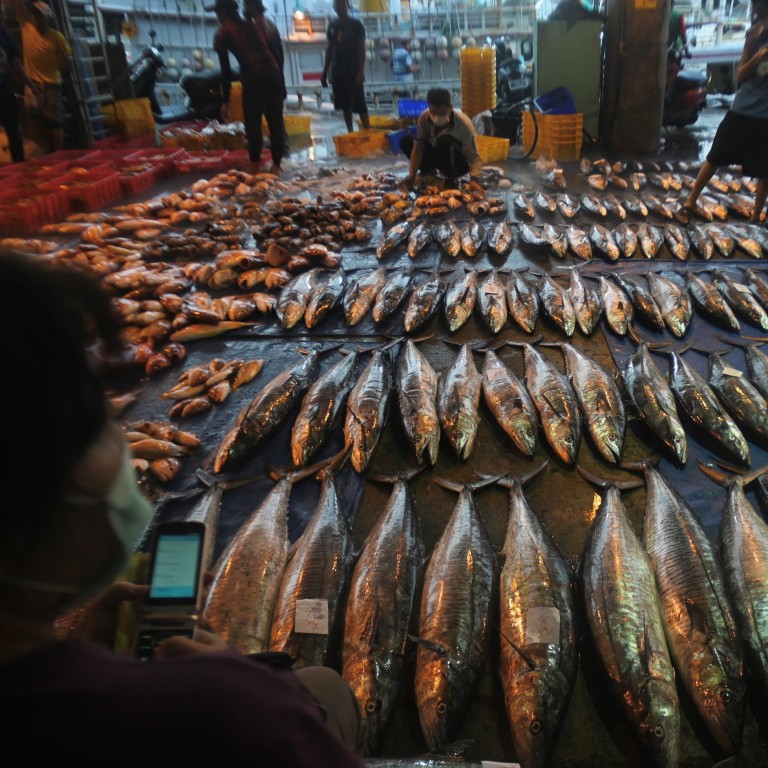 Taiwan offers foreign fishermen more jobs, vows to 'systematically improve' migrant worker rights
In November, Taiwan expanded rules to allow fishing vessel owners to train foreign workers as 'first-level engineers and 'second-level' shipmates
Taiwan's fishing industry, though, has been hit by accusations of mistreatment of crew and labour rights concerns
Taiwan hopes efforts to "systematically improve the labour rights of migrants" will help address a shortage of workers in its US$2 billion fishing industry as part of efforts to offset a shrinking domestic labour pool caused by a falling birth rate.
Officials said last year that Taiwan is aiming to bring in
400,000 foreign workers by 2030,
with government agencies relaxing residency rules for white-collar jobs while also offering help to foreign-owned businesses.
In November, the government's Fisheries Agency expanded its rules to allow vessel owners to train foreign workers as "first-level" engineers and "second-level" shipmates.
The changes will help Taiwan's cabinet "in promoting the policy of retaining foreign intermediate-level technical manpower", the agency said in a statement.
"Foreign crew members employed by fishing vessel owners were originally only allowed to serve as ordinary crew members," the statement added.
"This [new] policy is to retain high-quality foreign crew members as crew officers, and to ensure the sustainable development of our country's fishery."
Taiwan has the world's second-largest distant-water fishing fleet and is one of the world's largest seafood exporters, with over 35,000 migrant workers employed on 1,110 ships as of 2020, according to the US Department of Labour.
Indonesia and the Philippines sailors make up a large proportion of the migrant workforce, although the industry has been hit by accusations of mistreatment of crew and labour rights concerns.
For the past two years, the US Department of Labour has placed Taiwan-caught seafood on its list of goods produced by child or forced labour.
The US State Department's 2016 Trafficking in Persons report also said Taiwan's fishing boat workers from Southeast Asia had been fraudulently recruited.
It claimed some faced violence and a lack of food, while the report also said wages had been withheld.
On Tuesday, Taiwan's Fisheries Agency said that it had stepped up inspections to "systematically improve the labour rights of migrants" on Taiwanese-owned distant-water fishing vessels.
"Operators were reminded to comply with the regulations for the protection of the crew members' rights," it said this week.
The agency added that it has inspected the living conditions and asked about wages on nine vessels at Port Louis in Mauritius and Port Majuro in the Marshall Islands over two weeks last month.
Migrants working on Taiwanese-operated boats can earn up to US$650 per month, enough to attract working-class people from the Philippines, according to retired Filipino sailor Jaka
"In the Philippines they need jobs, and they pay more money," said 40-year-old Jaka, who still lives in Taiwan having retired from a 28-person crew in 2019.
Taiwan, though, still lacks "protections" for migrants on its fishing boats, said Nukila Evanty, a Jakarta-based member of the Asia Centre research institute's advisory board.
"They're being abused," she said. "You can see everywhere from the reports they become victims with lower pay. They don't have the legal aid because the [Indonesian] embassy can't practice law in other countries. They're working on the boat, who can they contact on the sea? They're quiet and they accept their fate."
Boat operators welcomed the changes allowing them to expand the roles of foreign workers, said Lin Han-yu, a section leader with the Taiwan Deepsea Tuna Longline Boatowners and Exporters Association.
He said the changes should extend from the near-shore fishing fleet to also include distant-water operators where many of the association members trawl.
"We are short of workers in all kinds of jobs, whether near or far seas," Lin said.
But migrant labour activists said the new rules still do not address low or unpaid wages concerns for fishing crews on Taiwanese-operated boats which venture outside its territorial waters.
Taiwan's labour laws currently entitle migrant workers who work on Taiwanese-operated boats within the 12-nautical mile limit to a minimum wage of NT$25,250 (US$822).
"Distant-water fishing is not even under the control of the Ministry of Labour, so it's highly problematic whether the [government's] project can include them," said Wong Ying-dah, director for migrant worker policy with the Taiwan-based labour advocacy group, Serve the People Association.
Ensuring a stable labour force would require offering migrants long-term Taiwan residency, Wong added, with applications currently problematic due to a lack of proven skills or high salaries.
Allowing migrants to be hired for more types of jobs also satisfies only the boat owners, said Allison Lee, secretary general of the Yilan Migrant Fishermen Union advocacy group in Taiwan.
"They are all solving the plight of fishing boat owners who cannot leave the port without a captain," Lee said.