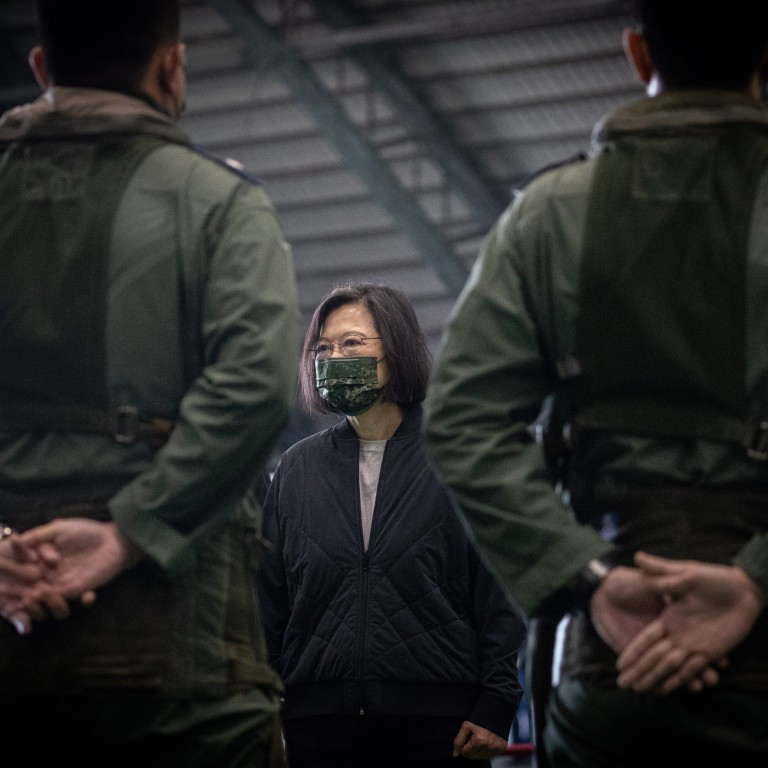 US firms in Taiwan revising contingency plans amid 'continuum of increased concerns' over mainland China conflict
An American Chamber of Commerce in Taiwan survey found 47 per cent of respondents have changed 'business continuity plans' or intend to make changes.
Around a third cited business disruptions since the visit to Taipei by former US House Speaker Nancy Pelosi in August
Nearly half of the American companies in Taiwan are revising contingency plans in case of a conflict with mainland China, according to a chamber of commerce survey, which analysts said could include moving assets and finding new supply chains.
The 437-member American Chamber of Commerce in Taiwan found in a poll released on Tuesday that 47 per cent of respondents have changed "business continuity plans" or intend to make changes.
"It's been a continuum of increased concerns – cross-Strait tension, Beijing-Washington tension – and assessing risk practices," chamber president Andrew Wylegala told the Post on Wednesday.
Beijing views the self-ruled island as part of China to be unified, by force if necessary. Countries that have diplomatic ties with Beijing, including the United States, acknowledge the existence of the one-China principle, which states Taiwan is part of China. But they may not explicitly agree with it.
Washington does not take a position on the status of Taiwan, though it opposes any attempt to take the island by force.
Tensions came to a head in August over the visit to Taipei by former US House Speaker Nancy Pelosi, which Beijing saw as US support for the pro-independence movement in Taiwan and held
military exercises for around a week.
American firms in Taiwan include technology giants such as Google and Microsoft along with major financial firms, airlines and energy companies.
Around a third cited business disruptions since the Pelosi visit, 16 percentage points higher than six months ago, the November-December survey found.
Energy firms, such as those involved in wind power, worry particularly because they have physical assets in Taiwan, Wylegala said.
Their projects are bearing more "scrutiny" than before, he added, although no one has proposed a "freeze" on power projects.
Physical assets might be blockaded during a conflict, Wylegala said, while Beijing could use "lawfare" – which involves using legal proceedings to intimidate or hinder an opponent – to make it hard for American companies to operate in Taiwan.
Among the survey respondents, 28 per cent said they would adjust supply chains, 18 per cent noted plans to expand outside Taiwan – rather than on the island – and 6 per cent suggested they might move out of Taiwan completely. "Stockpiling" was an option for 12 per cent, the survey found.
American firms are keen to understand potential cuts in supply chains, said Kent Chong, a partner with the professional services firm PwC in Taipei.
Some firms are taking into account public pressure to quit conducting business in mainland China should the US government announce sanctions as it did on Russia over the war in Ukraine.
"From my perspective, it's not surprising they would lay down a contingency plan," Chong said.
"It's good business. What we've really learned from Ukraine and Russia is to lay down a plan in case something happens."
Revisions cited in the chamber survey could mean updating contingency plans made during mainland China's tests of missiles near Taiwan in the mid-1990s, said John Eastwood, a partner with Eiger law firm in Taipei.
"It makes sense to do [the changes] because international businesses operating in Taiwan have changed significantly since the last time of elevated cross-Strait tensions," Eastwood said. "In many cases, that means updating outdated plans."
Eiger has seen a "slight uptick" in queries from employers about their obligations to allow staff members to enlist in military service, Eastwood said.
Taiwan's government, citing threats from mainland China, will raise mandatory military service from four months to one year starting in 2024.
"It is an unsettled environment, and we would expect firms here on the ground to prudently look forward," Wylegala told a press conference on Tuesday.
Some US companies may be drawing up new business plans because of other world issues, such as high inventories and disruptions from coronavirus controls, Wylegala added on Wednesday.
This year, 83 per cent of survey respondents reported an impact from the US-China trade dispute on their business, slightly higher than in 2022.
PwC has seen little recent change in American corporate clients inquiring about contingency plans over the past few years, Chong added.
He said many had included Taiwan's relations with mainland China into their plans more than five years ago.