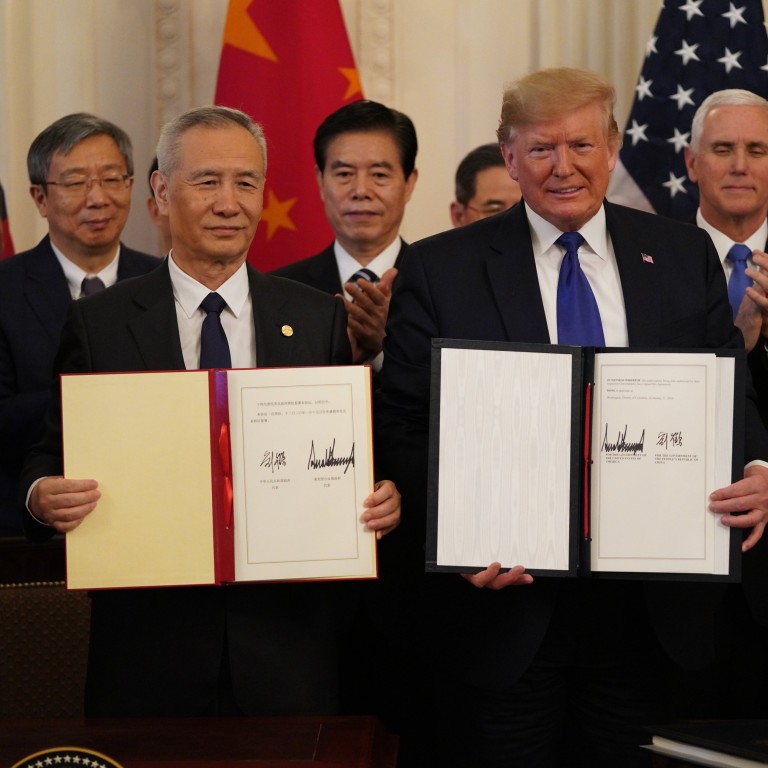 US-China trade 'becoming less directly interdependent' amid decoupling despite 'misleading' data
US exports to China increased by US$2.4 billion compared to a year earlier to US$153.8 billion in 2022, according to the US Bureau of Economic Analysis
But the data is 'misleading' according to the Peterson Institute of International Economics and the 'two economies are becoming less directly interdependent'
China is turning away from US imports, exacerbated by Washington's effort to impose controls on the sales of semiconductor manufacturing equipment, as part of a bilateral decoupling, according to a new report, contrary to suggestions of record trade last year.
In 2022, US exports to China increased by US$2.4 billion compared to a year earlier to US$153.8 billion, while American imports from China increased by US$31.8 billion to US$536.8 billion, according to the US Bureau of Economic Analysis.
But despite overall trade showing signs of resilience, the US-based Peterson Institute of International Economics (PIIE) said that the "widely reported data point was misleading" after it was suggested the supposed economic decoupling had not yet arrived after trade hit record levels in 2022.
"Through trade, the two economies are becoming less directly interdependent," the Washington-based think tank said in a report released on Thursday.
"China is now shifting some purchases of foreign goods away from the United States. Both have the same fear: that the other side will suddenly weaponise trade flows- cut off imports or exports – in the name of security. Trying to get ahead of that, each is now attempting to diversify."
In February 2022, PIIE labelled the
US-China phase-one trade deal a "historic failure"
after China "bought none" of the additional US$200 billion worth of goods and services over 2020-21 – relative to 2017's levels – it promised under agreement which was signed in January 2020.
Before the trade war, manufacturing goods represented 44 per cent of the total amount of US goods and services exports to China – the largest component of pre-trade war commerce, PIIE said.
However, by 2022, that proportion had fallen to 41 per cent, although China's total imports of manufactured goods also fell by 8 per cent last year, PIIE said.
"Newly released data from 2022 show that US exports are falling farther and farther behind foreign peers also selling into the Chinese market," the PIIE report said.
"Once major US manufacturing exports – like automobiles and Boeing jets – have all but disappeared. Semiconductor sector sales tailed off in 2022 and also may not return, because of new US export control policy. US services exports plunged during the pandemic and have not yet come back."
According to PIIE, the semiconductor industry contributed a significant source of the declining US exports of manufactured goods in 2022 and sales of semiconductors and semiconductor equipment to China may continue to decline given the "severe" export controls announced in October.
The new restrictions imposed last year included cutting China off from certain semiconductor chips made anywhere in the world with US equipment.
Yao Yang, an economist and professor with the National School of Development at Peking University, said that out of more than 600 Chinese companies on the US entity list, only around a third have been significantly affected by the export control restrictions, based on a survey co-led by the university.
Chinese companies on the list need to meet license requirements to export or transfer specified items, including US technology.
"Of course, these measures from the US have a strong impact on China," Yao said in a seminar organised by Peking University on Thursday.
"But the revolution of technology is also about a change of where the race is. It's just like electric cars, now they are phasing out petrol cars. So it could be that the semiconductor industry will see a change of race venue."
Yao noted China's heavy investment in the research and development of photonic technology – a light-based technology that could produce the next generation of chips – could be a game changer in 10 years when it comes to superseding traditional electronic semiconductor chips.
The PIIE report also noted that US energy sales are being diverted to Europe, while China has been sourcing from Russia since last year.
US exports of farm goods to China rose by 16 per cent in 2022 from 2021, according to PIIE, representing a "silver lining" in bilateral trade, the report said.
American farmers have become even more dependent on the Chinese market, but buyers in China may be becoming less reliant on the US, the PIIE report said.
In 2022, over 19 per cent of US farm exports went to China, up from 14 per cent in 2017 and 13 per cent in 2009.
The share of total Chinese imports of farm products from the US was only 18 per cent in 2021–22 – down from 22 per cent in 2016 and 26 per cent in 2012, according to the PIIE report.
"While there were challenges, of course, China-US trade was also once mutually dependent and beneficial. The real news is that US exports to China are one more channel through which the bilateral relationship continues to deteriorate," the PIIE report said.
Yao added that there is "no such thing" of the world decoupling from China.
"The world is more dependent on China than before, but for China, it's less so, because it's now able to produce things that it couldn't in the past," he said.