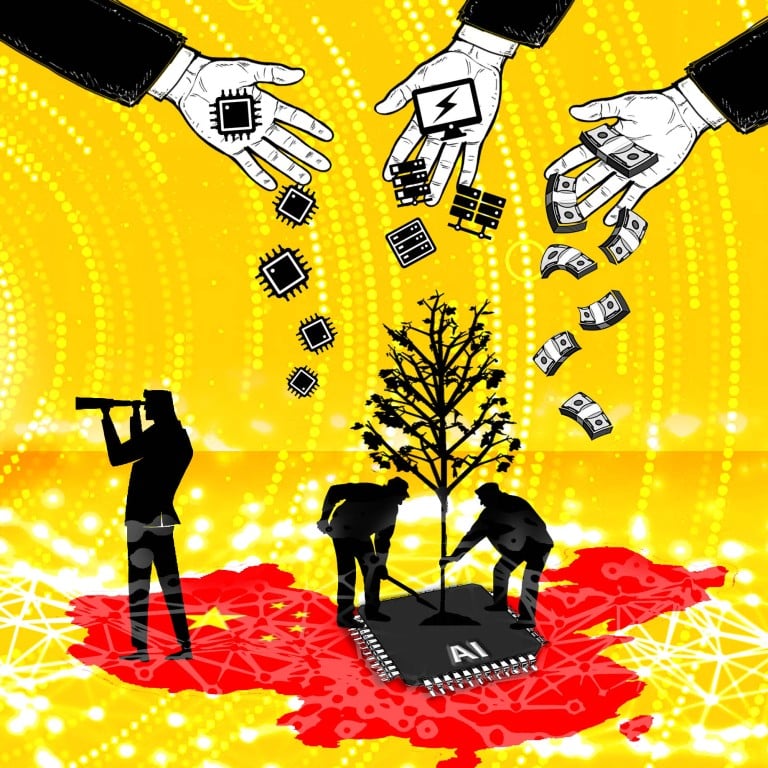 Can AI give China the upper hand to surpass the US and become the world's top economy after ChatGPT changed the game?
China's internet giants Baidu, Alibaba and Kunlun have been quick on the uptake after ChatGPT was unveiled last year, adding to the conflict in the US-China tech war
It has long been suggested China will overtake the US as the world's largest economy, but its weak recovery from the impact of the coronavirus has raised doubts
When the San Francisco-based OpenAI unveiled ChatGPT to the market in November, hailed as the so-called iPhone moment for artificial intelligence (AI), it cast a shadow across the Pacific.
China's internet giants, though, have been quick on the uptake. Baidu launched its Ernie bot in March followed by Alibaba Cloud and Kunlun's Tiangong in April. Alibaba is the owner of the South China Morning Post.
Smaller firms are also jumping on the bandwagon every day, with AI and its application increasingly the new lane of competition between China and the United States.
"[We] have to be quick, to catch up with the times," Zhou Feng, CEO of NetEase's translation software unit Youdao, said during an interview with domestic media DuoZhi earlier this month.
"What we are facing is a revolution at the technological level."
The world's two largest economies have already been fighting for economic supremacy with a tit-for-tat trade war, the US-led supply chain decoupling and tech containment in the past five years.
And while domestic academics largely estimate that China will overtake the US to become the world's largest economy around 2030, the weak recovery from the impact of the coronavirus has raised speculation overseas that it may never happen, just like the former Soviet Union in the 1970s and Japan in the 1980s.
China is now seen to be betting on generative AI, regarding it as a strategic tool in the Fourth Industrial Revolution that would not only save the national economy haunted by a debt mountain, coronavirus-related aftershocks and demographic challenges, but also refuel its bid to topple the US.
"Developing big models of AI is a historic opportunity that China cannot afford to miss," said Kai-Fu Lee, the former president of Google's China operation.
The Fourth Industrial Revolution represents a fundamental change in the way we live, work and relate to one another, according to the World Economic Forum. But it is about more than just technology-driven change, it added, as it is an opportunity to help everyone harness converging technologies to create an inclusive, human-centred future.
AI could lead to around US$13 trillion in additional global economic output by 2030, resulting in an overall 16 per cent increase in global gross domestic product (GDP), according to US global management consulting firm McKinsey.
And professional services firm PwC believes that China will benefit the most from AI, with the technology contributing to a 26 per cent increase in its GDP by 2030.
Combined with the US, this would account for nearly 70 per cent of the global economic impact.
Beijing's capacity to deploy its large and economically connected domestic market and talent flow could provide a stable base for the development of computing power, added Microsoft Research Asia founder Lee, who went on to open venture capital firm Sinovation Ventures in 2009.
"The Chinese economy is so connected in all aspects that its government can do a better job than Western countries in facing resource deployment and work organisation," veteran observer Lee told the Zhongguancun Forum in Beijing at the end of last month.
AI has long been high on Beijing's priority list, and it is considered as one of the core drivers for high-quality economic development, according to China's 2021-25 development guidelines.
Speaking at a Politburo meeting in October 2021, President Xi Jinping pledged to "fight the battle for key core technologies" and achieve a high level of self-reliance.
Xi particularly mentioned the use of a new whole-nation mechanism, which would see Beijing rally every possible resource for its development, similar to what it did to develop its satellite, nuclear weapons and space programme in previous decades.
Since Beijing approved a mega data transfer plan last year to move user data in the east of the country to the western region with its abundance of energy and vacant fields via eight national computing hubs, more than 400 billion yuan (US$56 billion) has been poured into the plan.
Western countries, on the other hand, tend to count more on private entrepreneurs, and some government incentives to support tech investment.
In order to gain the upper hand, Beijing has embarked on an all-out effort to harness the potential of generative AI, with an emphasis on new infrastructure, to propel its computing power and close the technology gap with the US.
China, though, still lags behind in a variety of technical dimensions, as the US has 3.5 times more private investments, half of the world's language models and the highest repository citation count, according to a study by Stanford University.
"The United States is still ahead in terms of AI conference and repository citations, but those leads are slowly eroding. Still, the majority of the world's large language and multimodal models (54 per cent in 2022) are produced by American institutions," said the report.
But China is quickly catching up by producing the most AI journals, conferences, publications and leading industrial robot installations, surpassing the total in all other countries combined.
Despite the escalating tech rivalry, both countries are engaged in the highest volume of AI research collaborations, which have quadrupled since 2010. But the pace of cooperation slowed after 2020, resulting in a modest 2.1 per cent increase by the end of 2021 compared to a year earlier.
Amid Washington's ongoing tech sanctions, Beijing is seen to have both the resources and determination to scale up its computing capabilities with immense technological infrastructure investments to help narrow the gap.
Computing power is seen to be becoming increasingly crucial in AI, helping it to rapidly process mountainous amounts of information, revolutionising the speed and accuracy of system analysis.
"The rivalry between the United States and China may well be determined by computing power," said historian Chris Miller, the author of Chip War: The Fight for the World's Most Critical Technology.
China accounts for 33 per cent of the world's computing power, which is only 1 percentage point lower than the US, according to the China Academy of Information and Communications Technology (CAICT), an affiliate of the Ministry of Industry and Information Technology.
"China's focus on increasing its computing power certainly provides an opportunity for China to catch up to the US in AI," said Nestor Maslej, a research manager at Stanford University's Institute for Human-Centered Artificial Intelligence.
But although the gap might narrow, China is still far behind the US in terms of AI technology due to its superior investment environment for AI companies, higher quality research and dominant AI model.
Last year, the US outproduced China in producing AI machine learning systems by more than fivefold, creating 255 new significant systems in comparison to China's 44, according to Maslej.
Boosting the level of computing power is likely to help Beijing take a short cut to AI development, as the release of fundamental models is viewed as a flawed factor limiting the country's AI development.
The advancement of fundamental models requires large amounts of data, computing infrastructure and funding, resources that are inherently available to a greater extent to industry actors than those in academia.
"China increasing its country's computing power will likely give a larger subset of actors, like universities and even industry players, the opportunity to train these increasingly important foundation models," Maslej added.
According to the CAICT, for every 1 yuan (14 US cents) invested in computing power in China, it will drive 3 to 4 yuan of economic output.
Chips are playing an important role in the increase of computing power in China, with the share of graphics processing unit chip computing power in the computing field increasing from 3 per cent in 2016 to 41 per cent in 2020, according to CAICT data.
But Washington's choke point on China's chips is similarly besieging the development of its computing industry, as the performance of chips directly determines the efficiency and performance of computer systems and devices.
"China's domestic AI industry is now generally short of computing chips, and if the US further sanctions China's chip technology, it will definitely affect computing power development in the short term," said Li Yangwei, a technical consultant working in the smart computing industry in Shenzhen.
As Chinese chip technology gradually becomes more autonomous, the impediment to the development of domestic computing power caused by chip shortages may be eased, Li said.
"I would estimate the impact of the chip shortage on computing power development to be mitigated in two to three years at the earliest and five years at the slowest," Li said.
The construction of data centres requires a large number of high-performance computing, storage and server chips, which is undoubtedly the challenge China encounters in dealing with massive amounts of information.
"China's computing power improvement faces multidimensional challenges, and there is still a huge gap in the transformation from chips to computing power," CAICT said in its white paper on computing power development released in November.
The government think tank suggested that China should take advantage of its "mega-market and new national system" to enhance its computing power, while also promoting chips and other developments.
US tech decoupling, along with the fallout from the coronavirus pandemic and
its ageing population,
is seen to be one of the new factors holding back China's potential growth.
According to Zhang Xiaojing, head of the Chinese Academy of Social Science' Institute of Finance and Banking, US tech decoupling will lower potential growth by 0.3 percentage point each year over the next three years and 0.5 percentage points each in 2026-40.
"Those three new factors are going to postpone China's overtaking the US to the year of 2033 from the baseline estimate of 2031," Zhang wrote in an article published in April.
Despite the fierce competition between China and the US, many politicians have warned about the challenges brought by the AI and have called for cooperation.
Former US secretary of state Henry Kissinger said in an interview with The Economist in April that the fate of humanity depends on whether the US and China can get along, while the rapid progress of AI leaves only five-to-10 years to find a way.
"AI is not a contest of two countries," Kissinger told a close-door meeting hosted by JPMorgan in Shanghai in late May, adding that AI is a new era of human consciousness that requires collaboration between the US and China to understand its potential and risks.
Despite this, an AI investment frenzy has now unfolded across China.
The Shenzhen government announced in early June that it would set up a 100 billion yuan (US$14 billion) AI investment fund to vigorously develop the city's computing power and turn it into a pioneering AI zone in China.
The tech hub also plans to accelerate the use of AI in undergrounds, airports and hospitals, aiming to serve as a computing platform for the Greater Bay Area.
The Greater Bay Area refers to the Chinese government's scheme to link the cities of Hong Kong, Macau, Guangzhou, Shenzhen, Zhuhai, Foshan, Zhongshan, Dongguan, Huizhou, Jiangmen and Zhaoqing into an integrated economic and business hub.
Shanghai has also spent over 250 billion yuan on new infrastructure over the past three years, with private capital accounting for more than 30 per cent.
The increase in spending has encouraged many China forecasters to remain upbeat about the country's development path.
And Liang Haoguang, executive director of the China Centre for Modernisation Research under the Chinese Academy of Sciences, is convinced that China's economic growth will be increasingly driven by technology.
"Judging from a tech innovation perspective, the Chinese economy is likely to catch up with the US size in 2028," he told a seminar in Beijing last month.