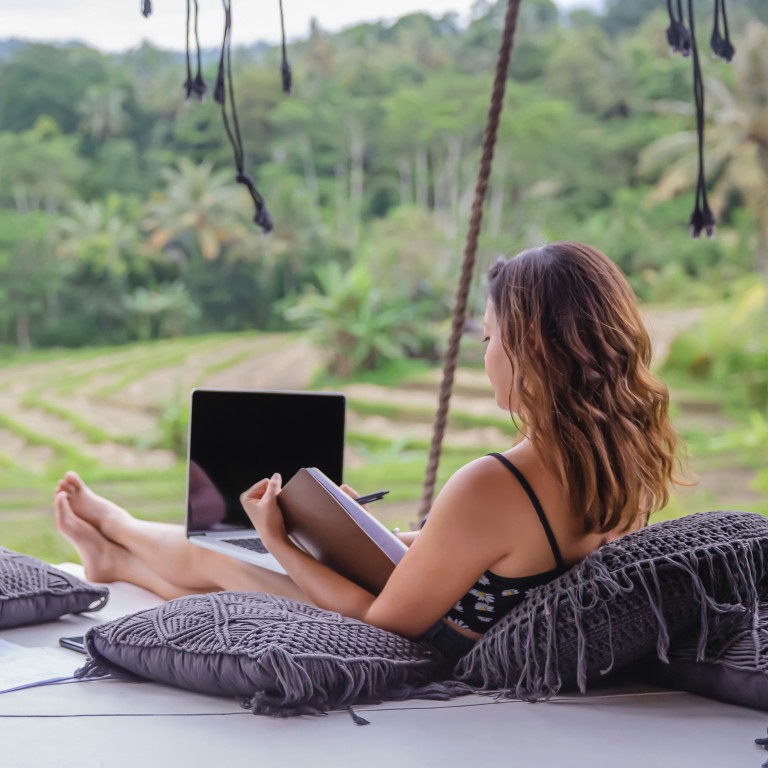 Talent-strapped Taiwan studies becoming Asia's first to offer digital nomad visa
Taiwan has already lowered legal barriers to attract foreign workers, and the idea of a digital nomad visa is being looked at by labour, finance and foreign affairs ministries
Hong Kong, Singapore, Japan, South Korea and some sectors in mainland China are grappling with similar talent shortages
Taiwan, running short on talent like many of its Asian peers, has begun studying whether to offer special visas for digital nomads, according to a ruling party lawmaker.
The cabinet's National Development Council will seek input from the ministries of labour, finance and foreign affairs, with an eye toward eventual approval, Democratic Progressive Party legislator Lo Mei-ling told the Post on Wednesday.
Legislative debate on the topic may start this year, she added.
Visas for skilled foreigners who prefer to hop from place to place with laptops rather than work in an office would attract talent on an unknown scale, Lo said.
"This is a trend globally, and I think in Taiwan talent is lacking, so we need to bring in foreign nationals from overseas," said Lo, a Malaysian native who reached Taiwan as a student in 1987.
"I support the idea a lot myself."
Taiwan would be the first place in Asia with a digital nomad visa, Lo said, because it has already kicked off the process, and everyone in the government recognises the talent shortage.
Government officials have shed their older "conservative" mindset of protecting locals, she added.
The island would be attractive to digital nomads because its costs of living are lower than those of Asian job magnets Hong Kong and Singapore, the lawmaker said.
"Digital nomads can go to any country and compare," she said.
More than one-third of the 5,361 foreign professionals in Taiwan with open work permits as of January were working remotely, a government-backed survey found last year.
But the island is not yet seen to be recognised by people offshore who are looking for a place just to work remotely.
Worldwide, 54 countries offer digital nomad visas, according to the multiple-writers blog, Nomad Girl.
The term usually means a residency permit that expressly lets the holder work remotely via a laptop for a foreign-based employer or business.
The number of schemes has grown from 21 in February 2021 until March because the coronavirus pandemic produced a wave of high-income "techpats" who did not need a set place for work and who also found ways for their children to be educated online, according to Nomad Girl.
Elsewhere in Asia, Indonesian officials have discussed the possibility of a five-year digital nomad visa for around two years.
"As its population continues a projected path of decline for a third year now, Taiwan needs to open up new avenues to attract talent that lean into Taiwan's advantages of lifestyle and comfort," said David Chang, general secretary of Crossroads, a Taiwanese non-profit organisation that promotes Taiwan's internationalisation.
Indian nationals might apply most aggressively for the visas, said Darson Chiu, a research fellow with the Taiwan Institute of Economic Research in Taipei.
They often have technology backgrounds but low salary requirements, he said, making them attractive to cost-conscious Taiwanese employers.
Taiwan's US$820 billion-plus economy relies largely on hi-tech hardware innovation for development.
The digital nomad visa scheme will eventually "incite debate" among government agencies, especially if any drafts allow mainland Chinese citizens to qualify, Chiu said.
Taxation for employees of entirely offshore-based companies is another issue that needs to be resolved, Lo added.
The National Development Council was not available for comment on Wednesday.
"Lots of government agencies will need to make all kinds of situations clear," Chiu added.
"If they can do it right … then there's a chance. These workers are flexible."