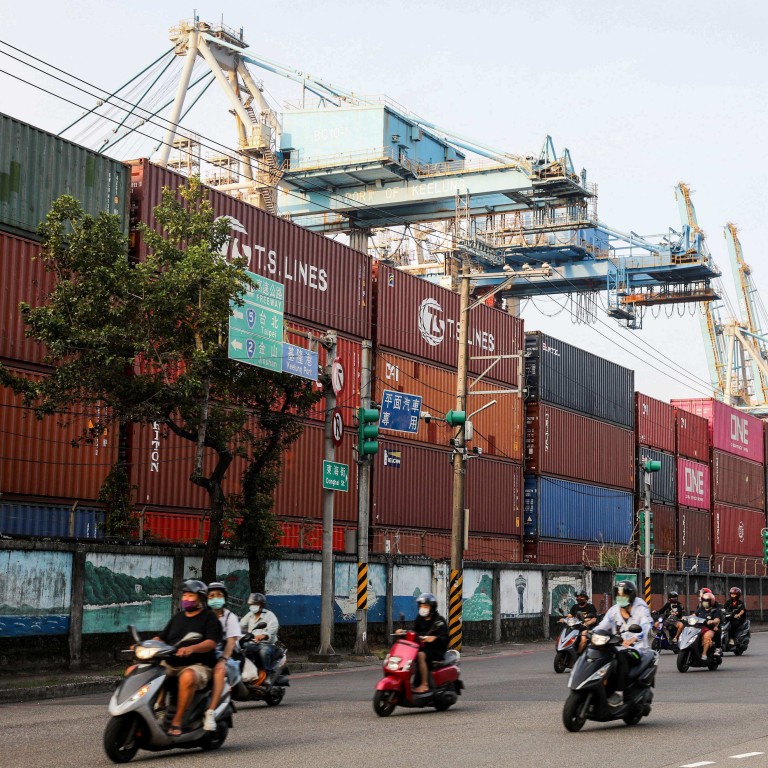 Taiwan's exports fall for 11th straight month, as mainland China's weakened world-factory role hit shipments
Taiwan's exports fell by 10.4 per cent in July from a year earlier due to weak demand from mainland China and Hong Kong
Exports of Taiwan's flagship electronic components, including semiconductors, also fell by 7.9 per cent in July compared to the same month a year ago
Taiwan's exports fell for the 11th straight month in July due to weak demand from mainland China and Hong Kong and a nagging lull in global consumption of hi-tech equipment.
The island's Ministry of Finance on Tuesday reported a 10.4 per cent drop in exports last month, compared to July 2022, to US$38.73 billion.
Taiwan counted mainland China and Hong Kong as its largest export market last month at US$13.42 billion, shipping a range of parts for final assembly and re-export.
But Mainland China has struggled to smooth out its economic recovery after removing its coronavirus pandemic controls.
And Taiwan's shipments to mainland China and Hong Kong in July fell by 16.3 per cent in July, year on year, the ministry data showed.
"For mainland China, the world factory role is being weakened, and that's hurting Taiwan's exports," said Liang Kuo-yuan, the retired founder of Taipei-based think tank, the Yuanta-Polaris Research Institute.
"Taiwan's intermediate goods aren't doing great."
The island's government has said a recovery in exports may not occur until September at the earliest, or as late as November, as orders pick up for the traditionally busy Christmas season.
But July's data also showed Taiwan's exports of electronic components, including semiconductors, fell by 7.9 per cent compared to the same month a year ago. Electronic components are a flagship for the island, with the sector still worth US$15.61 billion last month.
The fall in exports in July "points towards ongoing softness in semiconductor demand, particularly in the business segment," said Heron Lim, an economist with Moody's Analytics in Singapore.
"China's troubled recovery has been capping Taiwan exports, as well," Lim added.
The uneven economic trajectory in mainland China, plus high inflation and fears of recession in the West, have reduced Taiwan's exports every month for almost a year, with the pressure set to remain, economists said.
Elsewhere, Taiwan's exports to the United States fell by 3.3 per cent in July.
Taiwan's imports of specialised equipment to make semiconductor chips also eased, falling by 31.5 per cent, year on year.
The drop points to a fall in global demand for consumer electronics that use chips made in Taiwan, Standard Chartered Bank's Taipei-based economist Tony Phoo said.
"Equipment imports could be revealing with a downtrend for several months already," Phoo said.
"If we continue to see this soft data into the third quarter of this year, then chances are that third quarter growth numbers are going to stay soft," he said. "It also portends that the global tech outlook is unlikely to improve any time soon."
Chip makers such as Taiwan Semiconductor Manufacturing Company, the world's largest contractor in the industry, supplies the likes of Apple, Nvidia and other major brands.
Fellow Taiwanese chip maker United Microelectronics Corporation said last week that its net sales in July fell by 23.21 per cent, year on year.
Taiwan's Directorate General of Budget, Accounting and Statistics already lowered its 2023 gross domestic product
forecast to 2.04 per cent
in May.
Elsewhere, Taiwan's shipments of petrochemical products dropped by 28.8 per cent, while exports of chemicals eased by 31.2 per cent.
Moody's Analytics expects Taiwan's export orders to be "tepid" through September, Lim added.
The prolonged downward spiral became clear in June, said Darson Chiu, a research ­fellow with the Taiwan Institute of Economic Research in Taipei, although some economists had forecast in early 2023 that a turnaround would take place in the second half of the year.
"Regardless of whether they are hi-tech products or traditional manufactured products, their export orders all fell in double-digits in June," Chiu said.
"Obviously, not all products will sell well in July, August, and even September."