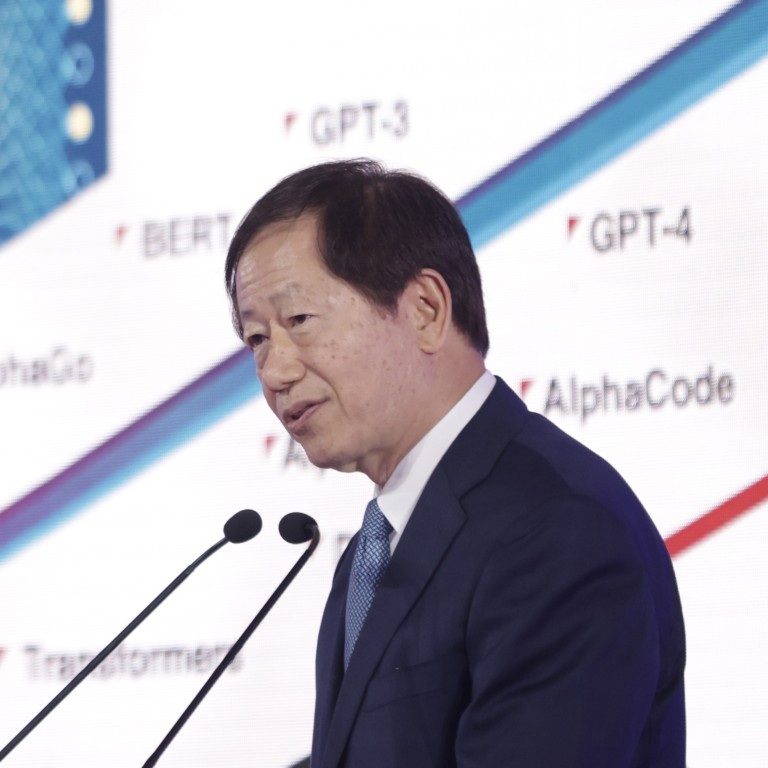 Taiwan's year-long export slump eases as AI chip demand grows, signs semiconductor cycle is bottoming out
Taiwan's exports fell by 7.3 per cent in August, year on year, to US$37.36 billion, but the decline was the mildest over the past year
Semiconductor sales are set to grow as developers of consumer electronics buy chips that are made for generative artificial intelligence (AI) applications
Taiwan's exports slipped again in August due to weak spending by the world's biggest economies, but a full year of monthly declines in the global hi-tech manufacturing hub showed improvement because of demand for semiconductors made to support artificial intelligence (AI).
Exports from the world tech powerhouse fell by 7.3 per cent in August, year on year, to US$37.36 billion, the Ministry of Finance said on Friday.
The decrease was the mildest over the past year, with semiconductor sales on the way up as developers of consumer electronics buy chips that are made for generative AI applications, analysts said.
Prospects of an AI boom also dominated the world's largest chip conference, Semicon Taiwan, this week where 60,000 guests, including executives from Europe, the United States and Japan, met to examine the industry's future.
"What happens now is we will see some upticking," said Kent Chong, a partner with professional services firm PwC in Taipei.
The world AI space should grow from US$11.3 billion this year to US$76.8 billion by 2030, according to research firm MarketsandMarkets.
Taiwan Semiconductor Manufacturing Company chairman Mark Liu told the conference this week that graphic processing units for AI applications were running short because of limits in packaging capacity and that supplies would remain tight for 18 months, domestic media outlets reported.
The island's talent supply may not be able to keep up either, a spokeswoman for event organiser SEMI Taiwan said on Thursday, with the island's chip sector having an average of 2.3 vacancies per applicant, she said.
Within August's data, exports of electronic components fell by 11.2 per cent last month compared to the same month a year ago.
The category – 93 per cent of which is semiconductors – was worth US$15.14 billion last month, but the rate of decline beat a year-to-date monthly average fall of 13.9 per cent.
Exports of information, communications and audiovisual products rose by 43.1 per cent, year on year, in August.
"The only area where you might get progress is in consumer electronics, because we're in a peak period," said Darson Chiu, a research ­fellow with the Taiwan Institute of Economic Research in Taipei.
Technology makes up around one-third of the Taiwan economy, which supplies around 60 per cent of the world's chips.
Taiwan counted mainland China and Hong Kong combined as its largest export market again last month at US$63.47 billion despite shipments falling by 11.6 per cent, year on year.
On Thursday, mainland China confirmed its exports fell by 8.8 per cent compared to a year earlier, although the decline narrowed from a fall of 14.5 per cent in July.
Taiwan's exports to the US fell by 14.5 per cent last month, while Europe took 10.5 per cent fewer shipments from Taiwan in August compared to the same month last year.
European and North American consumers still face inflation and high interest rates, denting consumption, Chiu added.
Taipei has said a recovery in exports could surface between September and November ahead of the Christmas season.