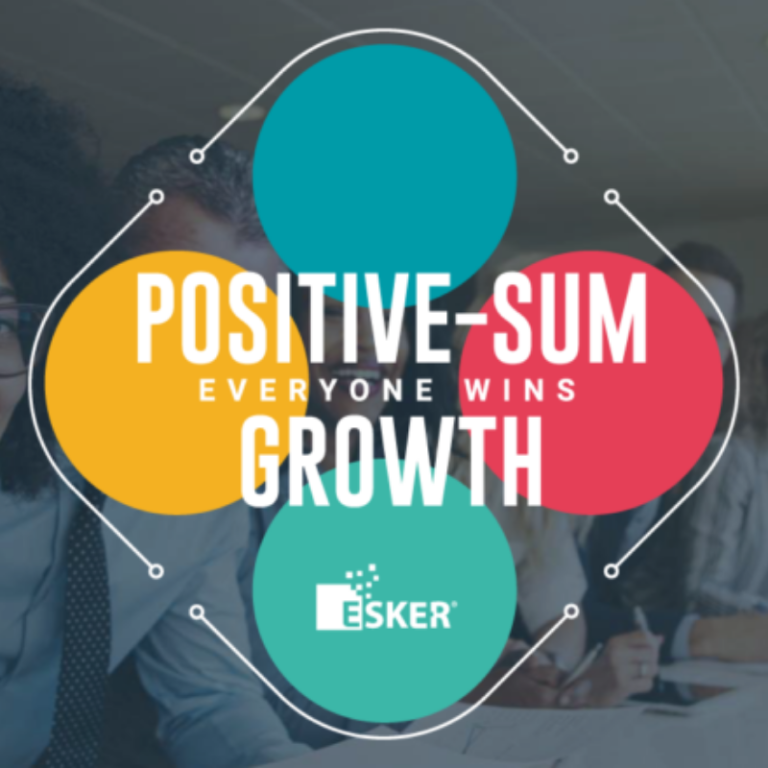 Future of work: How can businesses Achieve Positive-Sum Growth using AI-Driven Solutions
[Sponsored Article]
 
As we move away from the pandemic, we still live in a world of uncertainties- shaping and transforming business processes across industries. Company leaders nowadays are much more aware of the value of digital transformation. But the question is, how can we make the change beneficial and sustainable across all functions and business units?
What is Positive-sum growth?
Jean-Michel Bérard, Esker's Founder and CEO, shared his unique perspective on positive-sum growth: "Positive-sum growth is the exact opposite of zero-sum growth. It not only serves the company, but all stakeholders: customers, employees, suppliers, and even the community in which the business operates."
Positive-sum growth offers a smarter and more sustainable way to do business today. Technology is here to assist business growth, but we often neglect that these successes, sometimes come at the expense of something else (eg. at the expense of your customers or suppliers)
Company leaders need to think about how technologies can provide an excellent user experience and encourage an ecosystem that can encourage positive-sum growth within and outside of a company. 
Let's deep-dive into how we can utilise artificial intelligence-driven solutions to achieve that in the respective business processes:
Procure-to-Pay
Increasingly, more and more people are involved in the Procure-to-Pay process including requestors to buyers, and finance individuals to suppliers. The last two years taught us that collaboration is the foundation of relationship building. And here is exactly what you need to increase positive-sum growth within the ecosystem:
·   Giving suppliers the flexibility to send different types of invoices 
·   Offering on-time or even early payment
·   Providing 100% end-to-end visibility at each stage of the process
·   Collaborating and communicating on an all-in-one platform for both internal and external parties  
Accounts Receivable
Customers and employees are heavily involved in the Accounts Receivable process and the key to success is to keep it flexible. Achieving Positive-sum growth in your accounts receivable process can be simplified such as:
·   Generating custom design invoices in customer's format of choice such as email, PDF, fax, EDI, etc 
·   Offering different payment options in paying invoices such as credit card, electronic, etc. 
·   Providing transparency & visibility throughout the customer experience
·   Using one platform for the ease of tracking and collaborating in credit management, invoice delivery, collection and cash application.
Order Processing
Sales order processing is tied to customer experience, involving your customers, sales, and customer service functions. AI and RPA technology address the most manual areas of order taking through a centralised, cloud-based platform. Flexibility can help improve your relationship with your customers such as:
·       Orders are sent in the format customers want (fax, email, EDI, etc.)
·       Flexibility to process orders from different platforms (E-commerce, EDI, Email, Fax etc)
·       Provide 100% visibility on orders placed
·      Collaborate easily with customers and employees using the customer portal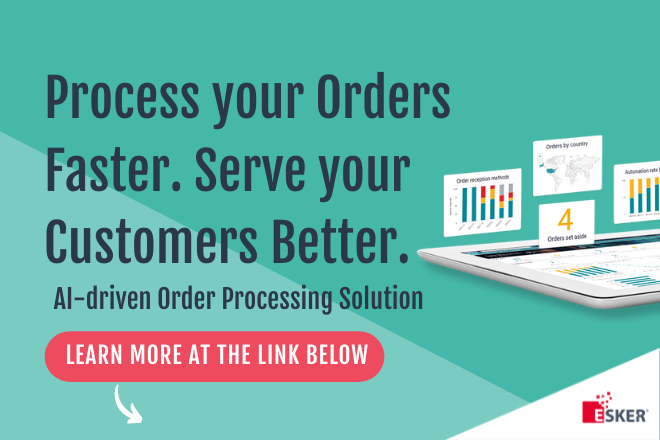 The planet
Yes, even our beautiful blue pearl benefits from positive-sum growth. Although Esker would never claim to have an impact equal to a true environmental enterprise, there's no denying that Esker's cloud platform promotes sustainability. By reducing paper and equipment in day-to-day activities, Esker users are empowered to do their part in saving trees and reducing wasteful practices.
 Positive-sum growth for your business – more than just technology
Automation is great for improving efficiency, productivity, and cost savings. What is often overlooked is how effective it is at keeping your business competitive. Here is how filling the manual gaps in your business process cycle translates to business benefits:
·       Coordinate and collaborate with all business users involved through a single platform
·       Perform critical tasks in real-time thanks to end-to-end connectivity between all applications
·       Automate all documents regardless of format, language or transmission method
·       Manage local specificities via support of multi-languages, multi-currencies & local compliance requirements
·       Become a more agile and resilient business during difficult times
·       Retain and attract top talent by offering more fulfilling, strategic work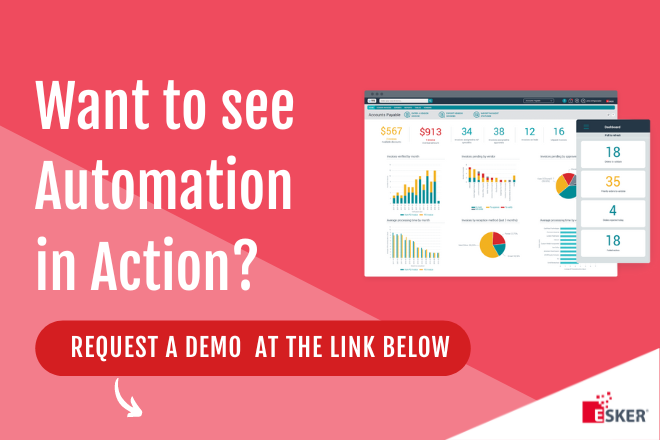 Request a Demo:
https://info.esker.com/solutions_demo_request